Pumpkin, pecorino and sage tart
---
Prep time: 30 mins
Total time: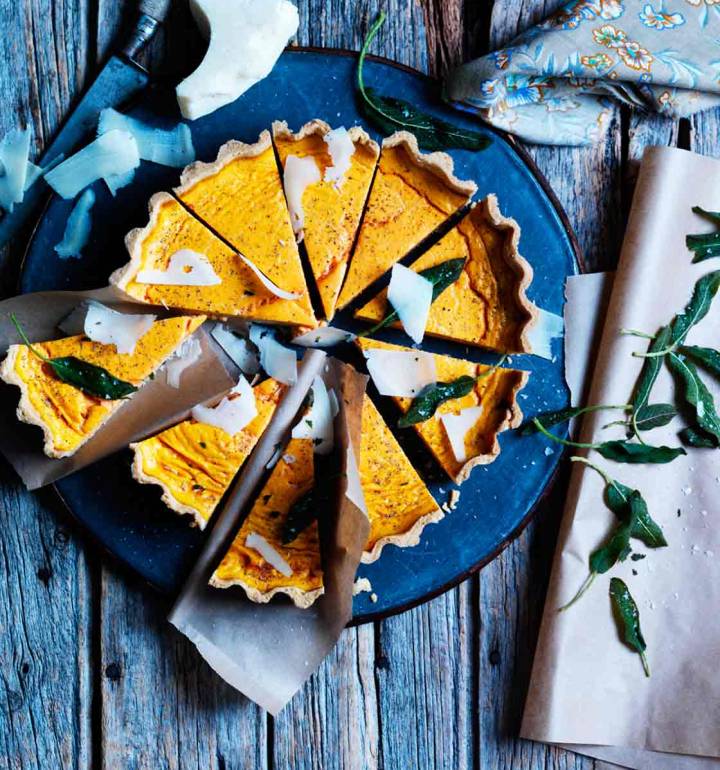 Recipe photographed by Karen Thomas
Pumpkin, pecorino and sage tart
---
Prep time: 30 mins
Total time:
---
See more recipes
---
Nutritional information (per serving)
---


Ingredients
750g peeled and deseeded pumpkin (or butternut squash)
2 large eggs, lightly beaten
150ml double cream
a generous grating of nutmeg
1 tsp light brown soft sugar
3 tbsp grated pecorino (or vegetarian equivalent) plus shavings, to finish
10 sage leaves
For the pastry
200g plain flour, plus extra
1 tbsp finely grated pecorino
100g cold unsalted butter, diced
1 large egg yolk
Step by step
Bake the pastry case a day ahead; store in a airtight container
First, make the pastry. Tip the flour, pecorino and butter into a food processor; whiz to form crumbs. Add the egg yolk, a pinch of salt and 1 tablespoon iced water. Pulse the mixture until it comes together – you may need a little more water.
Chill the pastry in clingfilm in the fridge for 30 minutes. Meanwhile, chop the pumpkin into small pieces, about 3cm. Steam the pumpkin in a steamer set over a pan of boiling water for 15-20 minutes, or until tender.
Roll out the pastry on a lightly floured surface and line a 23cm-diameter tin that is 3cm deep. Press the pastry down into the base. Chill for a further 30 minutes.
Preheat the oven to 200°C, fan 180°C, gas 6. Whiz the steamed pumpkin in a processor until smooth, then tip it into a bowl and leave to cool.
Scrunch up a square of baking paper, open it out again and put it into the tart case so it lines the pastry. Tip in ceramic baking beans and bake the tart case, on a baking tray, for 20 minutes. Remove the paper and beans, and bake for a further 5 minutes, or until lightly golden. Remove the tart case from the oven and leave to cool. Reduce the oven temperature to 190°C, fan 170°C, gas 5.
Mix the pumpkin purée with the eggs, cream, nutmeg, sugar, grated pecorino and some salt and pepper. Fill the baked tart case with the mixture and bake for a further 35-40 minutes or until just set.
Fry the sage leaves in a little hot butter with a pinch of salt until crisp, then set aside.
Serve the tart barely warm, topped with pecorino shavings and the crisp sage leaves.
Don't miss

---