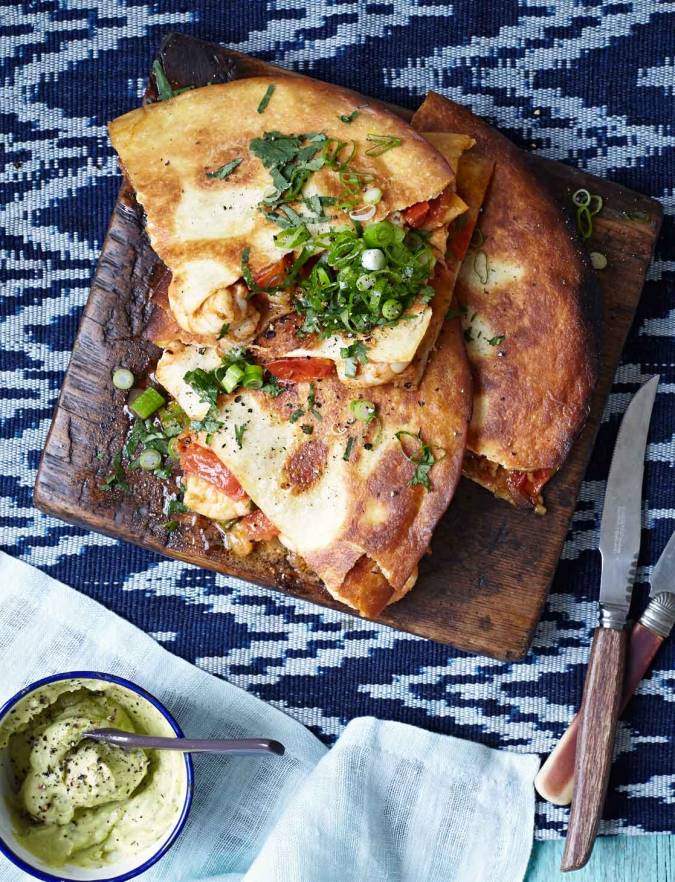 Nutritional information (per serving)
See more
Ingredients
1 tbsp olive oil, for frying

4 tsp olive oil

1 bunch spring onions, finely chopped

1 1/2 tsp Cajun spice mix

1 x 225g pack raw peeled jumbo king prawns, defrosted

2 large vine tomatoes, chopped

4 large plain tortilla wraps

1 x 140g pack Mexicana cheese slices

1 heaped tbsp chopped coriander
Heat the olive oil in a frying pan about 25cm across the base. Add most of the spring onions, reserving a little, and cook for 2 minutes. Stir in the spice mix and cook for 1 minute. Add the prawns and cook for another minute until they turn pink.
Stir in the tomatoes over a medium heat for 2 minutes; spread on a plate to cool slightly. Clean the pan; put back on heat.
Heat 1 tsp olive oil in the pan and place a tortilla in the base. Spoon over half the filling, add half the cheese and top with another tortilla. Press down with a spatula; cook over a medium heat for 2 minutes. Brush another teaspoon of oil on the top of the tortilla and flip the whole quesadilla to cook the other side for 2 minutes.
Repeat for the second quesadilla. Cut into wedges; garnish with the coriander and remaining spring onions. Serve with guacamole.