Reader recipe: Prawn paprikash
---
Prep time: 15 mins
Total time: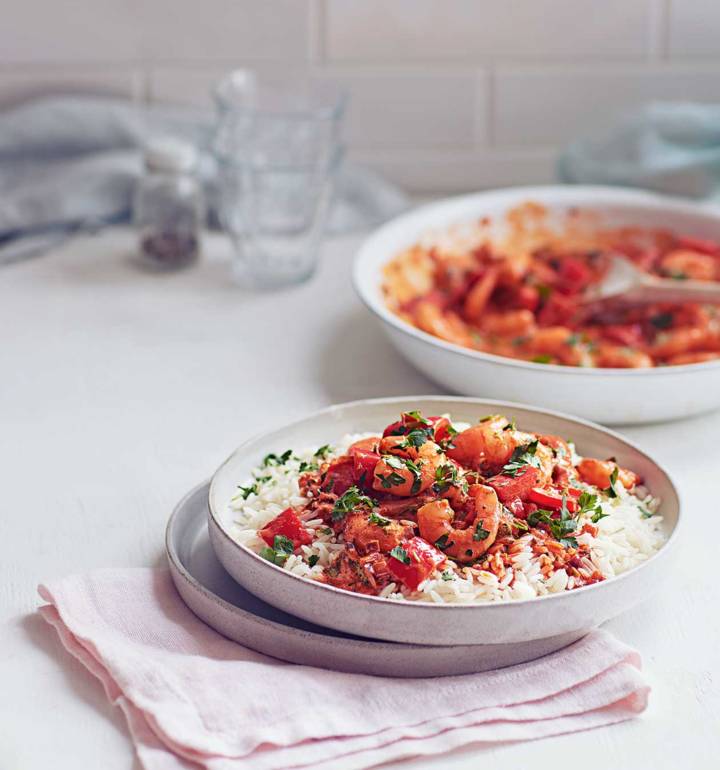 Recipe photograph by Debby Lewis-Harrison. Recipe by Izabela Kawecka
Reader recipe: Prawn paprikash
Izzy, from East London, won our recipe competition with an easy prawn dish inspired by her childhood
---
Prep time: 15 mins
Total time:
---
See more recipes
---
Nutritional information (per serving)
---
Ingredients
180g dried basmati rice
2 tbsp vegetable oil
1 red onion, finely chopped
1 pointed or regular red pepper, roughly chopped
1 tbsp sweet paprika
1 tbsp smoked paprika
1½ tbsp tomato purée
150ml single cream
350g cooked and peeled king prawns
2-3 tbsp chopped parsley or coriander
smoked (or regular) salt flakes
Step by step
Cook the rice, following pack instructions.
Meanwhile, heat the oil in a pan, add the onion and red pepper and cook for 5-7 minutes on a medium heat, stirring occasionally, until softened.
Add both types of paprika and the tomato purée and cook for 1 minute, stirring. Gradually add the cream, plus 150ml water.
When the sauce starts bubbling, stir in the prawns and most of the chopped parsley or coriander; cook gently for another 3 minutes or until the prawns are piping hot (but don't overcook them or they will go rubbery). Season to taste with smoked (or regular) salt and plenty of black pepper.
Spoon the paprikash over the cooked rice and serve scattered with the rest of the herbs.
Don't miss

---