Porchetta-style roast pork with a courgette, chickpea and spinach salad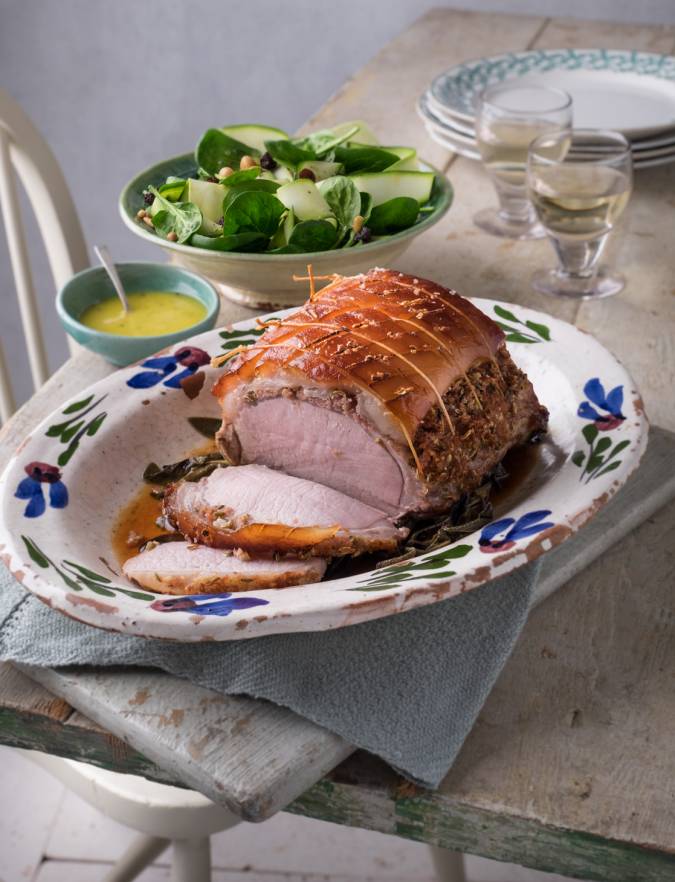 Nutritional information (per serving)
See more
Ingredients
1-1.2kg pork crackling loin joint (we used Taste the Difference outdoor- reared pork)

zest of 1 lemon (reserve the juice for the dressing)

1 tbsp fennel seeds

2 garlic cloves, crushed

1⁄2 x 130g pack Mortadella, chopped

2 tbsp finely grated Parmesan

6 sage leaves, roughly chopped, plus 2 extra sprigs

2 tbsp rapeseed oil

300ml white wine
For the salad
1 large courgette

1 x 100g pack baby leaf spinach

1 x 400g tin chickpeas, drained and rinsed

25g pine nuts, toasted

40g raisins

3 tbsp extra-virgin olive oil

reserved juice of 1 lemon

2 tsp clear honey

1 tsp Dijon mustard
Get ahead
Prepare the pork up to the end of step 4 a couple of hours ahead, cover loosely with foil and leave at room temperature. The salad and dressing can be prepared a few hours ahead, but keep separate until ready to serve.
Remove the pork from the fridge a couple of hours before cooking. Remove the string, pat the rind completely dry and score with a sharp knife to accentuate the crackling. Cover loosely and leave at cool room temperature.
When ready to cook, preheat the oven

to 220°C, fan 200°C, gas 7. With a sharp kitchen knife, carefully slide the blade under the skin and fat to separate it from the meat, but leave the skin attached at one side.
Put the lemon zest, fennel seeds, garlic, Mortadella, Parmesan, chopped sage and rapeseed oil in a food processor with some freshly ground black pepper and whiz until finely chopped.
Spread about a third of the paste over the underside of the pork joint, then spread the rest between the meat and the skin, but not over the crackling side. Replace the fat layer over the meat and re-tie the joint with fresh string.
Rest the pork in the roasting tin, on top of the sage sprigs, and season the rind with 1⁄2 tsp fine salt, rubbing it in well. Pour the white wine into the base of the tin around the pork. Roast for 15 minutes on the high temperature then reduce the heat down to 180°C, fan 160°C, gas 4 and roast for a further 45 minutes for a 1kg joint, or 1 hour for 1.2kg. Keep an eye on the liquid level in the roasting tin and if it reduces too much, top it up with a little extra wine or water. Finally, turn the oven temperature back up to 220°C, fan 200°C, gas 7 and roast for 15 minutes to brown the pork.
Meanwhile, for the salad, cut the courgette into long ribbons using a vegetable peeler and place in a large serving bowl. Add the spinach, chickpeas, pine nuts and raisins and toss together well. Mix together the olive oil, lemon juice, honey and mustard in a small bowl and season with a pinch of salt and ground black pepper, then set aside. When ready to serve, pour the dressing over the salad and toss together.
Remove the pork from the oven, transfer to a carving board (discarding the sage sprigs) and leave to rest, loosely covered with foil, for 10-15 minutes. Carve the pork into thin slices (about 3 per serving) and serve with the dressed salad and pan juices.