Hake, celeriac purée and balsamic chickpeas
---
Prep time: 50 mins
Total time: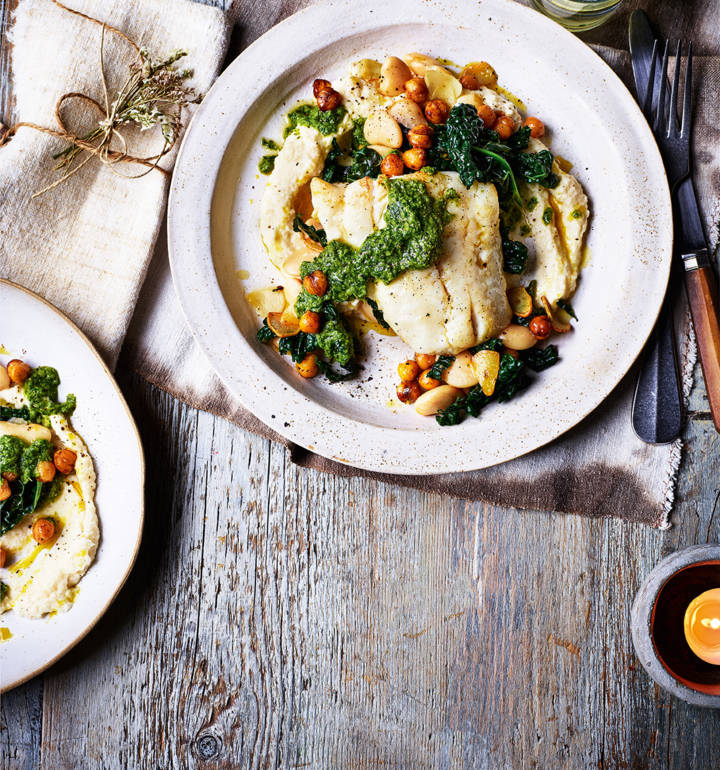 Recipe photograph by Kris Kirkham
Hake, celeriac purée and balsamic chickpeas
Hake pairs wonderfully with creamy celeriac and punchy chimichurri
---
Prep time: 50 mins
Total time:
---
See more recipes
---
Nutritional information (per serving)
---


Ingredients
1 celeriac, about 900g
25g unsalted butter
5 tbsp olive oil
150ml double cream
1 x 400g tin chickpeas
1 tbsp balsamic vinegar
2 x 200g packs cavolo nero, roughly chopped
2 garlic cloves, sliced
3 x 220g packs hake fillets
1 x 400g tin butterbeans, rinsed and drained
For the carrot-top chimichurri
1 echalion shallot, finely chopped
1 x 30g pack flat-leaf parsley, roughly chopped
1 green chilli, deseeded and finely diced
1 small handful carrot tops, roughly chopped
½ x 20g bunch chives, chopped
juice of 1 lemon
4 tbsp extra- virgin olive oil
Step by step
Cut away the rough exterior of the celeriac; this can be used, along with any other vegetable trimmings, to make vegetable stock to use another time. Chop the celeriac into 2cm dice. Heat the butter and 1 tablespoon of olive oil in a large pan over a medium heat, add the celeriac and a pinch of salt and mix to coat. Take a sheet of crumpled baking paper and run it under the tap to wet it. Press this on top of the celeriac, then cover with a tight-fitting lid and cook gently for 20-30 minutes until really soft (add a splash of water if it starts to stick).
Tip the celeriac and buttery juices into a blender. Gently heat the cream in the same pan; add to the blender and purée. Add a good squeeze of lemon juice (from the lemon for the chimichurri), and season to taste. Return to the pan, ready for reheating later.
Preheat the oven to 200°C, fan 180°C, gas 6. Drain the chickpeas, reserving the liquid for the meringue if you haven't made this already. Toss the chickpeas with the balsamic, 1 tablespoon of olive oil and a sprinkle of sea salt. Spread out on a baking tray and roast in the oven for 10-15 minutes, or until slightly sticky. Allow to cool.
Meanwhile, blanch the cavolo nero in a large pan of salted boiling water for 2 minutes. Drain; refresh in iced water. Drain very well and put to one side. Heat 1 tablespoon of olive oil in the same pan, add the garlic; set aside.
For the chimichurri, simply mix all the ingredients together and season to taste. You can prep to this point a few hours ahead.
When you're almost ready to serve, gently reheat the celeriac purée. If you have 2 frying pans, put them both on the hob and add 1 tablespoon of oil to each (otherwise, fry the hake in 2 batches). Pat the hake fillets dry on kitchen paper and season. Fry for 3-4 minutes on each side over a high heat, until golden and cooked through.
Meanwhile, put the pan with the garlic and oil on a medium heat and cook for a minute until aromatic. Add the cavolo nero and the butterbeans and heat through for a couple of minutes, stirring. Season to taste.
To serve, spoon the celeriac purée onto each plate, then scatter on the chickpeas and spoon the butterbeans and cavolo nero on top. Finally, top each with a hake fillet and garnish with a spoonful of chimichurri.
Don't miss

---