Gorgonzola and broccoli risotto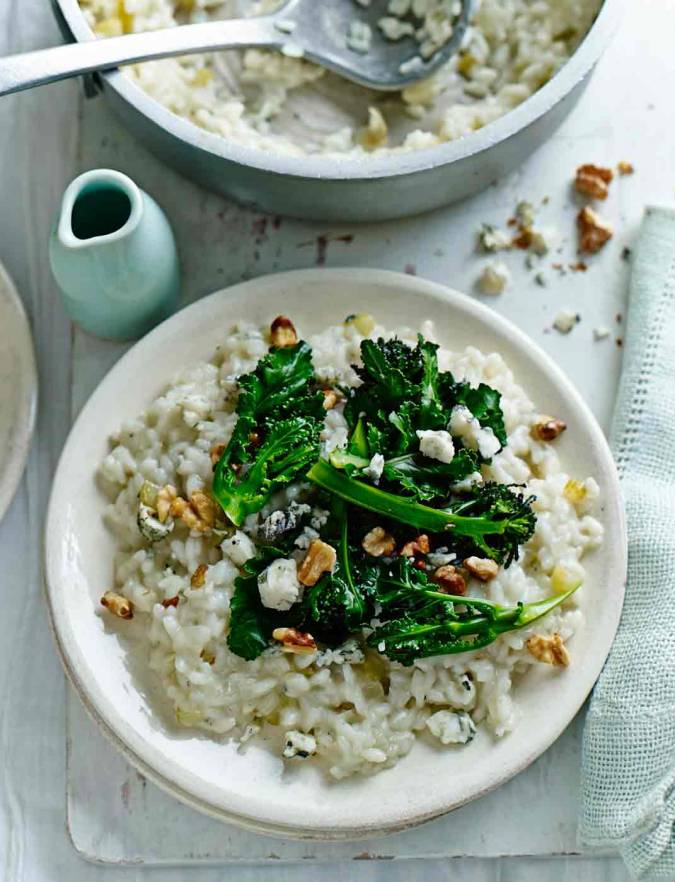 Nutritional information (per serving)
See more
Ingredients
2 tbsp olive oil

1 large onion, chopped

2 sticks celery, chopped

3 garlic cloves, finely chopped

50g walnut pieces, roughly chopped

300g risotto rice

a glass of dry white wine (optional)

1-1.2 litres hot vegetable stock

1 x 200g pack purple sprouting broccoli

½ x 200g pack Gorgonzola piccante, crumbled
Heat the oil in a large pan. Gently cook the onion and celery for 10 minutes until soft. Stir in the garlic and cook for 1 minute. Toast the walnuts in a dry frying pan; set aside.
Add the rice to the onion and cook, stirring, for 2 minutes. Increase the heat, pour in the wine, if using, and bubble until absorbed. Add a ladleful of stock and stir constantly until absorbed, then repeat until all the stock has been added – this will take 15-20 minutes.
Meanwhile, trim the broccoli of woody stalks and cook in boiling water until tender; drain well. When the rice is al dente, stir in 75g of the Gorgonzola. Season to taste, cover with a lid and leave for 2 minutes.
Serve with the broccoli and scatter over the rest of the cheese and the walnuts.

Tip If you're not a fan of blue cheese, a combination of Parmesan and Taleggio works well, too.