Reader recipe: Goat's cheese and squash pasta
---
Prep time: 50 mins
Total time: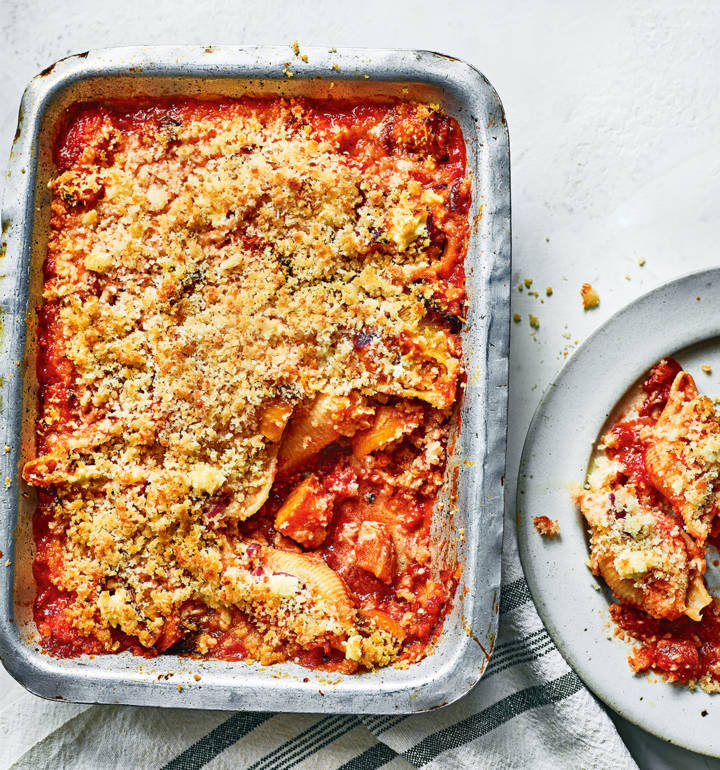 Recipe photograph by Martin Poole
Reader recipe: Goat's cheese and squash pasta
Emma, from North Yorkshire, won our recipe competition with this veg-packed pasta bake using soft goat's cheese
---
Prep time: 50 mins
Total time:
---
See more recipes
---
Nutritional information (per serving)
---
Ingredients
1 large butternut squash, at least 1kg
3 tbsp olive oil
2 medium red onions, or 1 large, sliced
4 garlic cloves, crushed
2 x 400g tins chopped tomatoes
1 tbsp sugar, any type
325g Taste the Difference conchiglioni (giant pasta shells)
2 x 125g rolls soft goat's cheese
50g panko breadcrumbs (or use up stale bread)
75g grated Parmesan
Step by step
Preheat the oven to 200°C, fan 180°C, gas 6. Cut off the neck end of the squash, slice in half lengthways and score the flesh in a criss-cross pattern. Place cut-side down on a microwave-safe plate and cook on High for 10 minutes, or until soft and scoopable (steam the squash if you don't have a microwave). Peel and deseed the bulb end and chop into 2cm cubes. Toss with 1 tablespoon of oil and seasoning and roast on a baking tray for 25 minutes until soft and golden brown.
Meanwhile, heat 1 tablespoon of oil in a pan and fry the red onions over a medium- high heat for 10 minutes or until caramelised, stirring occasionally. For the tomato sauce, gently cook the garlic and 1 tablespoon of oil in a separate pan until fragrant then add the tomatoes, sugar and seasoning, swirling out the tins with some water. Simmer for 10 minutes until slightly reduced then pour into a 25cm x 35cm baking dish.
coop the squash flesh into a bowl, add the onions and season well. Cool slightly then add the goat's cheese.
Boil the pasta shells for 10-12 minutes until just tender then drain, rinse in cold water and drain again. Spoon the goat's cheese filling into the pasta shells and add these to the baking dish, along with the roasted squash.
Combine the crumbs and Parmesan and scatter on top. Cover the dish with foil and bake for 20 minutes initially. Remove the foil and bake for 15 minutes or until crispy. Serve with a green salad.
Don't miss

---