Slow-roast lamb leg with watercress, anchovy and capers
Serves
6-8
|
prep
30 mins
|
total time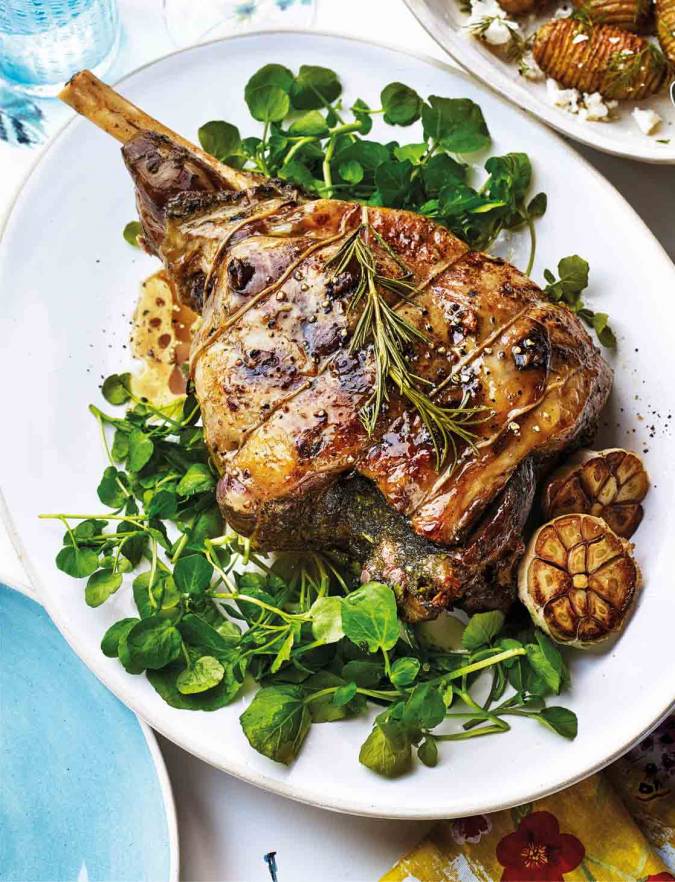 Nutritional information (per serving)
See more
Ingredients
1 whole leg of lamb, about 2kg

125ml white wine

1 garlic bulb, halved

a few sprigs of rosemary

1 tbsp plain flour
For the stuffing
½ large onion, finely chopped

100g watercress, plus extra to serve

3 garlic cloves, 2 crushed, 1 finely sliced

5 anchovies, chopped

a sprig of rosemary, leaves only

1 tbsp brined capers, rinsed
Heat the oven to 150°C, fan 130°C, gas 1. To make a pocket for the stuffing, turn the leg of lamb upside down and, with a sharp knife, slice halfway down the leg, right to the bone, and cut down into the flesh on either side of the bone to open up the meat.
Make the stuffing: in a food processor, whiz the chopped onion, watercress, the 2 crushed garlic cloves, anchovies, rosemary and capers until you have a wet salsa. Season well. Spoon into the pocket in the lamb. Close the meat around the stuffing and hold in place with string (see Kitchen Secret). If the stuffing falls out, try to push it back in with your fingers – but don't worry too much. Massage any leftovers into the underside of the meat.
Place the lamb, pocket-side down, in a large roasting tin. Rub with olive oil and a pinch each of salt and pepper. Make slashes in the skin and tuck a garlic slice or two inside each.

Tip To tie the leg of lamb with string, tuck in any loose bits of meat. Cut 5 generous bits of string and tie them tightly around the width of the lamb in relatively even intervals, so that the pocket closes. Take another piece of string and weave it through the ties, lengthways.

Pour the white wine and 200ml water into the base of the roasting tin, add the halved garlic bulb and rosemary sprigs. Cover with foil, slide into the oven and cook for about 5 hours until really tender, basting every hour. Remove the foil for the final hour of cooking. Take the lamb out of the oven and pour off the juices into a pan. Cover the meat with the foil again, plus a tea towel to keep in the heat, and allow to rest while you cook the potatoes at the higher oven temperature.
Skim any excess fat from the roasting juices in the pan and discard, then heat through. In a jug, add a little of the hot juices to the flour until you have a paste. Stir to remove any lumps, then add 50-100ml just-boiled water (depending how thick you like your gravy). Add the flour paste to the pan, bring to a simmer and stir until thickened. Season to taste, then strain into a warmed jug.
Slice the lamb thickly, serve on a platter with extra watercress and the gravy to pour over.