Sponsored: Salmon fish finger sandwiches with Florida Grapefruit salsa
---
Prep time: 30
Total time: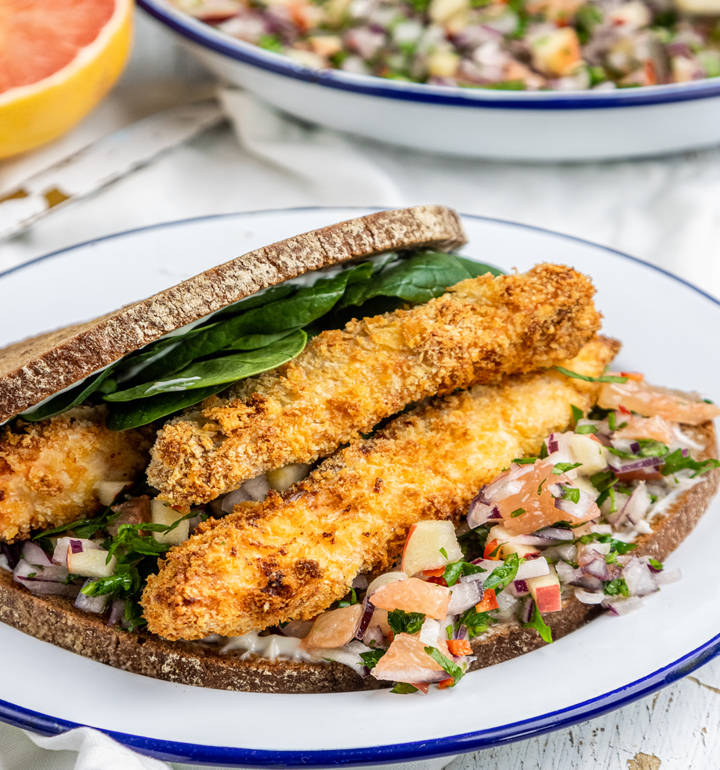 Sponsored: Salmon fish finger sandwiches with Florida Grapefruit salsa
---
Prep time: 30
Total time:
---
See more recipes
Ingredients
For the salsa
2 Florida Grapefruit, peeled and cut into segments, then diced
1 large red onion or 2 small red onions
1 red chilli, deseeded and diced
1 apple, cored and diced
1 handful parsley, chopped
3 tbsp olive oil
Salt and pepper
For the fish fingers
80g plain flour
2 eggs, beaten
150g panko breadcrumbs
300g salmon fillets, skin removed
For the sandwich
8 slices rye bread
4 tbsp mayonnaise
2 handfuls baby spinach
Step by step
Place all the salsa ingredients into a bowl and stir together. Season with a little salt and pepper before putting to one side to let the flavours marry together.

Put the flour, beaten egg and breadcrumbs into three separate bowls ready for the fish.

Cut the salmon into fingers, then roll in flour, dip in the beaten egg and finally roll in the breadcrumbs.

Place the breaded salmon into a pre-heated air fryer at 180°C, or a pre-heated oven at 190°C, fan 170°C, gas 5, and spray with 1 tsp of oil.

Cook for 10 minutes in the air fryer or for 15 minutes if using a normal oven. Once the fish fingers are golden and crisp, remove from the oven. Serve in the rye bread spread with mayo, along with the Florida Grapefruit salsa and baby spinach.

Finish the sandwich with an extra squeeze of Florida Grapefruit juice for added zing!
Don't miss

---