Sponsored: Staropramen trout en papillote
---
Prep time: 25
Total time: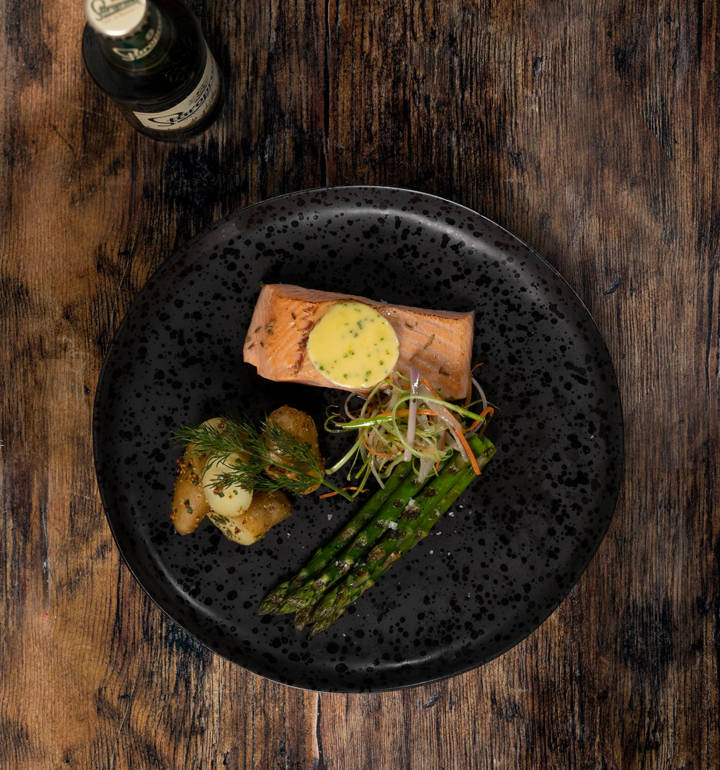 Sponsored: Staropramen trout en papillote
En Papillote of Trout and Vegetables steamed in Staropramen
---
Prep time: 25
Total time:
---
See more recipes
Ingredients
2 large carrots, peeled
1 fennel bulb, trimmed
1 leek, trimmed
2 large shallots, peeled
4 x 120g trout portions, pin-boned and scaled (or use salmon, cod or hake)
330ml bottle of Staropramen
1 tsp fennel seeds
4 sprigs of flat-leaf parsley
4 sprigs of dill, plus extra to garnish
For the herb butter
60g soft butter
1 tbsp finely chopped chives or dill
Step by step
First make and chill the herb butter; simply cream the butter until very soft then mix in the chives or dill. Shape into a log using baking paper, twisting the ends to secure. Chill to set the shape.

Light the barbecue, with the coals heaped to one side, giving time to let the flames die down.
3 Slice all the vegetables into thin strips, then mix together.

Lay out 4 sheets of foil, about 30cm in length, on the worktop. Lay a sheet of baking paper the same size, on top of each piece of foil.

Divide the vegetables between the parcels and top each with a portion of trout. Scrunch up the edges of the paper then pour the Staropramen equally into each parcel, ensuring it stays within the paper. Season the fish with salt and pepper and sprinkle with the fennel seeds. Top each parcel with a parsley and dill sprig.

Carefully fold in the baking paper and crimp the sides together, enveloping the contents to keep the Staropramen from spilling out. Now bring the foil up and do the same – this is to protect the paper from the heat of the barbecue. Ensure it is tightly crimped but allow some space inside for the Staropramen to steam the fish and vegetables. Place the parcels onto the barbecue, away from direct heat or flames, and cook for about 15 minutes.

Remove the parcels from the barbecue. Carefully unseal the parcels, being careful of the hot steam, to check the fish is cooked then gently remove and put onto 4 plates. Arrange the steamed veg to the side of the fish and top with a slice of herb butter. Garnish with dill to serve.

Serving suggestion
New potato salad and barbecued asparagus make perfect accompaniments.

Salt brine your fish for 8 minutes to keep your fish firm and remove any excess water; simply sprinkle each fillet with ½ tsp fine sea salt and leave on a plate for 8 minutes, then rinse and pat dry before assembling the parcels.
Any cooked leftover fish can be chilled and mixed with a little crème fraiche to make a sandwich filling or cracker snack for the next day
You can cook larger pieces of fish this way – just take care when unwrapping as it will generate a lot of steam.
Don't miss

---