Peanut meringue roulade
Serves
8
|
prep
30 mins
|
total time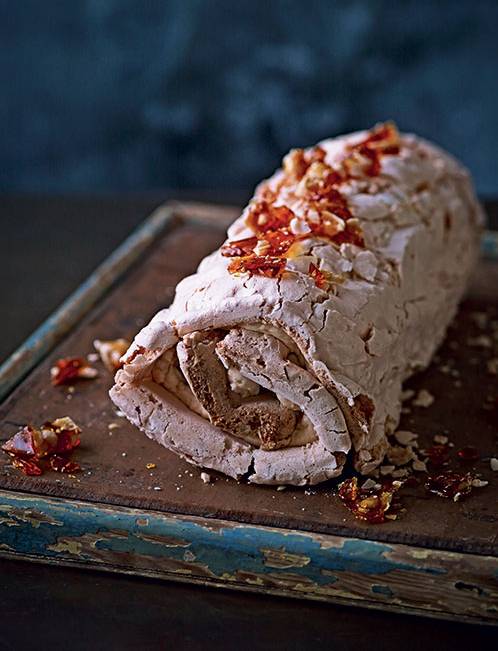 Nutritional information (per serving)
See more
Ingredients
For the meringue
4 large egg whites

200g caster sugar

50g unsalted peanuts, roasted and finely chopped (see kitchen secret)
For the peanut brittle and filling
175g caster sugar

100g unsalted peanuts, roasted

a drizzle of oil, for greasing

300ml double cream

couple of handfuls unsalted peanuts, roasted and roughly chopped
Get ahead
Make the meringue a few hours in advance, then wrap well in clingfilm. Once assembled, the roulade is best eaten straight away. The brittle can be made the day before and kept in an airtight container. Keep any leftover brittle in an airtight container and use to scatter over ice cream, to decorate a cake or eat straight from the tub.
Preheat the oven to 180ºC, fan 160ºC, gas 4. Line a 25cm x 38cm shallow baking tin with baking paper.
To prepare the meringue, in a large, very clean bowl, whisk the egg whites with an electric whisk until soft peaks form. Slowly add the sugar, 1 tbsp at a time, until you have a stiff and glossy mixture. Now lightly fold in the chopped peanuts. Spread the mixture evenly on the prepared tin. Bake for 20–25 minutes until nice and golden.
Place a large sheet of nonstick baking paper on the work surface. Once the meringue is cooked, invert the baking tin to transfer the meringue to the baking paper. Carefully peel away the baking paper, then leave the meringue to cool completely.

Tip To roast peanuts, scatter them over a shallow baking tray and roast in the oven at 200°C, fan 180°C, gas 6 for 7-8 minutes.

To make the peanut brittle, heat the sugar and 6 tablespoons water in a saucepan over a medium-low heat. Cook until the mixture becomes a caramel. Take the pan off the heat and add the peanuts. Spread the mixture on a lightly oiled sheet of nonstick baking paper and leave it to cool completely. Once cool, break the peanut brittle into pieces and grind these to a coarse powder in a food processor.
To make the filling, whisk the cream in a bowl until soft peaks form. Fold in 3 tablespoons of the ground brittle. Spread the cream on top of the cooled meringue, leaving the edges clear. Sprinkle a handful of the chopped peanuts over the cream.
Start rolling the meringue from the short side of the rectangle, using the baking paper to help you. Carefully transfer the roll to a serving plate. Sprinkle with a small handful of the remaining chopped peanuts and ground brittle.
Peanuts are widely used in Indian cooking, for both sweet and savoury dishes, and in winter in particular they are made into peanut brittle, which is eaten as a sweet after meals. The nutty, toffee flavours of peanuts add richness to a light, fluffy meringue roulade and give it an enticing crunch.