Muscat jellies with spiced cream
---
Prep time: 15 mins
Total time: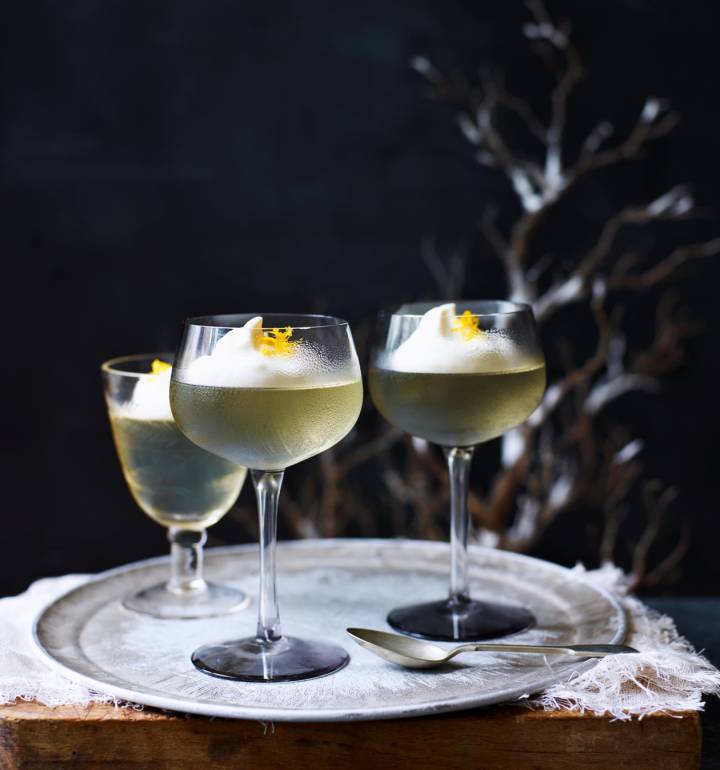 Recipe photograph by Tara Fisher
Muscat jellies with spiced cream
Felicity Cloake's jellies will add a decadent edge to your dinner party. The honeyed flavour of Muscat wine brings this indulgent dessert to life
---
Prep time: 15 mins
Total time:
---
See more recipes
---
Nutritional information (per serving)
---


Ingredients
150g caster sugar
5 sheets platinum-grade leaf gelatine
300ml Muscat or other dessert wine
To serve
150ml whipping cream
¼ tsp ground cardamom (from 8-10 pods)
1 tsp runny honey
a sprinkle of finely grated orange zest
Step by step
The jellies keep for up to 4 days in the fridge.
Bring 300ml water almost to the boil in a small pan. Stir the sugar into the water to dissolve and then take off the heat and allow to cool a little.

Meanwhile, soak the gelatine in cold water until floppy, then wring out and stir into the warm sugar water until melted. Strain into a jug through a fine sieve, then add the wine and stir well.

This makes a soft-set jelly. For a firmer consistency add another gelatine leaf.

Divide between 4 glasses (at least 200ml capacity each) and chill until set – at least 2 hours.

To serve, whip the cream to soft peaks, then stir in the cardamom and honey. Spoon on top of each glass and finish with a pinch of orange zest.
Don't miss

---