Iced Christmas pudding
---
Prep time: 30 mins
Total time: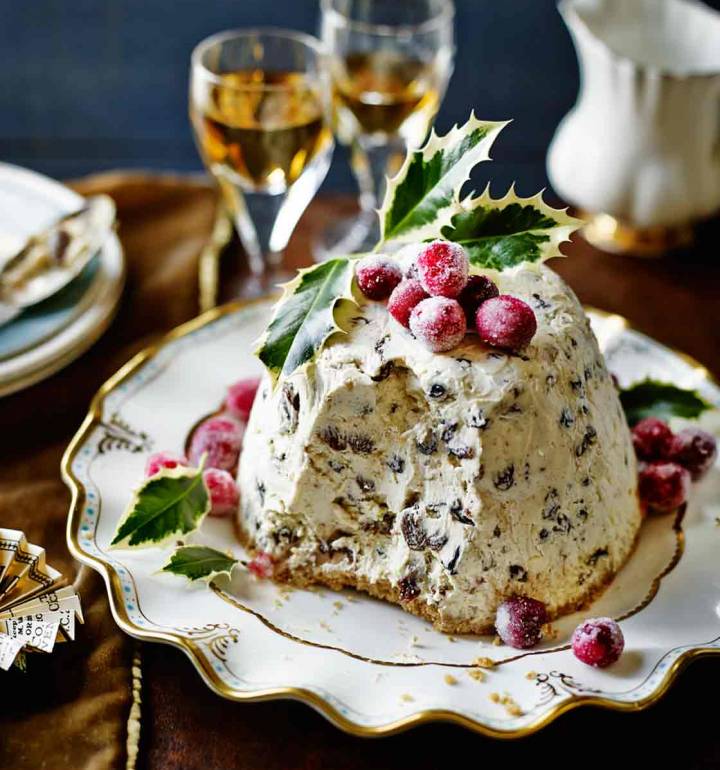 Photographed by Martin Poole
Iced Christmas pudding
---
Prep time: 30 mins
Total time:
---
See more recipes
---
Nutritional information (per serving)
---


Ingredients
For the mincemeat
100g seedless raisins
100g sultanas
50g currants
25g pecan halves, toasted and chopped
grated zest of 2 lemons
grated zest of 1 orange
1 level tsp ground mixed spice
1 tsp Cointreau or Grand Marnier or other favourite tipple (optional)
For the pudding
400g full-fat cream cheese
75g icing sugar
150ml double cream
For the biscuit layer
125g digestive biscuits
50g butter, melted
a sprig of holly or a few bay leaves, to finish
a few frosted cranberries, to finish
Step by step
The cake can be made and put in the freezer up to 2 weeks ahead.
Mix all the mincemeat ingredients together in a bowl and set aside.
Line a 1-litre pudding basin with oiled clingfilm so the film hangs over the edge of the basin. In another bowl, combine the cream cheese and icing sugar.
In a third bowl, whip the double cream and fold it into the cream cheese mixture with the mincemeat. Pile into the pudding basin.

Make this quick mincemeat mix for this iced pudding rather than using a jar of mincemeat, which contains suet and is best cooked. The mincemeat recipe is also good to use in your usual mince pie recipe. It's also suitable for vegetarians.

To make the biscuit layer, whiz the biscuits in a processor to fine crumbs. Mix with the melted butter in a bowl, then spoon onto the pudding mixture, pressing down evenly. Fold over the clingfilm and freeze overnight.
To serve, take the pudding out of the freezer and, after 15 minutes, invert it onto a plate. Leave it for a further 15 minutes, remove the bowl and clingfilm and top with holly and frosted cranberries. Spoon or slice to serve.
Don't miss

---