Cinnamon maple pavlova with hazelnut praline
---
Prep time: 45 mins
Total time: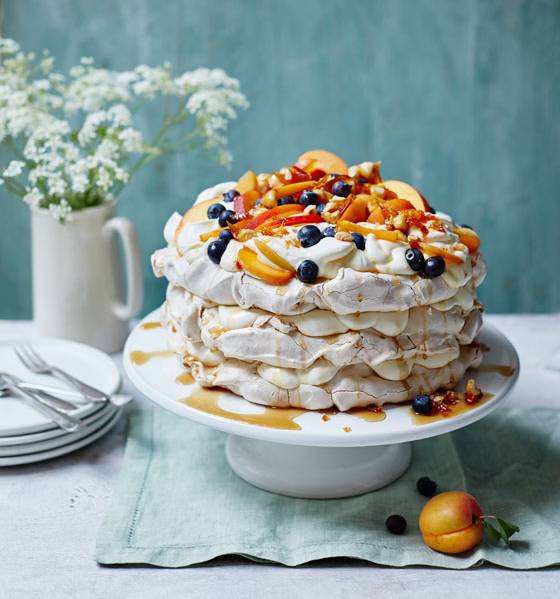 Recipe photograph by Laura Edwards.
Cinnamon maple pavlova with hazelnut praline
---
Prep time: 45 mins
Total time:
---
See more recipes
---
Nutritional information (per serving)
---


Ingredients
6 large egg whites
300g caster sugar
1 rounded tsp ground cinnamon
1 tbsp cornflour
2 nectarines, stoned and sliced
6 apricots, stoned and sliced
125g blueberries
a drizzle of maple syrup
For the hazelnut praline
150g caster sugar
1 x 100g bag blanched hazelnuts
For the filling
900mls of double cream
1 tbsp icing sugar
a pinch of ground cinnamon
Step by step
Bake the meringues up to 2 days ahead; store in a cool, dry place, loosely covered with clingfilm or in a large airtight container. You can make the praline a day ahead; store in an airtight container once broken up. The assembled pavlova will hold for a few hours, but drizzle with maple syrup just before serving.
Preheat the oven to 140°C, fan 120°C, gas 1. Draw three 20cm circles (it's handy to use a cake tin base to draw around) on 3 pieces of baking paper and put onto 3 baking sheets; turn them so the circles are underneath.
For the meringues, put the egg whites into a large clean bowl and whisk them to stiff peaks. Gradually add the sugar, whisking all the time. With the last addition of sugar, add the ground cinnamon and cornflour. You'll end up with a glossy meringue mix.
Pile a third of the meringue onto each paper, within the circle (stick the papers down with a little meringue to steady them), then gently spread the meringue out. Bake the meringues for 1 hour, then turn the oven off and leave them to cool overnight with the oven door ajar.
Cut out a small sheet of baking paper. For the hazelnut praline, tip the sugar into a small nonstick frying pan or saucepan and warm it over a low heat. Once about half of the sugar has liquefied, gently stir until all the sugar has melted and you have a dark amber caramel. Tip in the hazelnuts, stir to combine, then tip onto the baking paper and leave to cool and harden. Once the praline is cold, use a large sharp knife to chop it into small pieces.
To make the cinnamon cream, whisk the 900ml of cream with the icing sugar and ground cinnamon. To assemble, put one of the meringues on a cake stand or plate, flat-side down. Top with a third of the cream; repeat with another meringue and more cream. Top with the third meringue and remaining cream.
Pile the prepared nectarines, apricots and blueberries on top and scatter with the praline (you won't need it all, but it keeps well and is delicious scattered on ice cream or summer cakes). Drizzle with maple syrup just before serving and serve any leftover fruit in a bowl at the table to add as you eat.
Don't miss

---