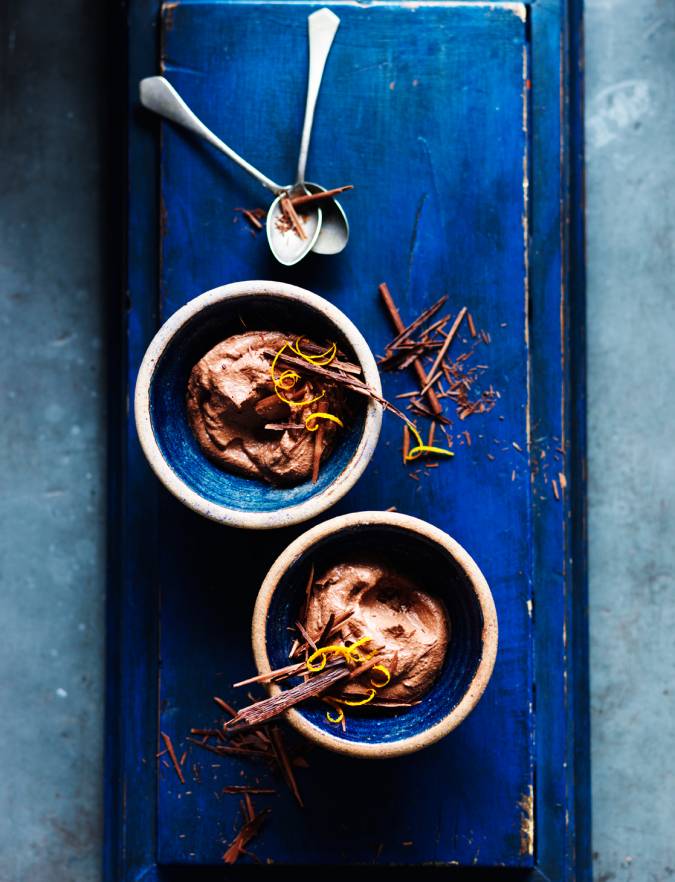 Nutritional information (per serving)
See more
Ingredients
349g Mori-Nu silken firm tofu

100g dairy-free dark chocolate (we used Montezumas 73% cocoa 'very dark' chocolate), chopped

2 tbsp agave syrup

½ tsp Valencian orange extract
To serve
dark chocolate, shaved or grated

orange zest
Get ahead
Make in advance and store in the fridge for up to 2 days. The pots can also be frozen for up to 1 month. Defrost in the fridge.
Empty the tofu into a food processor and blend until smooth.
Put the chocolate in a bain-marie – simply boil some water in a pan and place a heatproof bowl on top, ensuring that the water does not touch the bottom of the dish. Turn the heat down to the lowest setting before adding the chocolate. Gently melt until completely smooth. Remove the chocolate from the heat and allow it to cool for 5 minutes or so.
Pour the melted chocolate into the food processor along with the agave syrup, orange extract and a pinch of fine salt before blending until completely incorporated and smooth, scraping down the sides with a spatula from time to time.
Divide the mixture into 4 small pots or glasses and chill for a couple of hours in the fridge.
Garnish with shaved chocolate and a little orange zest before serving.
Silken tofu is a bit of a badass. While its jelly-like texture might not work in savoury dishes (in my humble opinion), it's something of a star when it comes to desserts. Usually found next to grains and pulses, this unique ingredient is a great addition to your cupboard and, unlike its refrigerated cousin, it will keep for months on end.