Chai-poached pears with ginger and honey
---
Prep time: 15 mins
Total time: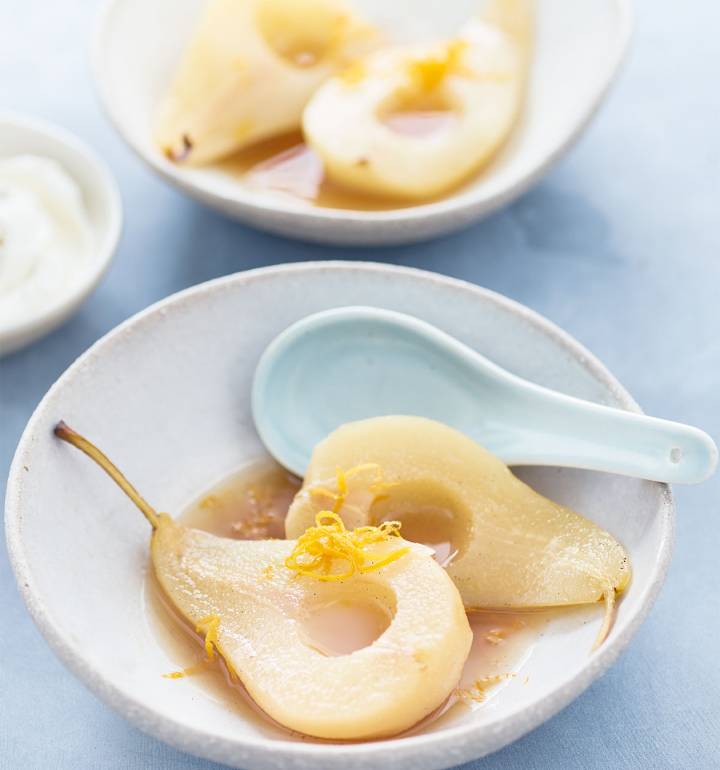 Recipe photograph by Rob Streeter
Chai-poached pears with ginger and honey
Poach pears in chai spices for an elegant and light dessert with minimal effort and maximum flavour
---
Prep time: 15 mins
Total time:
---
See more recipes
---
Nutritional information (per serving)
---


Ingredients
4 chai tea bags
4 tbsp clear honey
2cm-piece of fresh ginger, peeled and thinly sliced
3 strips pared orange zest, plus extra zest to serve
1 tsp vanilla bean paste (or 1 vanilla pod, seeds removed)
4 medium pears
Step by step
Keep for up to 3 days in the fridge.
Bring 1 litre of water to the boil in a medium pan, then add the chai tea bags. Remove the pan from the heat and allow the tea to steep for 5 minutes.
Remove the tea bags, squeezing any excess liquid back into the pan to extract the maximum flavour, and discard. Add the honey, ginger, orange zest, vanilla paste (or seeds and pod, if using) to the tea, and stir to dissolve the honey. Put the pan on a medium-high heat and simmer for 5 minutes.
Meanwhile, peel and halve the pears, leaving the stem intact, and carefully scoop out the core and seeds with a melon baller or teaspoon. Add the pears to the pan, then reduce the heat to a very gentle simmer and cook uncovered for about 15 minutes, or until the pears are tender when pierced with a knife.
Carefully remove the pears using a draining spoon, and put in a bowl or shallow dish. Lift out the ginger and orange zest and discard. Bring the liquid to the boil, and boil briskly for about 25 minutes, or until the liquid has reduced to about 200ml. Pour it over the pears and leave them to cool and infuse in the chai syrup. Chill until ready to serve.
To serve, put 2 pear halves in each bowl, and spoon over some of the chai syrup. Serve with a dollop of crème fraiche, vanilla yogurt or mascarpone, plus a scattering of orange zest.
Don't miss

---