'Buttered toast' ice cream
---
Prep time: 15 mins
Total time: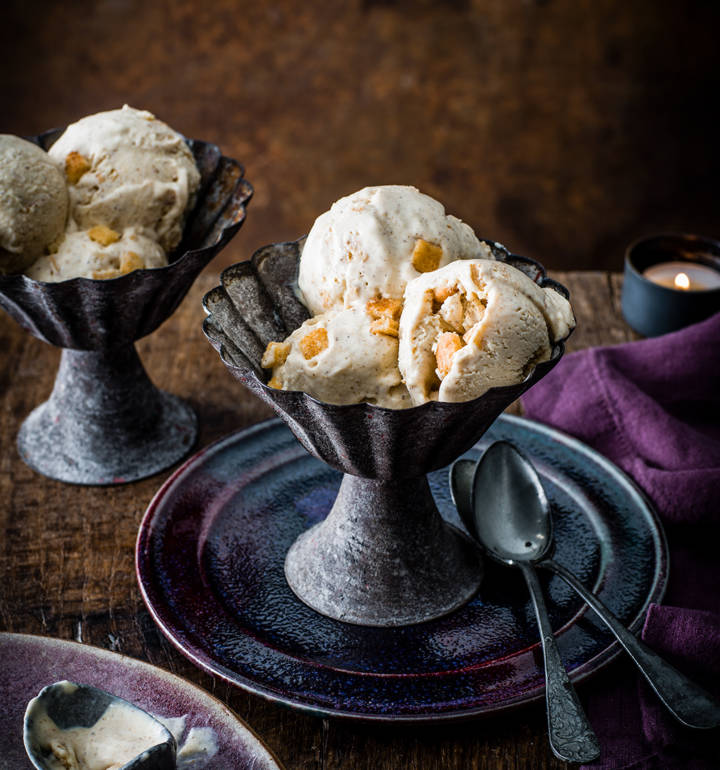 Recipe photograph by Ant Duncan
'Buttered toast' ice cream
Infusing a simple ice cream base with golden toast crumbs gives this ice cream a delicious caramel quality
---
Prep time: 15 mins
Total time:
---
See more recipes
---
Nutritional information (per scoop)
---
Ingredients
300ml double cream
300ml whole milk
125g golden caster sugar
3 medium egg yolks
4 medium slices white bread (ready-sliced)
40g salted butter
Step by step
Keeps in the freezer for up to 1 week, before the crispy toast bits start to soften.
Put the cream and milk in a pan with 100g of the caster sugar. Heat gently, stirring until the sugar dissolves, then bring to a simmer. Meanwhile, in a bowl, mix the egg yolks and remaining 25g of sugar. When the cream has reached simmering point, slowly whisk it into the egg mixture, then return it to the pan. Heat gently, stirring occasionally, until the custard mixture has thickened and just coats the back of a wooden spoon.
Meanwhile, toast 2 slices of bread until dark brown but not burnt, then blitz to breadcrumbs in a food processor. When the custard has thickened, remove from the heat and add the toast crumbs. Leave to infuse for 30 minutes, then strain into a clean bowl and discard the crumb mixture. If using an ice cream machine to churn and freeze your ice cream then chill the strained custard for a minimum of 4 hours or ideally overnight. If you don't have an ice cream machine, see tip, right.
Toast the last 2 slices of bread; cut into small cubes. Melt the butter in a frying pan; fry the cubes until crispy. Cool on a plate.
Churn the ice cream in an ice cream maker until almost set, adding the toast cubes 5 minutes before the end. Transfer to a container; freeze. Remove to the fridge to soften 30 minutes before serving.

No ice cream machine?
Freeze the strained custard in a wide shallow container for 2 hours until it starts to set at the edges. Tip into a bowl, whisk, then freeze for 1 hour. Repeat again, then add the buttered toast crumbs. Freeze until firm.
Don't miss

---