Lamb tandoori
Serves
2 as a main or 4 as a starter
|
prep
30 mins
|
total time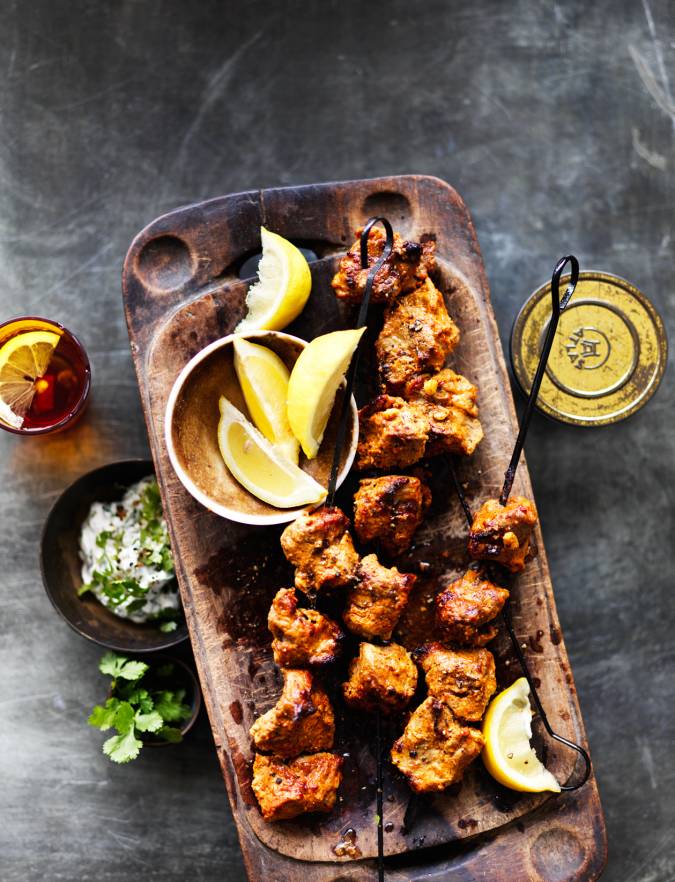 Lamb tandoori
Subscribe to Sainsbury's magazine
Serves
2 as a main or 4 as a starter
|
prep
30 mins |
total time
Anjum Anand's succulent lamb tandoori is dusted with classic Indian spices and served with lemon wedges and raita
Nutritional information (per serving)
See more
Ingredients
For the tandoori spice blend (makes around 600g, you will need 3 1/2 tbsp for this recipe)
3 tbsp coriander seeds

2 tbsp cumin seeds

1 tsp black peppercorns

¾ tsp whole cloves

the seeds from 1 tsp green cardamom pods

1 small black cardamom pod (optional)

1 cinnamon stick or piece of cassia bark

½ a blade of mace

½ tsp grated nutmeg

1 tsp ground turmeric

½-1 tsp hot chilli powder

5 tsp paprika
For the lamb tandoori
160g Greek yogurt

3 tbsp vegetable oil

3 tbsp red wine vinegar

20g ginger, peeled weight

6 garlic cloves, peeled

3½ tbsp homemade tandoori spice mix

500g lamb neck, all extra fat trimmed

¼ x 31g pack coriander leaves picked, to serve
Get ahead
Marinate up to 24 hours ahead, or freeze the lamb in its marinade for up to 1 month. Defrost in the fridge overnight.
First, make the tandoori spice blend. Gently toast 3 tbsp coriander seeds, 2 tbsp cumin seeds, 1 tsp black peppercorns, ¾ tsp whole cloves, the seeds from 1 tsp green cardamom pods, 1 small black cardamom pod (optional), 1 cinnamon stick or piece of cassia bark, and ½ a blade of mace in a dry frying pan for a few minutes, until fragrant. Tip into a spice grinder or mortar and whizz or bash with a pestle to a fine powder. Stir in ½ tsp grated nu tmeg, 1 tsp ground turmeric, ½-1 tsp hot chilli powder and 5 tsp paprika. Store in an airtight container for 3 months.

Tip Keep on hand in the kitchen to add to raw chicken, fish, prawns and the Indian cheese paneer for an instant tandoori.

Blend the yogurt, oil, vinegar, ginger and garlic together until smooth. Stir in some seasoning and 3 1/2 tbsp of tandoori spice mix.

Cut the lamb into 4cm-thick slices. Poke the pieces all over with the tip of a knife and place in the marinade. Mix well so all the pieces are coated. Cover and place in the fridge for as long as possible, ideally overnight. Bring back to room temperature before starting, and skewer onto 4 metal skewers.

Preheat the grill to its highest setting. Put the skewers on a foil-lined baking tray and cook for 10-15 minutes, turning halfway. The lamb should be well cooked but soft, and a little charred.

Remove from the grill, wrap in foil and rest for 5 minutes. Serve on a platter with lemon wedges, with a cucumber and mint raita and coriander on the side. Serve with chapatis or naan, if you like.
Tandoori food is one of my favourite things to eat. The tandoor is a barrel-shaped, coal-fired oven. Traditionally used in the North of India to cook breads, tandooris are now best known for producing succulent barbecued meats. You can still enjoy grilled or baked tandoori-style food without the oven and the starting place is a good spice mix.