Honey bunny biscuits
Makes
12
|
prep
1 hr 20 mins
|
total time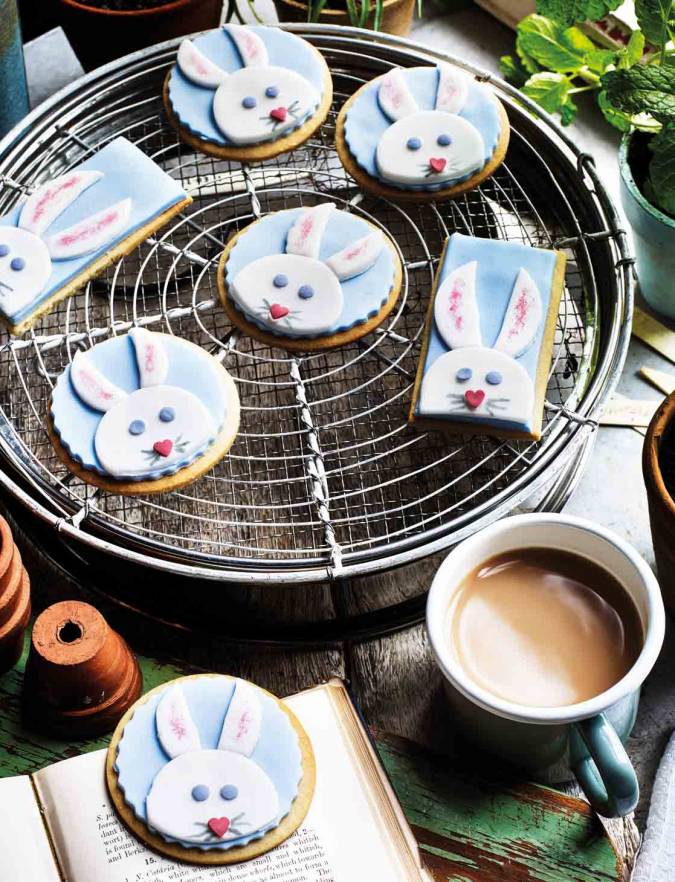 Nutritional information (per serving)
See more
Ingredients
75g butter, softened

3 tbsp clear honey

25g caster sugar

125g plain flour, plus extra for dusting

25g cornflour
To decorate
3-4 tbsp apricot jam

a little icing sugar, for dusting

1 x 250g pack blue ready-to-roll icing

150g white ready-to-roll icing

multicoloured confetti cake decorations, for the eyes

red and pink heart confetti cake decorations, for the nose

edible pink food powder or dust, or pink glimmer sugar for the ear blush

black food colouring, for the whiskers
Get ahead
The uniced biscuits keep for 4-5 days in a biscuit tin, or 2 days once iced. They also freeze well.
Beat the butter, honey and sugar together until pale and creamy, then beat in the flour and cornflour until the mixture forms a dough. Wrap in clingfilm, flatten into a rectangle, then chill for 30 minutes until firm. Preheat the oven to 180°C, fan 160°C, gas 4. Lightly flour the work surface, then roll the dough out to about 2-3mm thick.
Using an 8cm plain round cutter, cut out 6 circles and place on a baking tray lined with baking paper. Reroll the rest of the dough to a rectangle 10 x 30cm and cut 6 rectangles 10 x 5cm (make a cardboard template if this is easier). Put on the baking tray and bake all the biscuits for 8-10 minutes until golden brown around the edges. Allow to cool on the tray for 5 minutes then transfer to a wire rack to cool.
Dust the work surface with icing sugar. Roll out the blue icing very thinly, cut out circles and rectangles in the same sizes as the biscuits (use a fluted cutter if you wish) and press gently onto the jammy top of each biscuit. Roll out a third of the white icing and cut 12 circles with a plain 4cm biscuit cutter. Use the 8cm cutter to trim a little off the base of 6 discs (so that the curve matches the biscuit shape) to form the bunny faces, and cut a straight line for the remaining discs for the rectangular biscuits. Brush the underside of each disc with a very slightly damp clean paintbrush, and stick the dampened side onto the iced biscuits.
Roll out the rest of the white icing and cut out 6 x 4cm circles. Cut a 1.5cm-wide strip from either side of each circle, to form a pair of ears. Place on each round biscuit, dampening the underside first. To make the larger ears for the rectangular bunnies, cut out 6 more circles with a 5-6cm round cutter (rerolling the icing as necessary) and use in the same way.
Use a little water to stick on cake decorations for the eyes and nose (applied using a clean artist's fine paintbrush). Dab a little edible dust down the centre of the ears using your fingertip, or if you're using the glimmer sugar, brush the centre of the ears with a little water then shake on some glimmer sugar. Paint the whiskers on with black food colouring, using a very fine brush.