S'mores brownie cake
Serves
12-14
|
prep
1 hr 15 mins
|
total time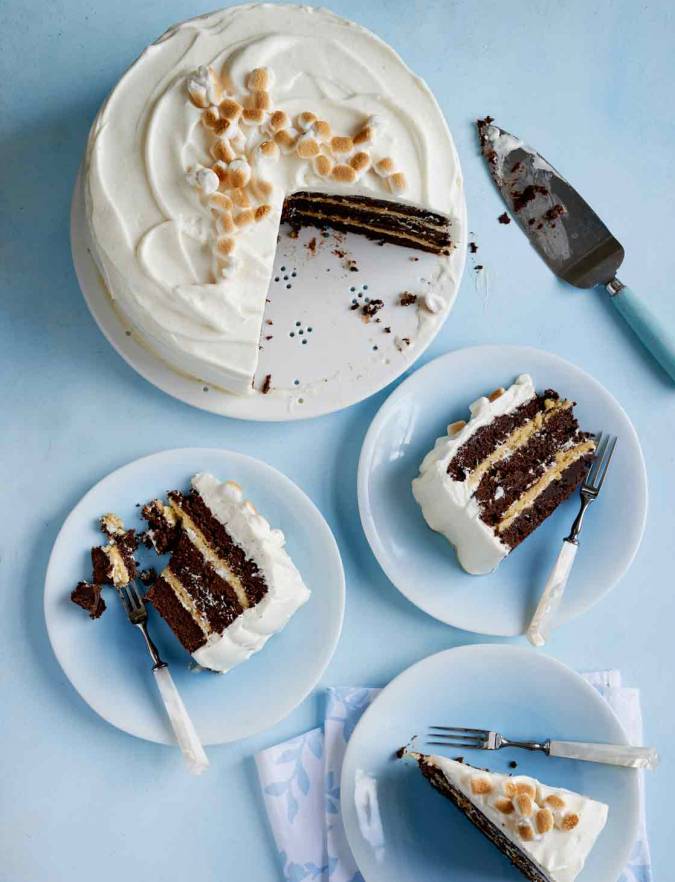 Nutritional information (per serving)
See more
Ingredients
For the brownie layers:
400g dark chocolate (about 70%), chopped

350g unsalted butter, cut into small pieces, plus extra for greasing

350g golden caster sugar

6 medium eggs, separated

125g plain flour
For the biscuit layers:
125g soft unsalted butter

100g caster sugar

4 medium egg yolks (reserve the whites for the icing)

1 tsp vanilla extract

225g plain flour
For the marshmallow icing:
8 medium egg whites

200g caster sugar

100g golden syrup

20ml vanilla extract

40g white mini marshmallows
To decorate:
a handful of mini marshmallows
Preheat the oven to 180°C, fan 160°C, gas 4. Grease and line the bases of two 23cm round cake tins.
For the brownie layers, place the chocolate, butter and sugar into a large pan and heat gently, stirring occasionally, until melted. Transfer to a large bowl and leave to cool for 10 minutes.
Whisk the egg yolks, flour and a pinch of salt into the chocolate mixture.
Whisk the egg whites until they form soft peaks, then gently fold them into the chocolate mixture.
Divide the batter between the two cake tins. Bake for 35-40 minutes until crusty on top and firm to the touch. Leave to cool in their tins for 1 hour, then transfer to two lined chopping boards and chill for 2-3 hours until very firm and cuttable.
Meanwhile, prepare the biscuits. Preheat the oven to 190°C, fan 170°C, gas 5. Place the butter, sugar, egg yolks and vanilla extract into a food processor and pulse together until combined. Add the flour and a pinch of salt and pulse until it is just starting to form a dough. Tip out onto a lightly floured work surface and knead very briefly until it comes together. Divide into two even pieces and flatten into discs. Place each disc onto a large piece of lightly floured baking paper and roll out into a large, thin disc, at least 25cm in diameter and about 4-5mm thick. Don't worry if it is bigger or not a perfect circle, as long as you can cut out a 23cm disc from each one once it is baked, it's fine.
Transfer the biscuits to large lined baking trays and bake in the oven for 10 minutes, then stamp out a 23cm disc from each, using the cake tin you baked the brownie layer in. Remove any excess pastry and return the biscuits to the oven for a further 5 minutes or slightly golden in colour. Leave to cool on the trays for 10 minutes before transferring to a wire rack.
To make the icing, combine all the icing ingredients with 75ml water and a pinch of salt in a large heatproof bowl set over a saucepan of simmering water and beat with a handheld electric mixer at high speed for 7-10 minutes until thick and fluffy. Remove the bowl from the heat and continue to beat for 5 minutes until cool.
To assemble the cake, using a serrated knife, slice each brownie cake into two layers. Don't worry if the brownie breaks up a little bit, just patch it together. Place one brownie layer on a board and spread with a thin layer of icing. Place one of the biscuits on top and ice again before topping with 2 further layers of brownie, icing in between, as before. Top with the second biscuit and the final brownie layer, icing in between as before. Finally ice the whole cake generously with the remaining icing. Chill in the fridge for at least 3 hours or overnight.
To serve, scatter the marshmallows on top of the cake, then brûlée the marshmallows with a blowtorch.