Ginger spiced marshmallows
Makes
56
|
prep
20 mins
|
total time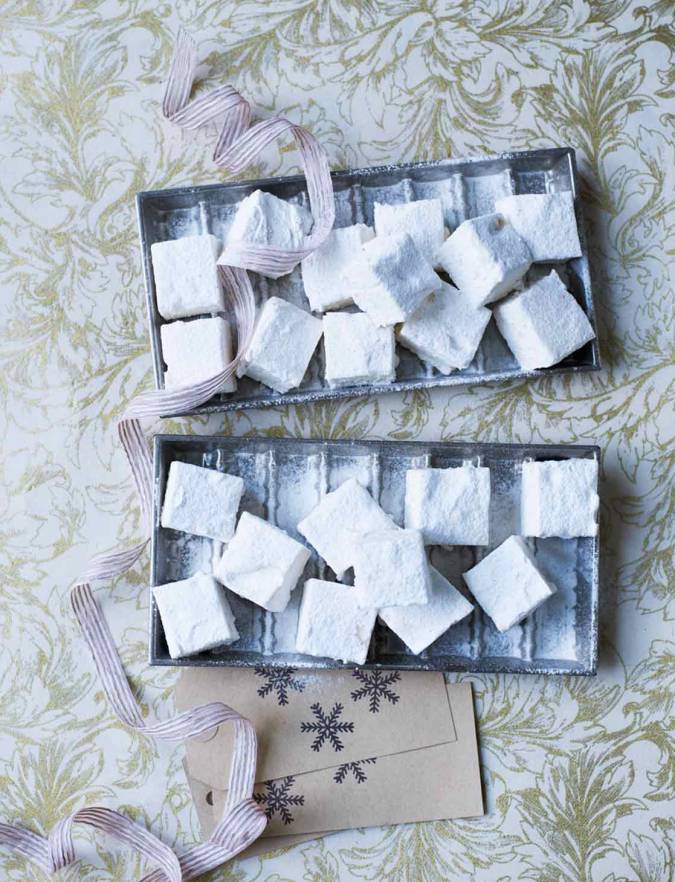 Ingredients
a drizzle of sunflower oil, for greasing

2 packets or 24g powdered gelatine (we used Dr Oetker)

500g caster sugar

4 tbsp golden syrup

5 pieces of stem ginger in syrup from a jar, very finely chopped, plus 4 tbsp syrup from the jar

50g icing sugar, for dusting

25g cornflour, for dusting

½ tsp ground ginger, for dusting
Get ahead
These marshmallows will keep for up to 2 weeks. Place them in an airtight container between sheets of baking paper until ready to package.
Grease a 24cm square cake tin with a little sunflower oil and line with baking paper. Once lined, lightly grease the paper. Place 100ml of cold water in the bowl of your free-standing mixer and sprinkle the powdered gelatine over the surface. Leave to stand while you prepare your syrup.
Place the sugar and golden syrup and 300ml of cold water into a small stainless steel saucepan and heat gently until the sugar has dissolved and then increase the heat slightly to reach 115°C. If your mixture splashes up the sides of the pan as it heats, brush down with some water and a pastry brush to prevent your mixture from crystallising.
When the mixture has almost reached 115°C (this will take 12-15 minutes), start mixing the gelatine and water mixture in the free-standing mixer using the whisk attachment. The gelatine and water will now be quite thick, but whisk for a minute or so to break it up.
Once the sugar syrup has reached 115°C, remove the pan from the heat and with the motor of the mixer still running, slowly pour the syrup into the mixer, down the side of the metal bowl so the syrup gently trickles onto the gelatine mixture, so it remains smooth.
Once the syrup has all been added, keep whisking on a high speed and gradually you will see the marshmallow mixture increase in volume and become beautiful, white and fluffy. Keep whisking for around 10-12 minutes as the mixture continues to thicken and begins to cool down.

The mixture should now have increased in volume and look fluffy and the surface will appear stretchy. Add the ginger syrup and whisk for 1-2 minutes until fully incorporated into the marshmallow. Next, add the finely chopped ginger and whisk for a few seconds more until it has distributed through the marshmallow.



Scrape the mixture into your lined and greased tin and cover the surface with some greased clingfilm, place in a cool place to set, but don't put it in the fridge. Leave for 1-2 hours or ideally overnight until completely cool and firm.
Remove from the tin and peel off the lining paper. Mix the icing sugar, cornflour and ginger in a bowl. Grease a sharp knife and cut the marshmallows into squares, dust in the icing sugar mixture to coat.