Sugarpaste flowers
Makes
enough to decorate 12 cupcakes
|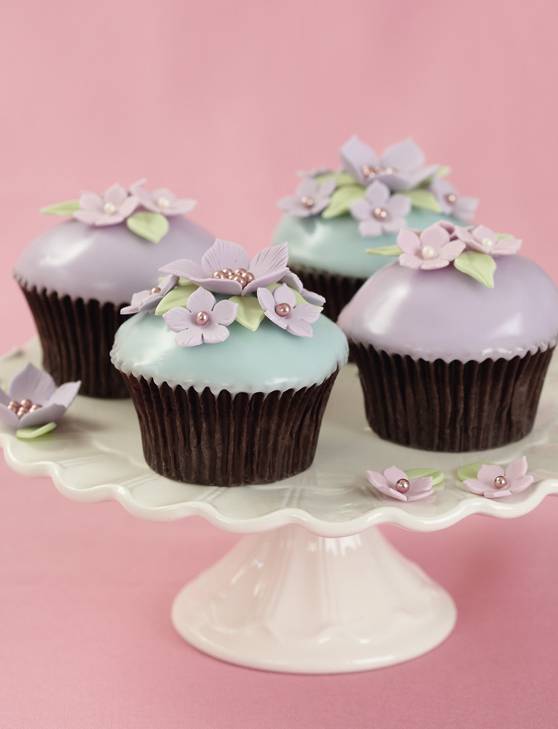 Ingredients
purple and green food colourings (we used Sugarflair grape violet and spruce green)

200g white sugar florist paste

icing sugar, for dusting

fondant icing sugar, to use as glue

pink or silver balls
You will also need:
specialist large and small petunia cutters

veiner

leaf cutter

foam pad

boning tool

painter's palette (all available from squires-shop.com/uk)
Add a little purple food colouring to two-thirds of the sugar florist paste; knead to produce a soft lilac shade. Repeat with the remaining florist paste, using green food colouring for the leaves. Wrap each colour with clingfilm so they don't dry out.
On a plastic board lightly dusted with icing sugar, roll out a small amount of the lilac paste very thinly (1-2mm); keep the rest wrapped. Using the large petunia cutter, cut out 12 shapes and put on the foam pad. Gently run the bone tool over the edges to thin them. Place the flowers, one at a time, onto the veining tool, cover with the plain one, then press firmly before releasing. Shape the centre of each flower around the bone tool and curve the petals with your fingers. Place into a well of a painter's palette to dry in a curved shape.
Roll out the remaining lilac paste and, using the smaller petunia cutter, cut out small flowers. Use the bone tool to shape the petals and slightly curve them between your fingers. Leave them to dry. If you make 12 large and 60 small flowers, you'll have some left over to decorate your cake stand, too.
Roll out the green paste and cut out about 60 leaves with a small leaf cutter. Mark the vein down the middle of each one using a veining tool. Shape the leaves with your fingers and leave to dry on a tray.
Make up enough fondant icing to fill a piping bag and use small dabs to stick sugar balls onto every flower. Use more icing to attach the flowers to your cakes and arrange the leaves around them. Leave to set for a few hours.