Pigs in mud cake
Serves
20
|
prep
45 mins
|
total time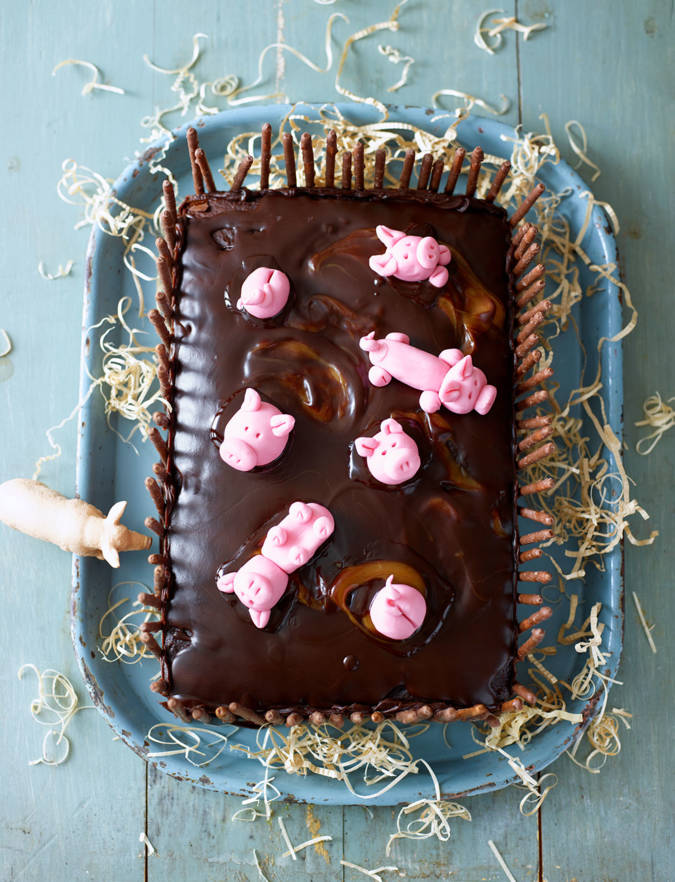 Ingredients
125g soft butter, plus extra to grease

100g cocoa powder

3 medium eggs

300ml semi-skimmed milk

450g light muscovado sugar

400g plain flour

2 tsp baking powder

2 tsp bicarbonate of soda
For the filling
1 x 260g jar salted caramel sauce
For the icing
100ml double cream

175g butter, diced

225g dark chocolate (35% cocoa solids, eg Bournville), finely chopped

2 x 75g packs Mikado milk chocolate biscuits or 2 x 125g pouches mini chocolate fingers
For the pigs
red gel food colouring

250g white ready-to-roll icing
Get ahead
The filled but undecorated cake can be frozen for up to 1 month. The finished cake will keep for up to 4 days in an airtight container.
Preheat the oven to 180°C, fan 160°C, gas 4; grease and line a 30 x 20cm traybake tin.
Put the butter in a large mixing bowl and pour over 225ml boiling water, then stir in the cocoa powder and beat until the butter has melted and the mixture is smooth. Whisk the eggs and milk together. Beat the sugar into the cocoa mixture then the flour, baking powder and bicarbonate of soda, followed by the eggs and milk to make a smooth batter. Pour into the tin and bake for 45-50 minutes until risen and firm to the touch.
Allow to cool for 10 minutes then turn the cake out onto a wire rack to cool completely. Cut the cooled cake in half horizontally, spread with most of the caramel (warm it slightly if necessary to make it easier to spread, and keep back about 2 tablespoons for the decoration), then sandwich back together.
To make the icing, warm the cream and butter in a medium pan until the butter has melted. Remove from the heat, add the chopped chocolate and stir until smooth. Allow to cool a little, then pour about half of it over the top of the cake. Let the rest of the icing cool a little longer then beat until thickened. Spread around the sides of the cake and press the Mikado biscuits (snapped in half if you want a shorter fence) or chocolate fingers around the sides, for a fence effect.
To make the piglets, knead red food colouring into the white icing until it is a smooth piggy pink. Roll 3 x 15g pieces of icing into small balls, then shape 3 pea-sized balls of icing and place on top for the noses, pressing them down to secure. Use a skewer to make 2 nostrils. Shape little oval ears and press onto the sides of the heads. Mark eyes with the skewer. Place on top of the cake and add 2 small balls of icing to make the trotters, marking a cleft in the hoof. To shape the pigs' bottoms, roll another 2 balls of icing, mark a crease in the centre then roll and twist 2 tiny sausages of icing to create the tails and press onto the bottoms. To make the large pigs, shape a large sausage for the body then add a head, 4 feet and tails as before. Arrange on top of the cake, swirling a little caramel around them if liked so they look as if they are playing in mud!