Lavender sponge cake with rhubarb curd
Serves
8
|
prep
40 mins
|
total time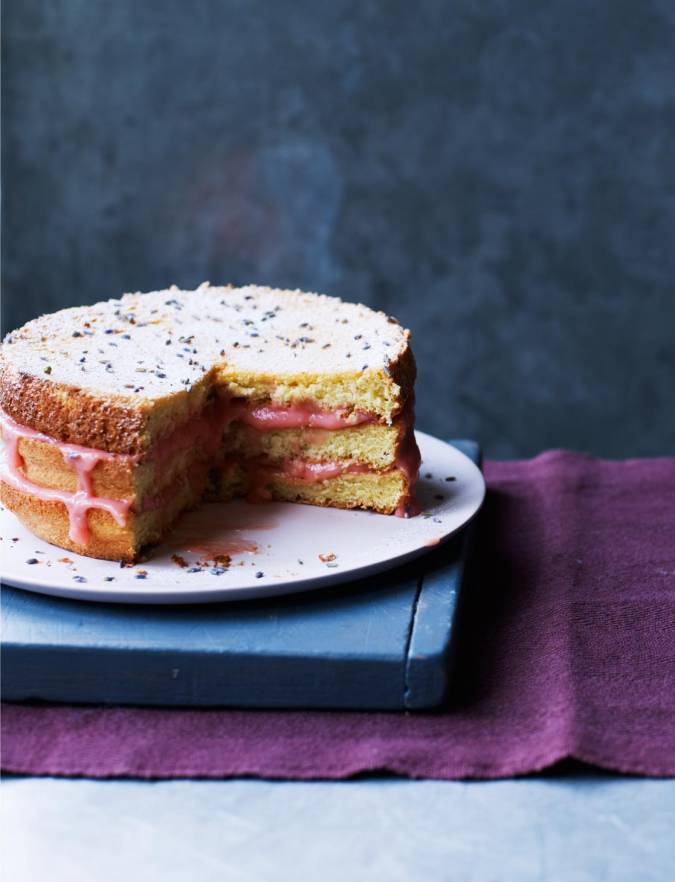 Nutritional information (per serving)
See more
Ingredients
For the lavender sponge
125g butter, melted, plus extra for greasing

6 large eggs

175g caster or granulated sugar

150g plain flour

2 tsp lavender buds, finely chopped (off the stems)
For the rhubarb curd
400g (prepped weight) pink rhubarb, trimmed and cut into 1cm slices

200g caster or granulated sugar

75g butter

4 tsp cornflour

3 large eggs, lightly beaten

pink food colouring (optional)

icing sugar and chopped lavender buds, to decorate
Preheat the oven to 180°C, fan 160°C, gas 4. Line the base of the three 18cm cake tins and butter the sides.
To make the sponge, put the eggs, sugar and a pinch of salt in a bowl and, using an electric whisk, beat for until tripled in volume, light and fluffy (this may take up to 10 minutes). Sift in the flour and fold into the mousse-like mixture with the lavender and the melted butter, working quickly so that not too much air escapes.
Divide the cake mixture between the three tins and put in the oven. Bake for 20 minutes or until the sponges are light golden and a skewer inserted into the centre comes out clean. Take out of the oven and cool in the tin for a few minutes before turning out and cooling on a wire rack.

Tip You can also put whipped cream between the layers with the rhubarb curd, though only if the cake is all going to be eaten on the day it's made. Otherwise, serve it with some softly whipped cream on the side.

Meanwhile, make the curd. Put the rhubarb and 50g of the sugar in a pan over a medium heat, cover with a lid and cook for 6-8 minutes, stirring every so often, until the rhubarb has softened, then broken up completely and the mixture has thickened to a pulp.

Pour into a sieve set over a bowl and push the mixture through, scraping the underside of the sieve to get every last bit. You should have about 200ml rhubarb juice; discard the pulp.

Next, put the butter in the cleaned saucepan over a low-medium heat and allow to melt. Mix the cornflour with a little of the sieved juice, remove the pan from the heat and add in the cornflour, eggs, the rest of the sugar and the rhubarb juice. Put the pan back on a low heat and stir continuously for 5-7 minutes until thickened. Take off the heat and strain through a sieve into a bowl. If your curd is not pink enough for your liking, stir in pink food colouring a drop at a time, until you reach the desired colour. Leave to cool completely.




When ready to assemble, put one cake (save the cake with the best-looking top for the uppermost tier) upside down on a plate or cake stand. Place half of the curd on top and spread it out (allow the curd to drip slightly over the edges). Put the next cake, right side up, on top, then cover with the second half of the curd, as before. Finally, top with the third (and best-looking) cake. Dust with icing sugar and decorate with some more chopped lavender, if you wish.



Warning: this recipe contains partially cooked eggs.