Christmas tree forest cake decoration
Serves
18-20
|
prep
30 mins
|
total time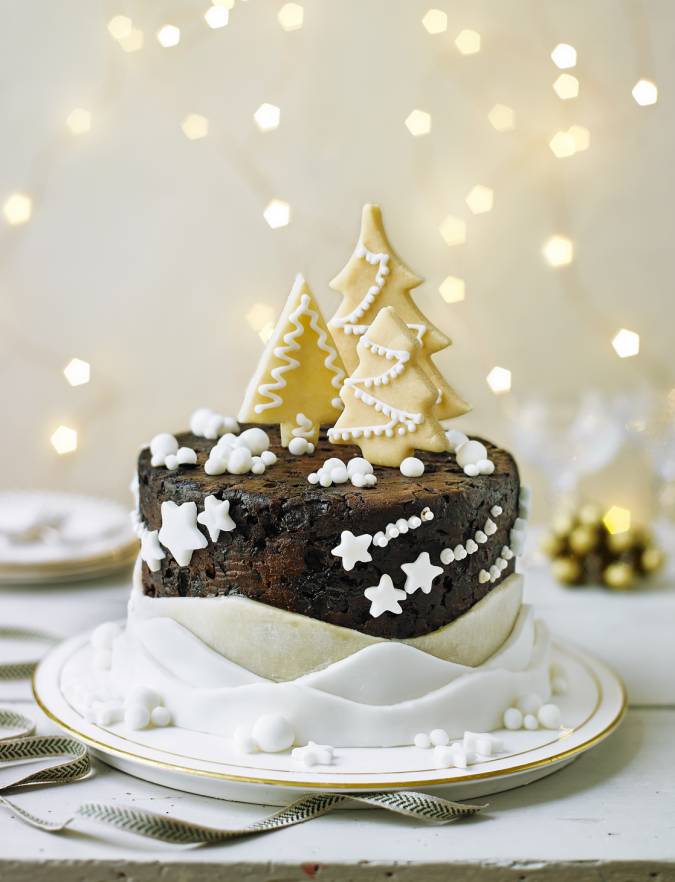 Ingredients
500g white marzipan

75g royal icing sugar, plus extra for dusting

spiced chocolate, walnut and fruit cake

1 tbsp apricot glaze

300g ready-to-roll white icing

sugar pearls, to decorate
Get ahead
Bake the marzipan trees up to 1 month ahead, cool and store in a cake tin. Once decorated, the cake will keep for 4-5 days stored in an airtight tin in a cool place.
Preheat the oven to 120°C, fan 100°C, gas 1. Roll out 200g of the marzipan to about 6mm thickness. Cut out 1 large and 2 small Christmas trees. Push 2 cocktail sticks up through the base of each tree, allowing 3cm of the sticks to protrude so you can push them into the baked cake. Put the trees on baking paper on a baking tray, place in the oven and bake for 1 hour. Leave to cool and harden.
Dust the work surface with icing sugar. Roll the remaining marzipan into a long fat sausage then flatten with a rolling pin into a strip about 55cm long and 7cm wide. Cut one long straight edge then, using a sharp knife, cut the other edge in waves. (You may find it easier to make a paper template and wrap it against the cake first as a guide.)
Turn the cake upside down on your cake stand to give a flat surface; use marzipan trimmings to patch up any gaps between the base of the cake and the stand.
Brush the strip of marzipan lightly with apricot glaze then wrap it around the cake (apricot glaze side to the cake), cutting the join at the back to fit.
Roll out 175g of the ready-to-roll white icing into a long strip in the same way, making it a little narrower, about 5cm wide, and cut a wavy edge as before. Using a brush, dampen the icing very lightly with water and press the damp side against the marzipan. Use about 125g white icing to make a third slightly narrower wavy strip, about 3.5cm wide, dampen and again wrap around the cake.
Mix the royal icing sugar with 2 teaspoons of cold water to make a stiff icing. Put in a piping bag and attach the nozzle.
Pipe decorations onto the marzipan trees, then insert them into the cake.

Using the icing trimmings, cut out mini stars and roll some snowballs for decoration. Arrange these around and on top of the cake, securing them with the royal icing. Add a few sugar pearls to finish off the design.
We used the deep 18cm round spiced chocolate, walnut and fruit cake recipe, but this technique works on any Christmas cake. If you are not using a deep cake, cut the marzipan and icing drifts on the side to the appropriate size. To decorate the cake, you will need some cocktail sticks, Christmas tree cutters between 10cm and 7cm tall, mini star cutters and a plastic piping bag with a 2mm plain nozzle.