Caramel fudge Christmas cake decoration
Serves
18-20
|
prep
20 mins
|
total time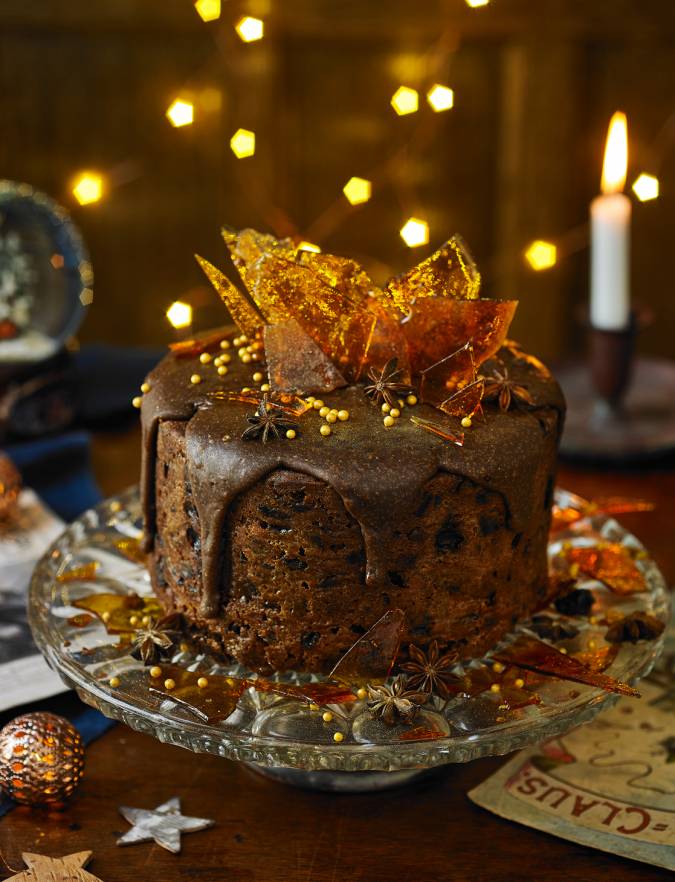 Ingredients
175g dark muscovado sugar

100g salted butter

3 tbsp rum

1 tsp vanilla extract

150g golden icing sugar

tropical fruit and nut cake

gold sugar pearls

oil, to grease

100g caster sugar

8-10 star anise

edible gold glitter spray
Get ahead
The caramel shards will keep for up to 1 week in an airtight container. Once decorated, the cake will keep for 4-5 days stored in an airtight tin in a cool place.
Put the dark muscovado sugar and butter in a medium pan. Heat gently until the butter has melted and the sugar dissolved. Boil for 1 minute until the surface of the mixture is covered with little bubbles. Add the rum and vanilla, mix well, remove from the heat and sift in the icing sugar, beating until smooth.
Transfer to a bowl and leave to cool for 10 minutes, stirring frequently. Turn the cake upside down on your cake stand to give a flat surface. Pour the icing over the top of the cake allowing it to gently drip down the sides. Sprinkle with gold pearls before the icing sets.
Lightly oil a sheet of foil placed on a small baking tray. Put the caster sugar in a medium pan and heat gently until the sugar begins to caramelise around the edge of the pan. Shake the pan and draw a spoon through it once or twice only (don't stir) until all the sugar has turned golden brown. Pour onto the foil and leave to set for 15 minutes.
Break up the caramel and arrange on the cake with the tea light in between to create a 'flame' effect (do not use a real candle as the sugar could catch fire). Put the star anise on top (remove them from the cake before slicing) and spray the cake with glitter.

Find the recipe for the tropical fruit and nut cake here.
This icing is delicious poured over the deep 18cm round tropical fruit and nut cake, but works just as well on any lighter fruit cake recipe. You will need a battery-operated tea light for this recipe.