Turmeric masala scrambled eggs with buttery buns
---
Prep time: 15 mins
Total time: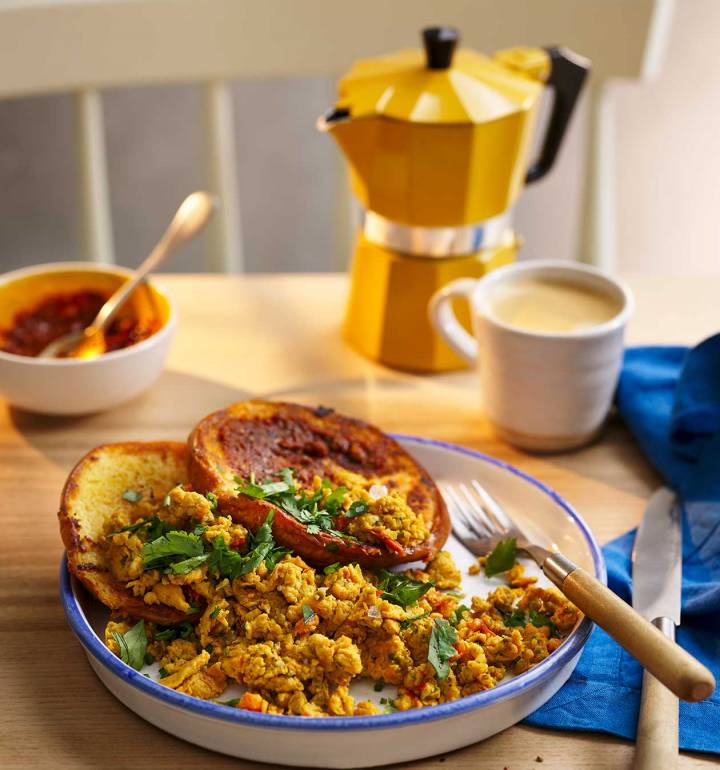 Recipe photograph by Gareth Moragans
Turmeric masala scrambled eggs with buttery buns
Serve these turmeric masala eggs with toasted brioche buns
---
Prep time: 15 mins
Total time:
---
See more recipes
---
Nutritional information (per serving)
---
Ingredients
1 tsp vegetable oil
2 tbsp finely diced red onion
½ ripe large tomato, chopped
½ tsp finely chopped green chilli, or to taste (optional)
1/8 tsp ground turmeric
1 white or brown soft roll or brioche bun
10g soft butter
pinch of garam masala
2 medium eggs, beaten
1 tbsp chopped coriander
The Spice Tailor tomato chilli and garlic chutni, optional, to serve
Step by step
Heat the oil in a large nonstick frying pan. Add the onion and a good pinch of salt, give them a stir in the oil and allow them to cook until they soften and start to shrivel; around 2-4 minutes depending on the dice size. Give them an occasional stir.
Add the tomato, green chilli and ground turmeric and cook, stirring often and mashing the tomatoes down every now and then until they have completely softened and become pulpy, around 3-4 minutes. Meanwhile, halve the bun and butter the cut sides.
Add the garam masala and eggs to the pan and stir well. Once they start to solidify, move the eggs to the side of the pan to finish cooking, mashing and stirring the mass a couple of times. Where you have made space in the pan, add the bun halves, buttered side down and cook, pressing with a ladle or cup measure to flatten slightly. When the eggs are cooked and slightly grainy looking (not too soft like Western eggs), taste and season them and spoon out into a small bowl. Continue cooking the buns until the cut surface is crisp and browned.
Serve the eggs over the crisp buns, scatter with coriander and serve with the chutni if you like.
Don't miss

---