Rosemary focaccia
Serves
10
|
prep
25 mins
|
total time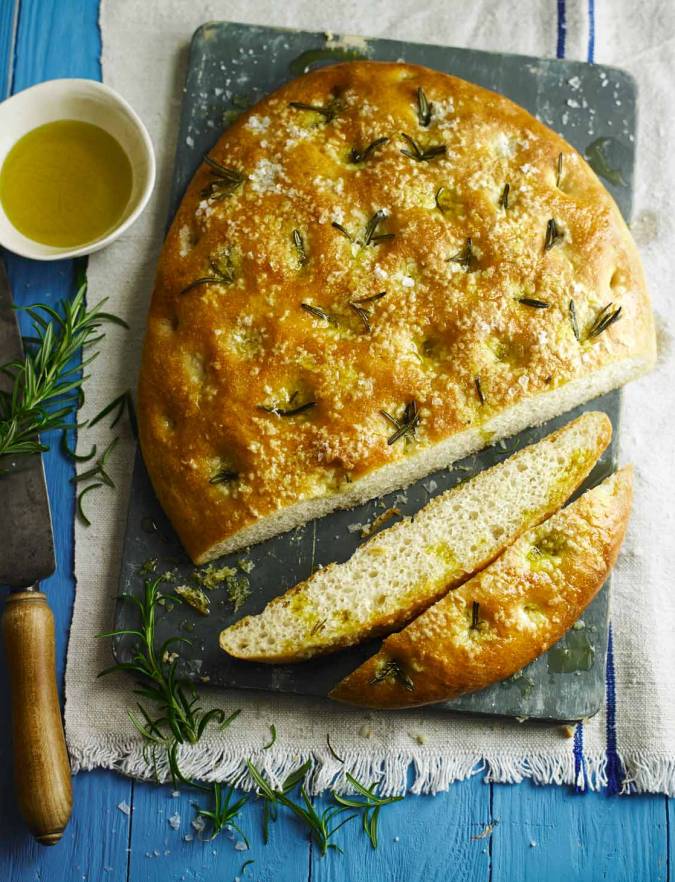 Nutritional information (per serving)
See more
Ingredients
500g strong white bread flour, plus a little extra if needed

2 tsp salt

1 x 7g sachet fast-action dried yeast

5 tbsp extra-virgin olive oil

1 large rosemary sprig

sea salt flakes, for sprinkling
Get ahead
If you want to eat it the next day, allow it to cool, then wrap tightly in clingfilm to stop it drying out. It can also be frozen.
Tip the flour, salt and dried yeast into a large mixing bowl and mix with a wooden spoon. Add 325ml tepid water to the flour and continue to mix with the spoon until it comes together to form a soft, pliable ball of dough. As different flours have different rates of absorbency, do add a little more flour if it's very sticky, or a little more water if it's very firm and dry. Tip the dough onto a clean work surface and clean the bowl.
Knead the dough for around 10 minutes until it bounces back to the touch. Only add more flour at this stage if it is really sticky. Fold the edges of the dough underneath so that you have a smooth ball. The top side will be the surface of your focaccia. Grease the bowl with 2 tablespoons of oil to prevent the dough sticking to it.
Put the smooth, top side of the dough head first into the oiled bowl and turn to coat the top and sides with oil. (This will prevent a crust forming and stop it sticking.) Cover with clingfilm and leave at room temperature for about 1 hour, or until it has doubled in volume.
Next, oil a baking tray and slide the dough onto it. Gently ease it out from underneath, trying to keep a good rounded edge. Then use your fingertips to make indentations in the dough, spreading it into an oval 2-3 centimetres thick. Pull the needles from the rosemary sprig and press into the dough. Drizzle over the remaining oil. Return the dough to its warm place to rise until it is about half as high again – around 45 minutes to 1 hour. It should look puffy and little bubbles should be visible on the surface. Towards the end of the rising time, preheat the oven to 220°C, fan 200°C, gas 7.
When it has risen, sprinkle with the sea salt flakes and bake in the oven for about 15-20 minutes or until golden brown. Allow to cool on a wire rack; eat warm or cold.
The word focaccia comes from the Latin word "focus" meaning "a hearth", as it was originally made on the hot hearthstones. It was probably invented by the Etruscans, the first inhabitants of northern Italy, or brought to Italy by the Ancient Greeks. It is very popular in Liguria where you can find shallow, brittle loaves or spongy, soft versions like this one. Focaccia has a dimpled crust made by pushing hollows into it with your fingertips. This is where the olive oil collects, keeping it from drying out in the oven and imparting a wonderful flavour.