Basic white bread
Makes
1 large loaf
|
prep
15 mins
|
total time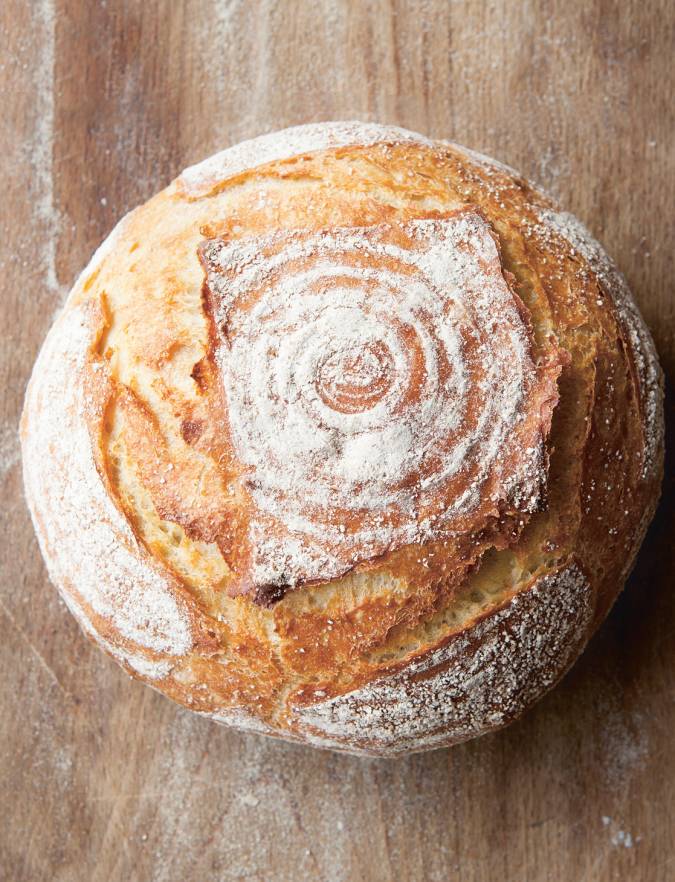 Ingredients
500g strong white flour

10g table salt

1 x 7g sachet fast-action dried yeast
Get ahead
Best eaten on the day it's baked. Can be frozen
In a large bowl, weigh the flour. Rub in the salt at one edge of the bowl and the yeast on the other side, as the salt can stop the yeast working.
Add 350ml tepid water and mix together to form a coherent dough (use your dough to mop up any flour sticking to the bowl). Cover your bowl with a damp tea towel or clingfilm and rest in a warm place for 30-40 minutes, or until it has noticeably increased in size.
Wet the fingertips of one hand and slide between the bowl and dough. Fold the dough in half. Turn the bowl 90°; repeat until you have removed all of the air and it's noticeably smooth. Cover and rest for an hour, or until at least doubled in size.

Tip For baking and bread making, use digital scales for accuracy when weighing ingredients.

Scrape the dough on to a floured surface, flour your hands and shape into a ball.
Place the dough on a heavily floured surface (like a chopping board), loosely cover and leave it for a final hour, or until it has doubled in size and springs back when pushed. (I like to use a proving basket, which makes a lovely spiral pattern on the top of the loaf.) Preheat the oven to 220°C, fan 200°C, gas 7, at least 20 minutes in advance.
Give your bread a few shallow slashes with a serrated knife. Bake on a lightly oiled baking tray on a low-to-middle shelf for 35-40 minutes, until a deep golden brown – don't be scared to let it get a good dark crust. If your oven cooks unevenly, turn the loaf so it browns all over.
If you're used to making bread, you might find this a bit wetter than your average bread recipe. Remember, wetter is better. Have a play when you're shaping the dough, roll it, stretch it and bash it around – you'll come to know what a developed dough feels like, so you'll know when it's ready.