Roast ribs of beef with salsa verde
Serves
6
|
prep
15 mins |
total time
2 hrs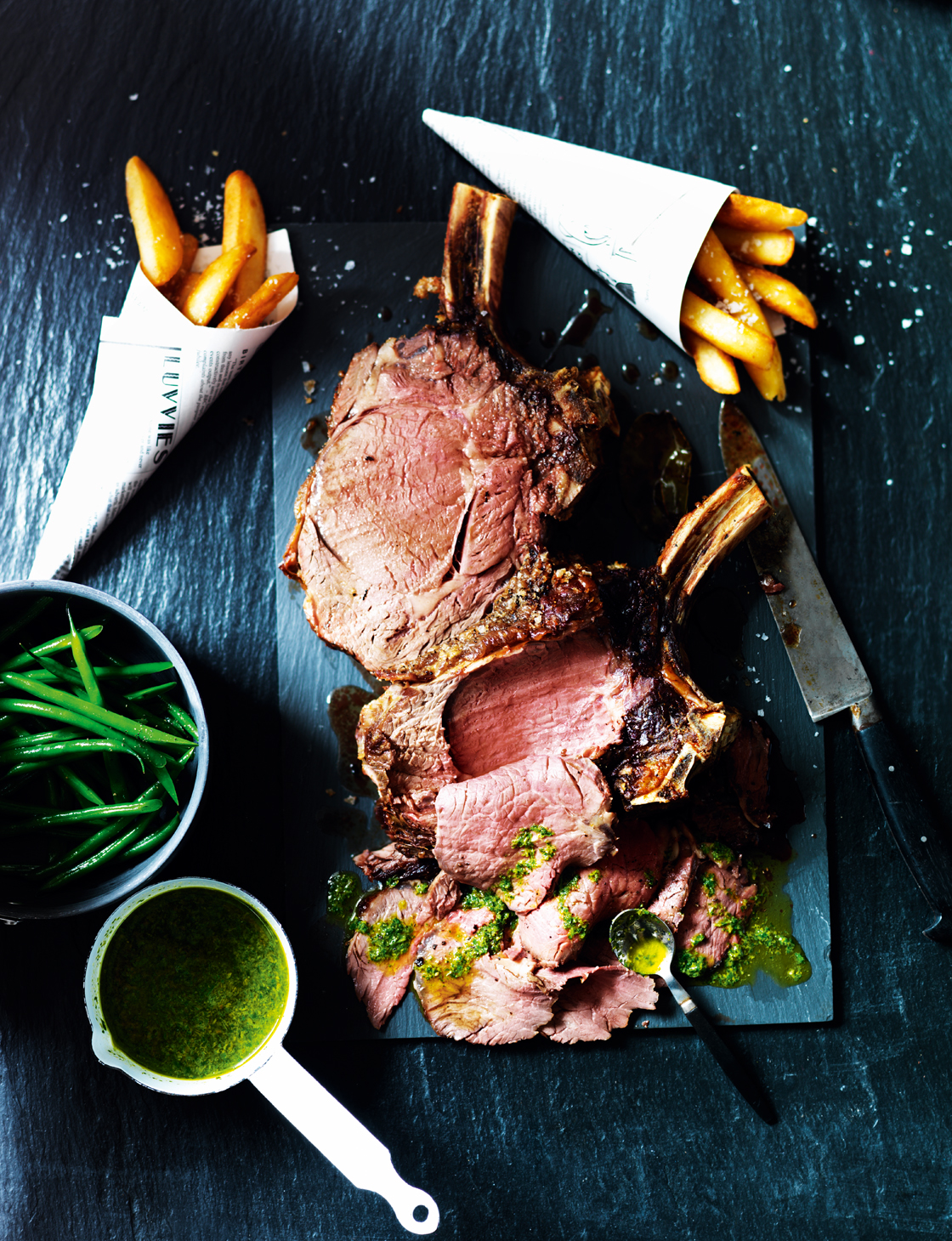 Ingredients

40g beef dripping or 2 tbsp vegetable oil, to roast

1 x 2kg bone-in beef rib roast (or same weight boneless beef rib roast), at room temperature

2 onions, halved

2 carrots, peeled and halved

2 carrots, peeled and halved

250ml red wine

40g beef dripping or 2 tbsp vegetable oil, to roast

For the salsa verde:

1 x 28g pack mint, leaves only

1 x 28g pack parsley, leaves only

1 x 28g pack basil, leaves only

25g capers, rinsed

150ml extra-virgin olive oil

1 garlic clove, crushed

2 tsp Dijon mustard

1 x 50g tin anchovy fillets in olive oil (optional)

1 x 28g pack mint, leaves only
Preheat the oven to 220°C, fan 200°C, gas 7. Put the beef dripping or oil in a roasting tin and heat in the oven for 10 minutes. Season the beef. Put the onions and carrots in the tin and put the beef on top. Roast for 30 minutes, then baste and add the wine. Roast for a further 30 minutes, then add 250ml boiling water. Roast for a further 10 minutes for rare beef.

To make the salsa verde, blend all of the ingredients in a liquidiser to a coarse purée and season.

Rest the beef, covered with foil, on a board for 20-30 minutes. Put the tin on the hob and simmer for a few minutes. Skim off the fat and take out the vegetables (you don't need them for this recipe, but you can eat them). Serve thick slices of beef with the tin juices and salsa verde.