Greek Easter lychnarakia
---
Prep time: 1 hr 15 mins
Total time: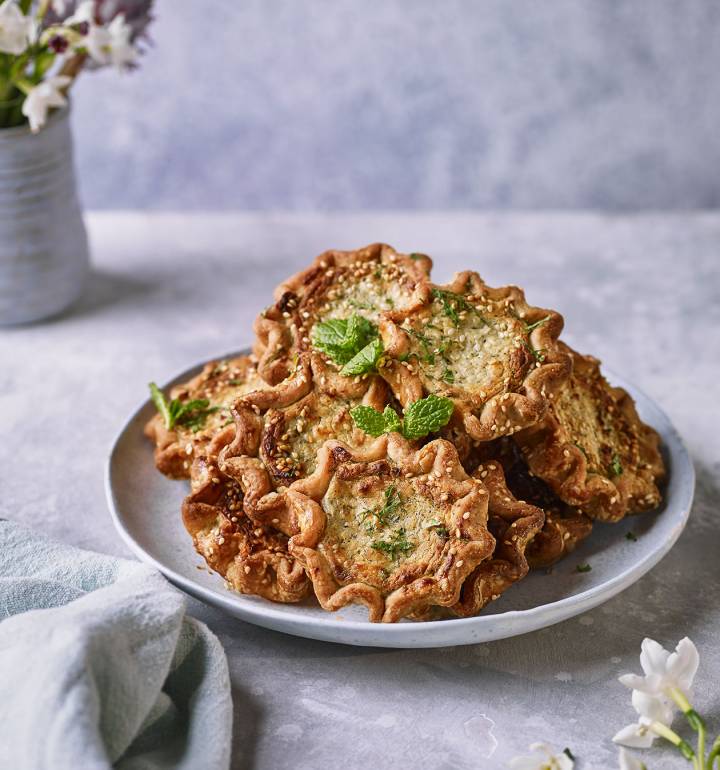 Recipe photograph by Nassima Rothacker
Greek Easter lychnarakia
This special Easter recipe for lychnarakia is from MasterChef winner Irini Tzortzoglou. The smell and flavour of these Greek handheld savoury pies will transport you to the Cretan hills
---
Prep time: 1 hr 15 mins
Total time:
---
See more recipes
---
Nutritional information (per serving)
---
Ingredients
550g plain flour, plus extra to dust
1 tsp baking powder
1½ tsp fine sea salt
2 large eggs, plus 1 extra egg to glaze
150ml extra virgin olive oil
150ml milk
zest of ½ lemon
2 tbsp sesame seeds, optional
4-5 mint leaves, finely sliced, to serve
For the cheese filling
150g ricotta
150g mascarpone
100g feta
½ tsp dried oregano
1 tsp dried mint
1⁄2 tsp dried thyme
zest of 1⁄2 lemon
1⁄2 tsp flaky sea salt
1 large egg
Step by step
For the dough, sift the flour, baking powder and salt into a bowl. Whisk 2 eggs with the oil, milk and lemon zest in a large bowl, then gradually work in the flour mixture. Knead gently until you have a soft dough ball. Cover while you make the filling.
Put all the cheese filling ingredients in a food processor and blitz until the mixture thickens (you can also use an electric hand mixer).
Preheat the oven to 200°C, fan 180°C, gas 6. Cut out about 20 squares of baking paper, each 10-12cm square.
Roll out the dough on a floured surface to about 3mm thickness and use a 10cm cutter to stamp out pastry circles (re-roll the trimmings as necessary). Place each one on a piece of baking paper to help you turn the pastry around later, when you pinch it to create a fluted tartlet.
To shape, place spoonfuls of the cheese mix in the centre of a pastry circle and flatten a little, but leave a 1cm border all around the edge. Use your thumb and index finger to pleat and pinch the pastry together, forming raised sides all around the filling, turning the baking paper in your palm. Repeat to make all the lychnarakia and transfer to 2 large baking trays.
Whisk the egg with 1 tablespoon of water. First brush the outsides of all the lychnarakia, in upward movements, then brush the tops, including the cheese mix. Sprinkle with the sesame seeds, if using, and bake for 20-25 minutes until golden.
Serve warm, scattered with the thinly sliced fresh mint.
Don't miss

---