Travel
Treasure island: a foodie guide to Malta
by Elaine Stocks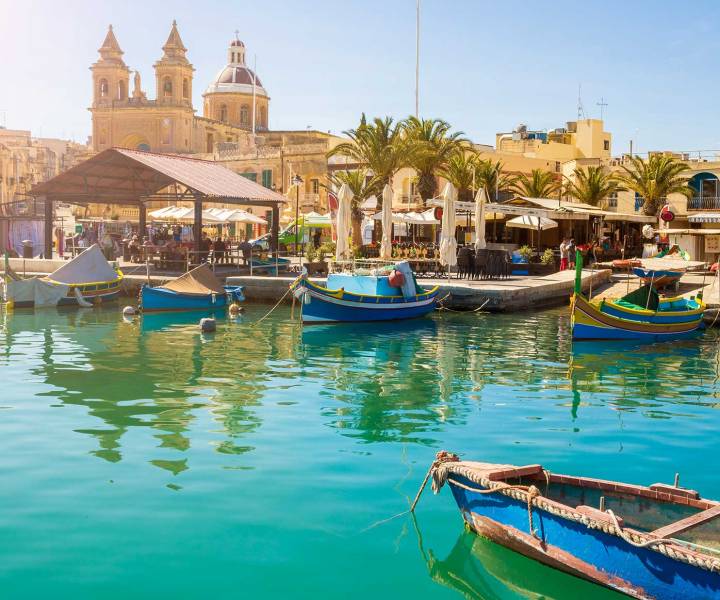 Traditional fishing boats in Malta. Image: Getty Images
With a rich history, fabulous food and vibrant captial, Elaine Stocks finds Malta has more to offer than many islands in the sun...
Scores of big fat pumpkins are piled on the walls of an olive grove, ripening in the sun. It's a glorious sight and, standing amid trees heavy with olives and pomegranates, I feel a burst of happiness.
I'm on the south coast of Malta exploring the pretty village of Marsaxlokk. The harbour is full of luzzus, the traditional blue and yellow fishing boats, and the quayside is packed with cafes and fish restaurants. There's a Sunday fish market where you can also buy olives, preserves and nougat. Just 17 miles long and eight miles wide, everything in Malta is easy to reach. I'm based at the Corinthia Palace Hotel, in the middle of the island, and a 20-minute drive from the capital, Valletta.
This is my first visit to Malta and the abundance of fresh food is a delight, but not so surprising given its location, just 56 miles south of Sicily. What does surprise me is the astonishing history and culture, which stretches back 7,000 years. Due to its strategic position, in the centre of the Mediterranean, the island has been conquered and colonised by the Phoenicians, Romans, Normans, Sicilians, French and, most recently, the British. There are prehistoric temples and fortress cities, grand churches and palaces stuffed with art, and a cuisine with strong Sicilian and Moorish influences. Just three hours from London, compact and walkable Valletta is the sunniest city in Europe, with more than enough to keep you busy and well-fed for a long weekend.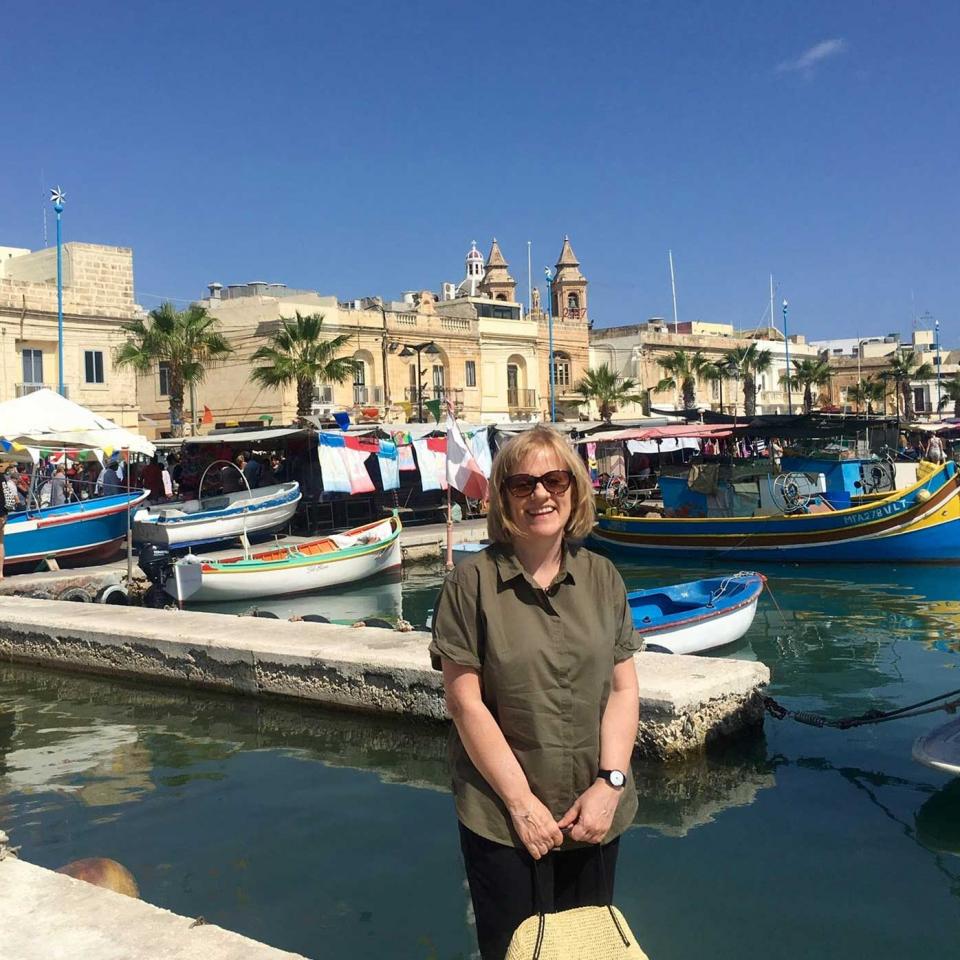 Elaine in Malta
Established by the Knights of St John in the 16th century, the city – an orderly grid of limestone buildings – was heavily bombed during World War II but, since being crowned 2018 European Capital of Culture, it has been spruced up. Boutique hotels have opened in old town houses, notching up the glamour, and architect Renzo Piano has designed the new parliament building, the main City Gate and an open-air theatre.
We start the day at Caffe Cordina in Republic Square, one of the city's oldest cafes. It's perfect for people-watching and pastizzi – breakfast pastries, typically filled with ricotta or peas. There are plenty of places to visit, and top of my list is St John's Co-Cathedral, with its lavish interiors and, excitingly, two masterpieces by Caravaggio. Climbing the cobbled streets to the Upper Barrakka Gardens, we're rewarded with dazzling views across the Grand Harbour.
There is a battery of cannons on the city's ramparts and, arriving just before midday, we hear the noon gun salute. Lunching on the terrace at the nearby Panorama restaurant, we enjoy grilled octopus with a super-smoky houmous and white wine from the Meridiana Estate, one of the best of Malta's small vineyards. It's worth exploring the neighbouring island of Gozo, just 25 minutes away by ferry. The highest point on Gozo is the Cittadella of Victoria, with views across churches, villages and farms.
Within its walls is Ta' Rikardu, a cool spot for lunch. Rikardu, who owns a farm and vineyard, makes his own sheep and goats' cheeses, as well as ravioli stuffed with cheese and parsley. Even the salt is local, harvested from 350-year-old Qbajjar salt pans on Gozo's north coast.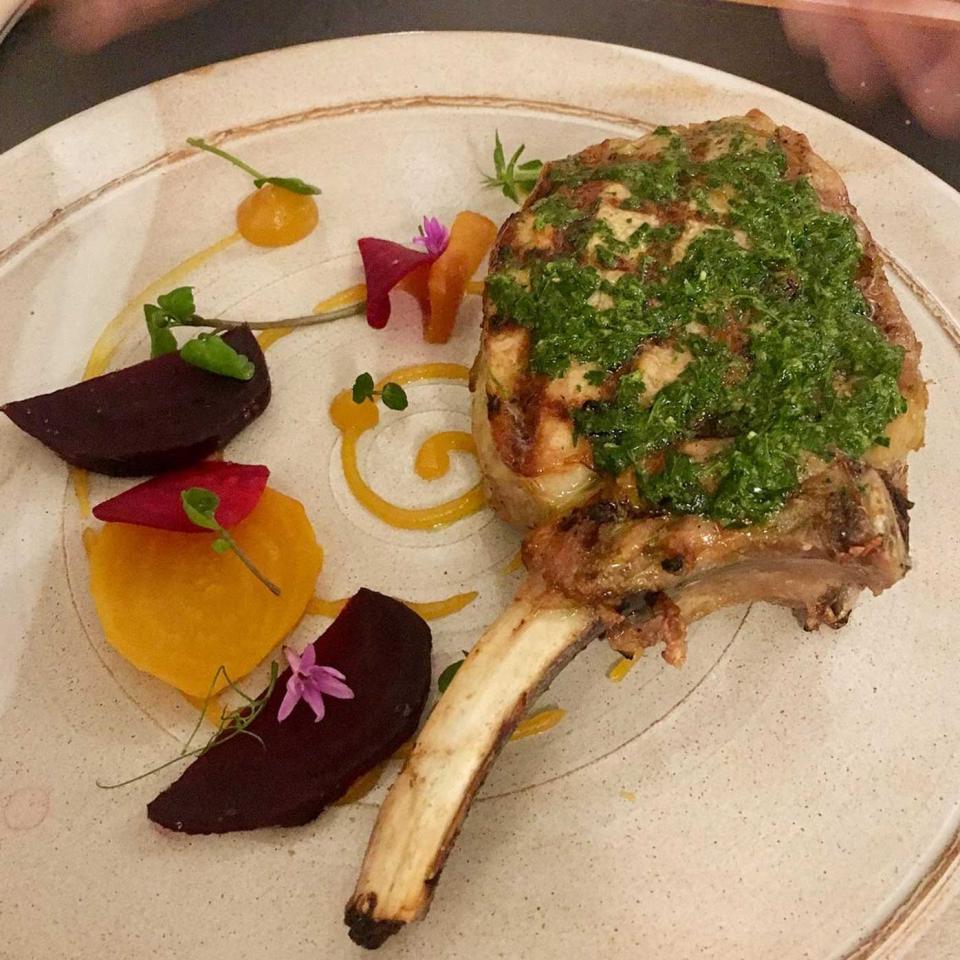 A modern take on classics at Bahia
We drive past the salt pans, shimmering in the sun, on our way to another wonder – the remains of the prehistoric Ggantija Temples, outside the village of Xaghra and said to be the oldest free-standing structures in the world, predating the Pyramids. Dinner is at Ta' Philip, in the south, which has a terrace, huge wood-fired oven and lots of local wines.
Lampuki, a popular fish here, is served pan-fried with tomatoes, capers, garlic and white wine, or baked into a pie with vegetables, spices and sultanas. Philip also serves another Maltese classic: stuffat tal-fenek – rabbit slow- cooked with red wine and bay leaves. Back in Malta the next day, we mooch around the medieval walled city of Mdina, admiring the balconied palazzos and eating stracciatella – choc chip ice cream – from Fior di Latte gelateria. This hilltop city, Malta's original capital, is incredibly atmospheric, and regularly used in films and TV, including Game of Thrones. We stop for drinks at Fontanella, which has excellent chocolate cake.
Food doesn't come much fresher than the dishes at Diar il-Bniet restaurant and farm shop, in Dingli village, on the west of the island. Produce is from the farm and vineyard, less than a mile away, where there's also a 700-year-old olive grove. The farm shop sells fruit and veg, olives, honey, preserves and cheeselets – rounds of tangy sheep's cheese, dried and then preserved in vinegar and black pepper.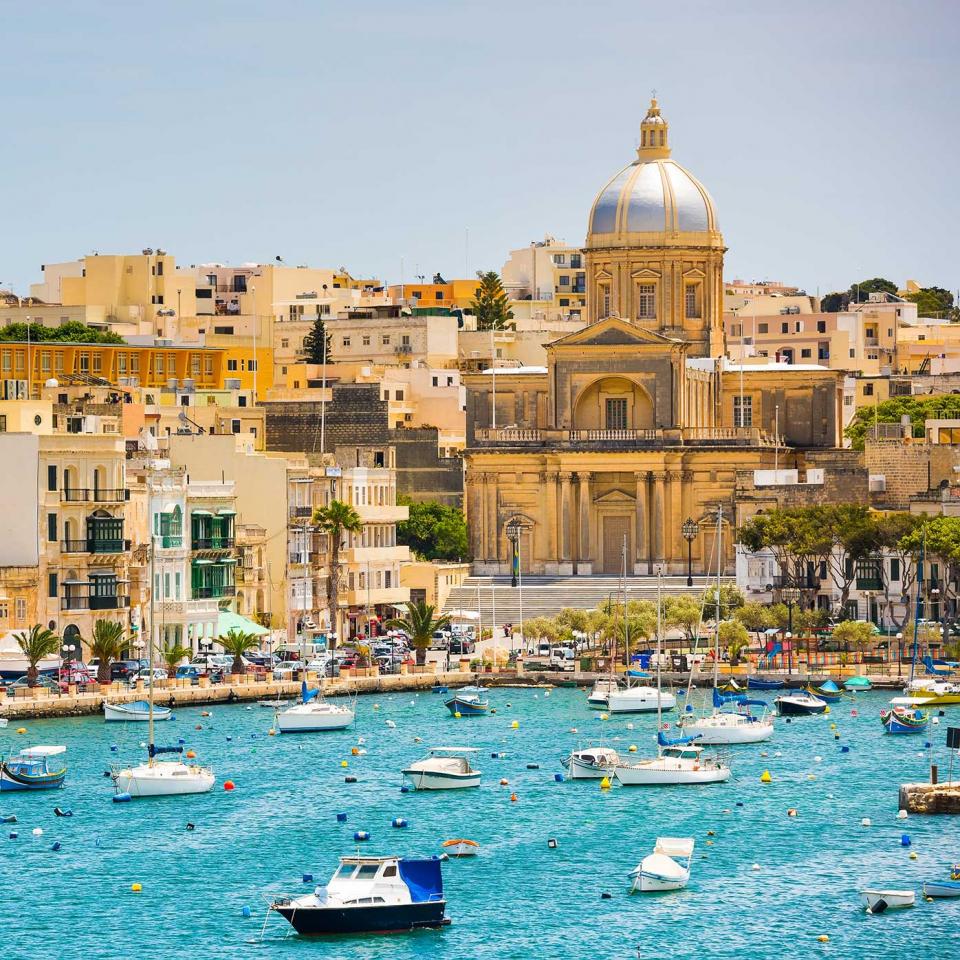 Valletta. Image: Getty Images
Cheeselets and goats' cheese are part of a lunch platter that includes giant butter beans and bigilla, a punchy broad bean dip. There's also kunserva, a rich, sweet paste made with sun-dried tomatoes that the Maltese adore – very good spread on crusty bread. Afterwards, we explore the Dingli cliffs, the highest point on Malta, and take a breather at the St Mary Magdalene, a tiny chapel perched on the cliffs overlooking the uninhabited island of Filfla.
There's a handy kiosk selling drinks and prickly pears, grown in the owner's garden. Our final dinner is at Bahia in Lija, just outside Valletta. This modern bistro offers inventive takes on classic Maltese dishes. Rabbit belly terrine comes with toasted brioche and a pear and liquorice confit. Locally caught tuna is served sashimi style with vanilla oil and sweet and sour shallots. It's a special meal and another example of how Malta treasures its traditions, while constantly reinventing itself.
Getting there
British Airways flies to Malta daily in summer and up to five times a week in winter from London Gatwick. Return flights start from £55 (britishairways.com). Rooms at the Corinthia Palace Hotel & Spa start from £113 per room per night. For more on Malta, visit maltauk.com.
Don`t miss

---