Travel
Travel review: all aboard new cruise ship Celebrity Beyond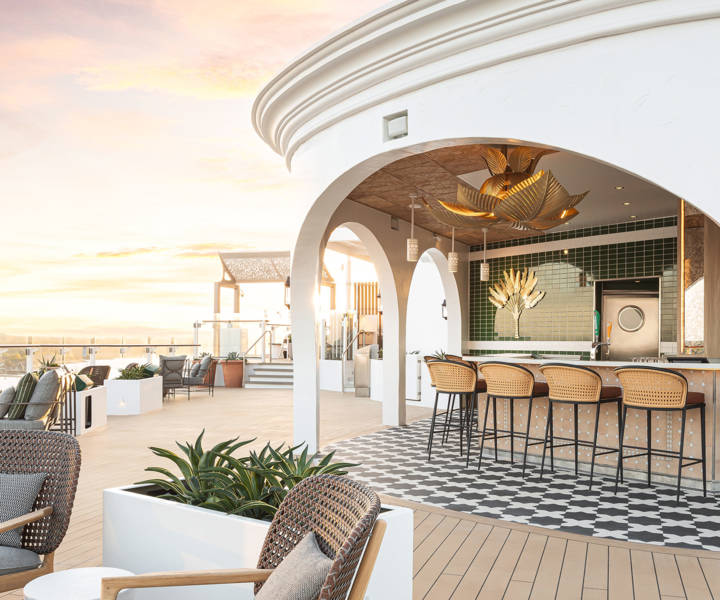 The Sunset Bar
Louise Gaudern sets sail for a cruise of culinary delights aboard brandnew luxury liner Celebrity Beyond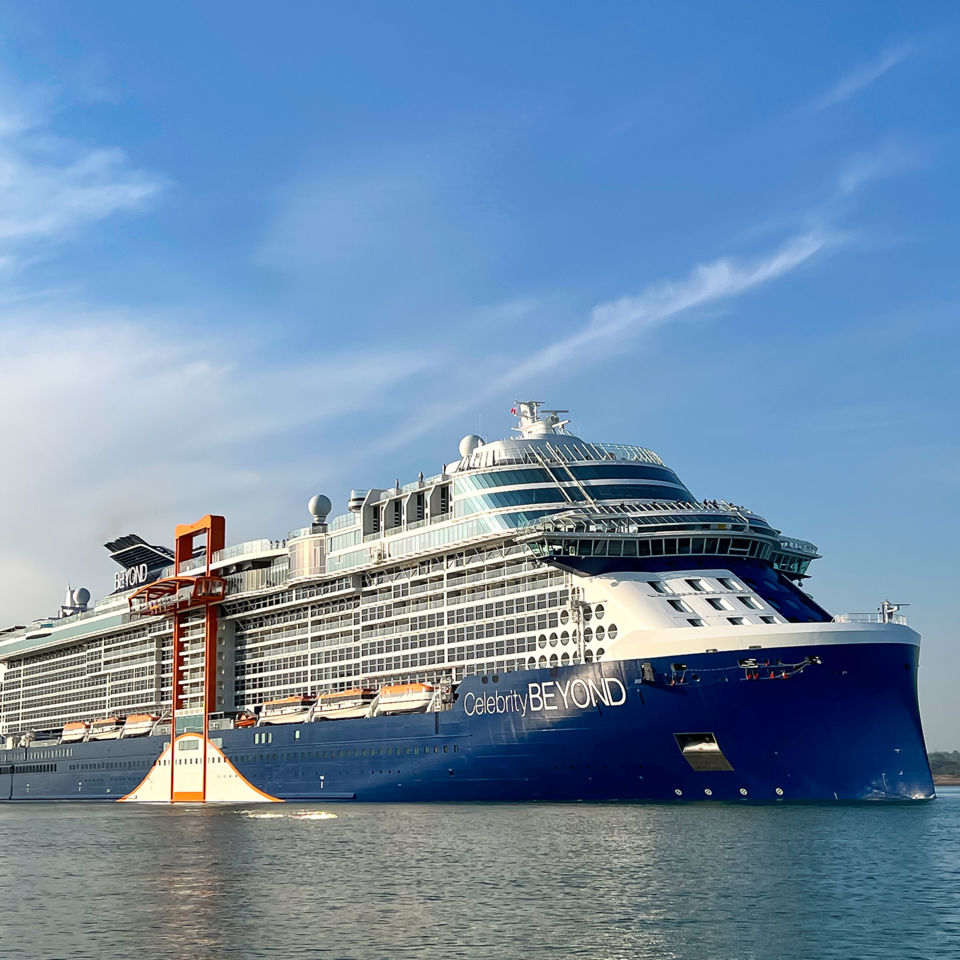 The ship at sea
The closest I've previously come to the cruise ships that dock in Southampton is gazing at them from the top deck of the island ferry as I sail by on my way to visit family on the Isle of Wight. But today I'm getting the celebrity treatment as I embark on a whirlwind two-day, mother-daughter cruise aboard Celebrity Cruises' latest creation: Celebrity Beyond. It's no secret that cruising was hit hard by Covid. Perhaps that's why the heartfelt greetings from the many crew members lining the entrance as we board give me a little lump in my throat. Everyone is genuinely elated to be here and, indeed, so are we. As the welcomes fade, the entranceway opens onto the elegant Grand Plaza. This is the lively hub of the ship: spanning three decks, with the buzzing Martini Bar at its centre and an LED chandelier presiding above.
It's immediately clear this is a ship like no other. We're anchored to the spot, dazzled by the sensory overload of it all. Conveniently though, we're standing next to Café al Bacio – so we stop to sip shakeratos (a shaken Italian iced coffee) and soak up the scene before heading to our room. Plans to quickly drop our bags are dashed when we open the door, though. Designer Kelly Hoppen's clean interiors, peppered with bold-colour accents, give an airy, modern feel that's akin to a spa. And the private 'infinite veranda' is indoor-outdoor living at its best: you can gaze out onto the waves from the comfort of your king-size bed. As tempting as it is to do just that, we slip into our evening outfits, eager not to miss the 'sail away' party at Sunset Bar. Spanning two storeys of the ship's aft, the Sunset Bar quickly becomes our favourite spot – and that's saying a lot when this ship offers 32 food and drink experiences. The bar serves up an elevated beach club ambience in upscale resort surrounds: there are nooks and daybeds aplenty to curl up in with a cocktail and soak up the unobstructed views. The late-afternoon rays that dapple designer Nate Berkus and architect Tom Wright's earth-toned, U-shaped bar, coupled with the steady pulse of house beats, make it feel like we're somewhere in Morocco. We clink our glasses and bid bon voyage to the Southampton skyline, as our captain Kate McCue lifts anchor and sets sail.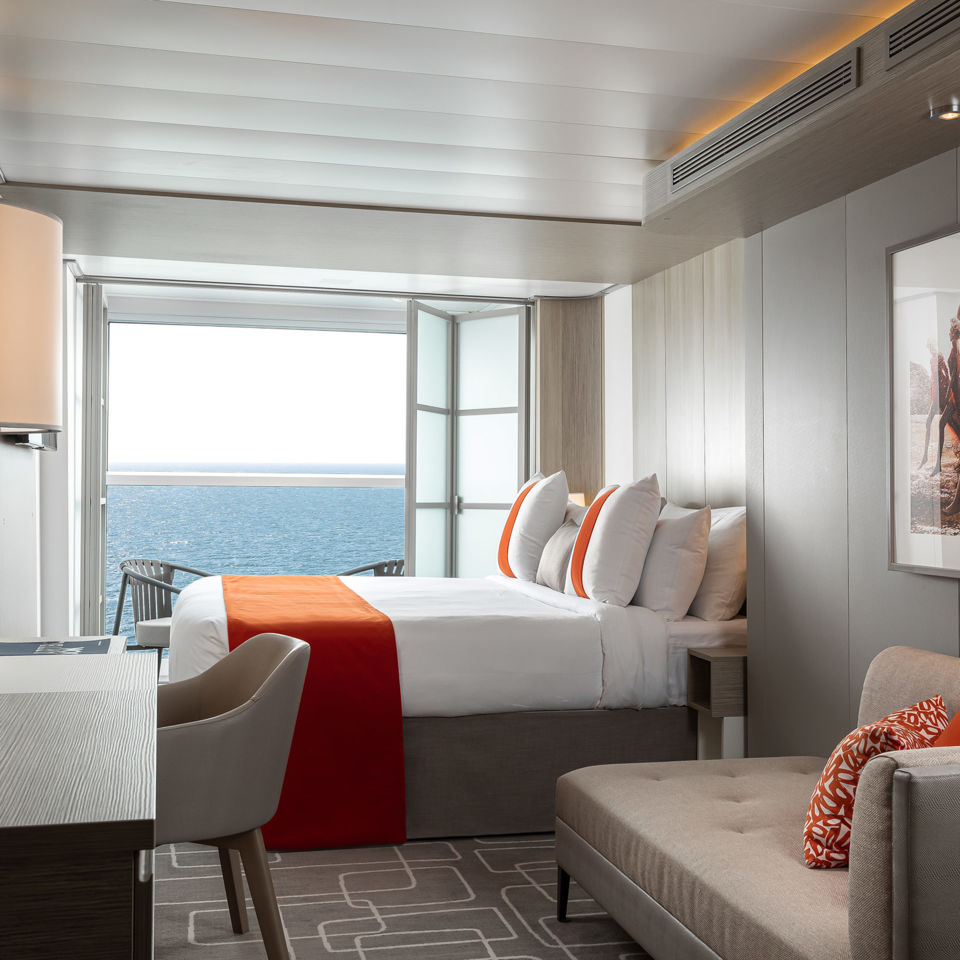 The Oceanview Stateroom
Our first dining experience of the journey is the aptly named Le Voyage, Michelin-starred Daniel Boulud's first signature restaurant at sea. It's an intimate, elegant, contemporary space, which is the ideal spot for couples, friends and family alike to share a special moment onboard. I begin with a brightly coloured roasted beet and carrot salad, tossed with crispy Tuscan kale and farro, which sits on a generous smear of tahini. This dish proves that perfection can exist in the seemingly simple. I opt for an Argentinian filet mignon main, with the hope that Boulud's French roots will ensure medium-rare excellence, and I'm not disappointed. I round off with a classic pavlova; except this one has a modern twist: the meringue is vegan.
As the sharpness of lime-macerated berries and raspberry sorbet slowly dissolves into the meringue-sweetness on my tongue, it instantly feels like summer (even if we're in The Solent in springtime). The remaining 24 hours are a blur. We enjoy expertly crafted cocktails at the World Class Bar, sunbathing in the exclusive 'resort within a resort' The Retreat, peeking inside the two-storey villas with plunge pools, soaking in champagne-flute-shaped hot tubs, marvelling at the acrobats during the evening shows and even admiring art in the on-board gallery. There's something for everyone, making it a perfect multigenerational trip. On the island ferry home, as we pull out of port and admire the ship from afar, a fellow passenger asks: 'So, are you converted to cruising now?' 'Yes – but only with Celebrity,' we reply in unison.
HOW TO BOOK
Join Celebrity Beyond for a nine-night 'Italy, Croatia and Montenegro cruise' on 27 May from Rome, starting at £2,018.50 per person, for two sharing an Oceanview Stateroom. For more information, visit celebritycruises.com.
Don`t miss

---