Travel
The greatest show on earth: chasing the Northern Lights in Finland
Liz Stansfield braves the frost for an adrenaline- fuelled few days under a magical green sky in Arctic Finland...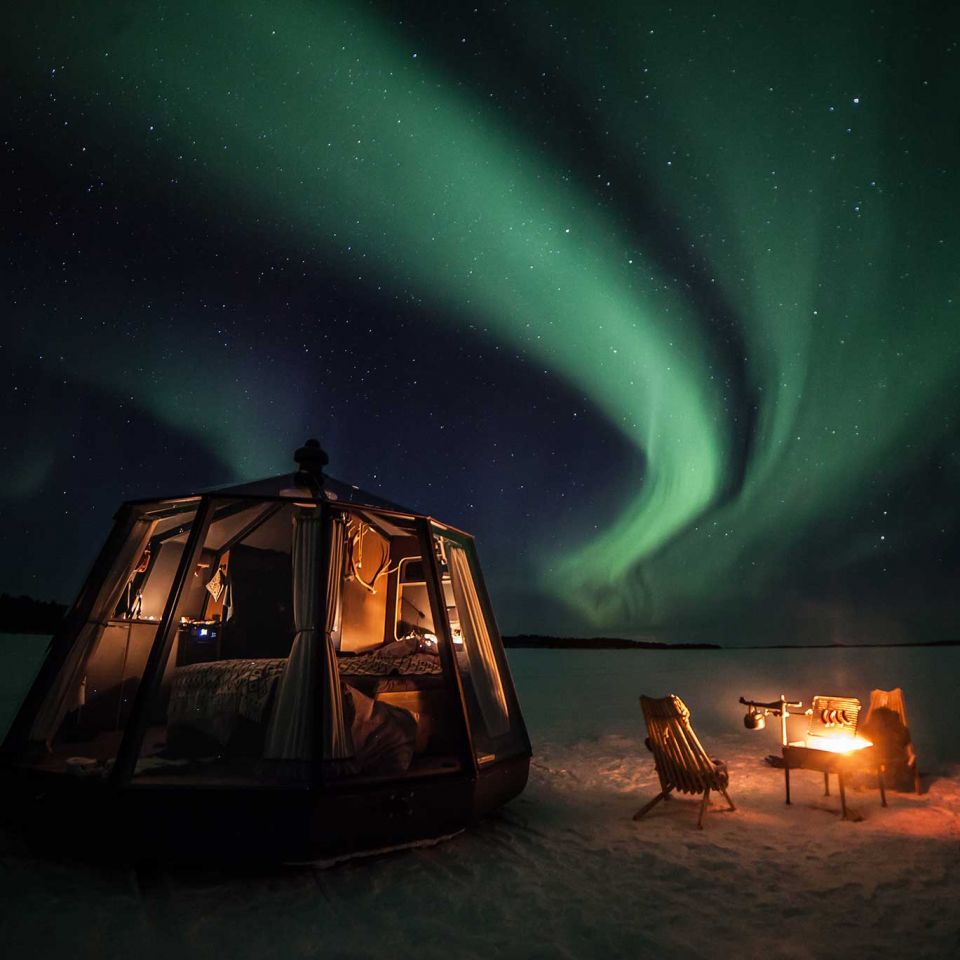 Liz stayed in an Aurora Hut 'on top of 50cm of rock-solid ice'. Image: Jari Romppainen
'Welcome! It's good you have arrived when it's not too cold,' says our cheerful driver as we hurtle through Narnia-esque Lapland in the Arctic north of Finland. With a temperature of minus 19, I'm not entirely sure Aslan, the White Witch or, indeed, the wardrobe would agree with this statement, given that my teeth are already chattering from the 60 seconds spent outside between airport and minivan. Luckily, the chill factor is eased within moments of arriving at our base – Wilderness Hotel Nangu – where a warm welcome is guaranteed (and, most importantly, Arctic-grade snowsuits, footwear and gloves are provided).
My partner Simon and I are braving the frost for a four-night trip with The Aurora Zone, staying next to – and for one night on – the frozen Lake Inari. Top of the list is, of course, chasing the Northern Lights, and there are whispers throughout the small group on our transfer about aurora watch apps, cloud cover and d our odds for seeing the famous light show during our stay. But given their elusiveness, The Aurora Zone makes sure there's lots on offer to keep wide-eyed guests occupied if the north doesn't show off its colours. There's a busy schedule of snow-based fun, with just enough downtime for curling up with a book while watching the snow fall. Full outdoor gear is provided, and you'll need it all, plus your own thermals from home. We feel like enormous Jelly Babies in all the layers, but it's certainly worth it to be super-toasty – I've never been happier to look so huge in holiday snaps.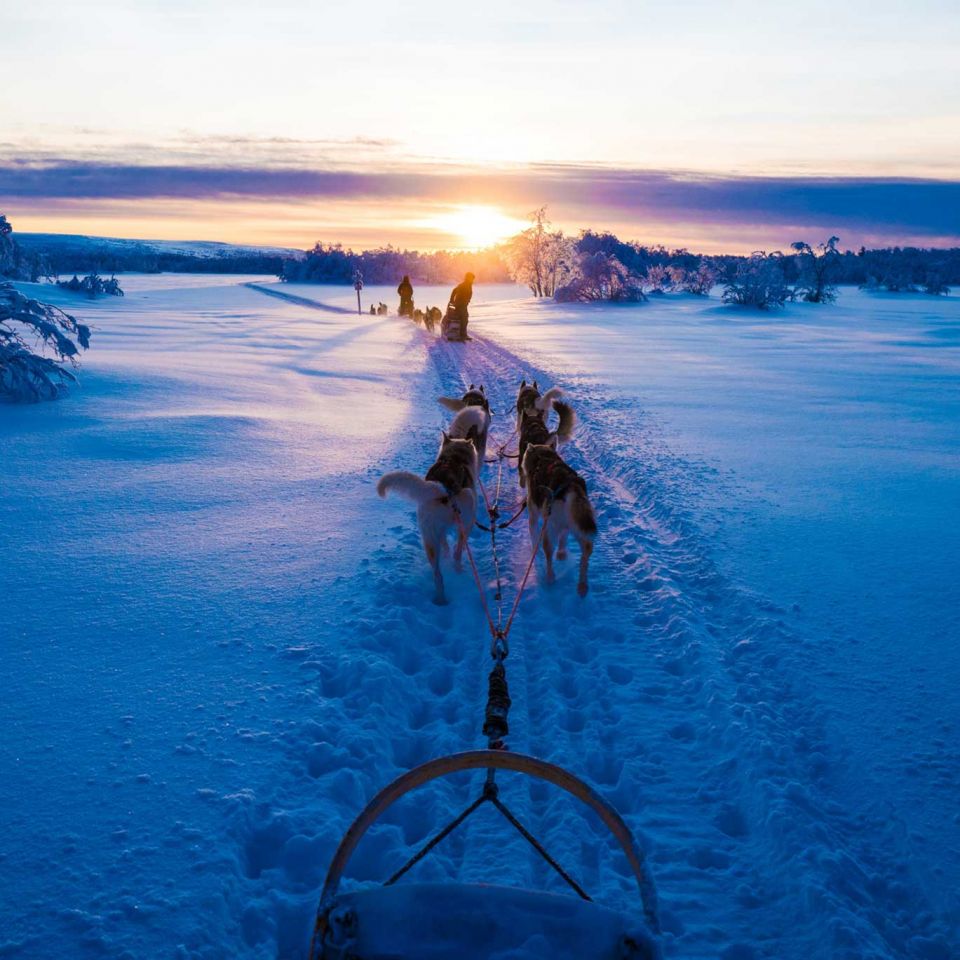 The husky safari is a 'two-hour route through forest and across the lake'. Image: K Chae and Visit Finland
Going 'full Fin'
The hotel is a selection of impressive cabins with frost-filled views, all built around a reception building where activities are booked, and a beautiful restaurant-cum-bar, which is open all day for hot drinks and fireside board games. Each party is booked on to various activities (in small groups, no umbrella-in-the-air guides here), and a noticeboard in reception gives you a daily itinerary so you know when to be where, and of course, what to wear. Our first day in the snow is left free for us to explore on our own.
After an impressive breakfast buffet of Finnish classics, including salmon, cream cheese, meatballs and thick yogurt, we climb into our snowsuits and head off to walk Lake Inari, the stunning centre point of the holiday. A map at reception shows a marked walking route of about 4k – but it's slow going in the snow and heavy boots, and takes us several hours to complete what feels like a full workout. A 'harbour' sign and several boats under snow are a chilling reminder that we're walking over water.
After a lunch of soup and salad, we book into the private sauna and warm up for an hour, deciding to go 'full Fin' and round off the experience with a a snow roll outside – bracing, painful, and totally exhilarating. That evening, our first organised activity is aurora snowmobiling, scheduled after an impressive three courser of soup, reindeer stew with mash, and warm blueberry cake for pud. The food here is tasty and filling, and the evening menu is displayed each day which, for someone like me who loves to know what they're eating next, is a big plus.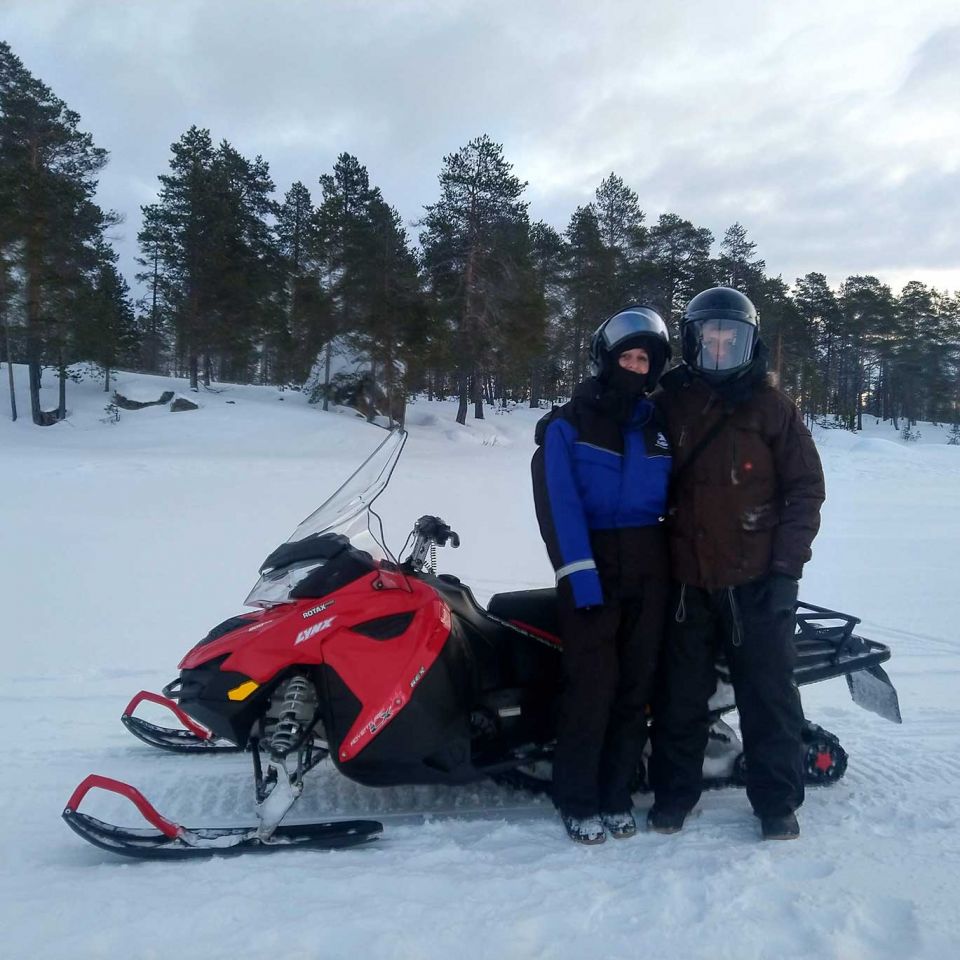 Liz and Simon about to board a snowmobile
Snow fun
After a quick demo on the snowmobile, our guide sees my nerves as I climb into the driver's seat, with Simon clinging on behind me. 'Be brave,' she says looking me straight in the eye, and before I know it, I'm powering over the frozen lake and into the falling snow with a huge grin on my face and singing at the top of my lungs. The drive is several hours long and is broken up by two magical stops – one in a lakeside cabin, where our guide produces a Thermos full of hot berry juice to warm us up, and the other involving a climb down inside an ice cave, where the silence is deafening and the frost magical. We could be the only people in the world here, and even for someone who grew up in the wilds of moorland in North Cornwall, I've never experienced silence quite like it.
After finally coming down from the excitement of the night-time snowmobiling, the adrenaline is soon pumping again on our husky safari the next day, where six dogs pull us on a two-hour route through the forest and across the lake. The noise of the paws ploughing through fresh snow is like no other, and the excitement of the dogs so eager to race infectious. We share a sleigh, taking turns to drive and be a passenger tucked up under a blanket – although I use the word 'drive' loosely, these huskies know exactly what they're doing and you just need to enjoy the view and occasionally press the break – much to the dogs' annoyance. There's just enough time back at base to meet some adorable husky pups before the sun goes down on another day in the frost.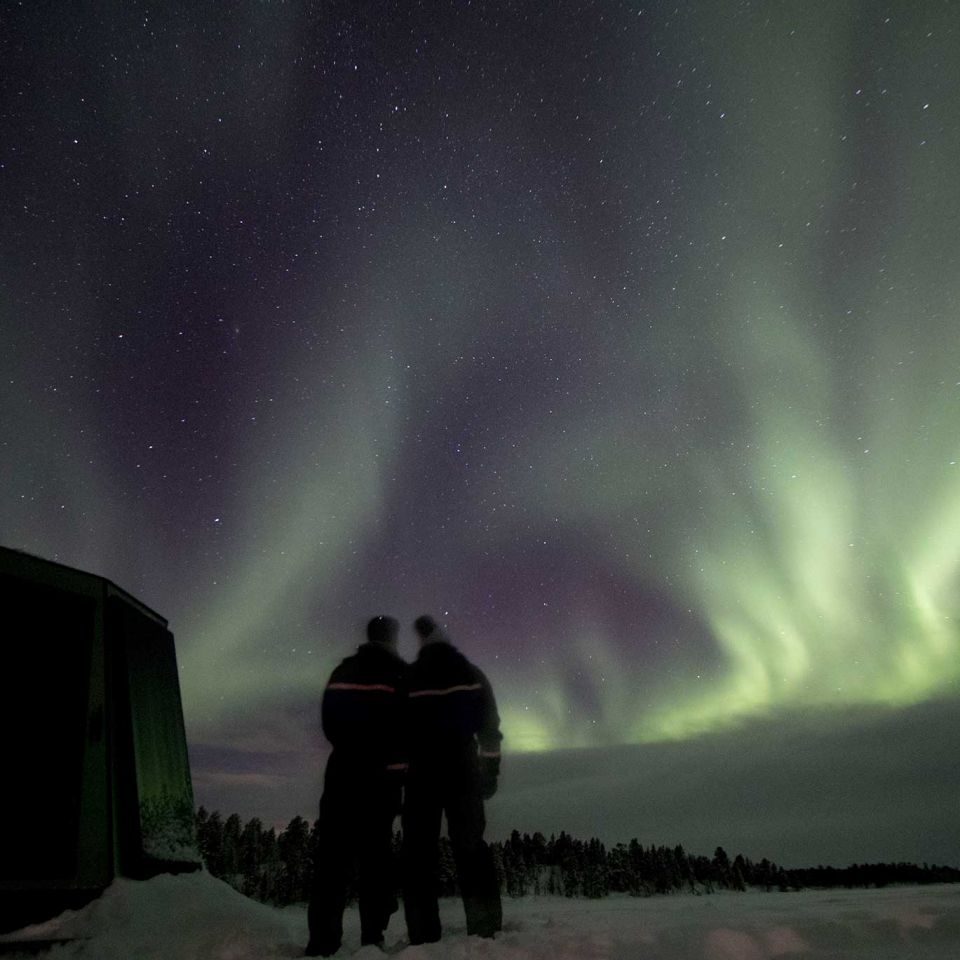 Watching the light show outside the Aurora Hut. Image: Simon Hall
Sleeping on a lake
That evening, we swap our comfortable cabin for an Aurora Hut on the lake. These neat little glass domes are a new arrival at the hotel, and each sleep two with perfect views of the night sky. While the huts are small, the designers have thought of everything – there's a double bed and toilet, and the booking even comes with a bottle of fizz to toast the stars (no chilling required here, just leave the bottle outside!) In the warmer months, the huts float on the melted lake for summer visitors, which is hard to imagine given we're sleeping in one on top of 50cm of rock-solid ice. I lose count of the times one of us says to the other, 'Remember, we're ON A LAKE!' With heavy clouds hanging around, we'd all but given up on the famous light show – one night earlier in the trip Simon actually ran outside after each course at dinner to check, as the sky was clearing nicely. But that night in our private hut, our patience is finally rewarded as the aurora borealis light up the sky.
We start watching from the comfort of our hut, but as the wisps of colour streaking across the sky intensify and the colour and coverage builds to beautiful heights, we climb into our snow gear and head outside to minus10, feeling like astronauts on the moon. As the lights fade and our toes start to numb, we finally bed down around midnight, with the wind howling and the snow starting to pound on the roof as if to say 'lights out'. But it turns out the show isn't quite over. At 2am, I'm shaken awake by a sleepy Simon whispering, 'Look up, it's happening again'. We sit up under the dome wrapped in a duvet and watch as that magical green powers across the sky above our heads, toasty in our glass dome.
I feel incredibly lucky that the lights came out to play during our stay in the hut. But don't be put off a trip like this by the luck factor. What with husky sledging, night-time snowmobiling, snow-roll saunas and much more, this was one trip to remember, even before that magical moment on the lake. And to think, it wasn't even 'that' cold...
How to book
Liz Stansfield travelled to Nangu, Finnish Lapland with Northern Lights holiday specialists, The Aurora Zone (01670 785012; theaurorazone.com) on the Nangu – Lake Inari Auroras holiday. From £1,895 per person (two sharing), including flights (from London), transfers, four nights' full board, cold-weather clothing and the following guided activities: dog sledding and reindeer farm visit, Lake Inari snowmobile safari, two visits to Aurora camps, and an Aurora snowmobile safari. A night in an Aurora Hut is priced from £111 per person (two sharing). Departures from 29 November 2020 to 28 March 2021.
About the author