Travel
The Corran Resort & Spa cookery school: our review
We sent Elaine Stocks off to rural Wales for a masterclass with French celebrity chef Jean-Christophe Novelli...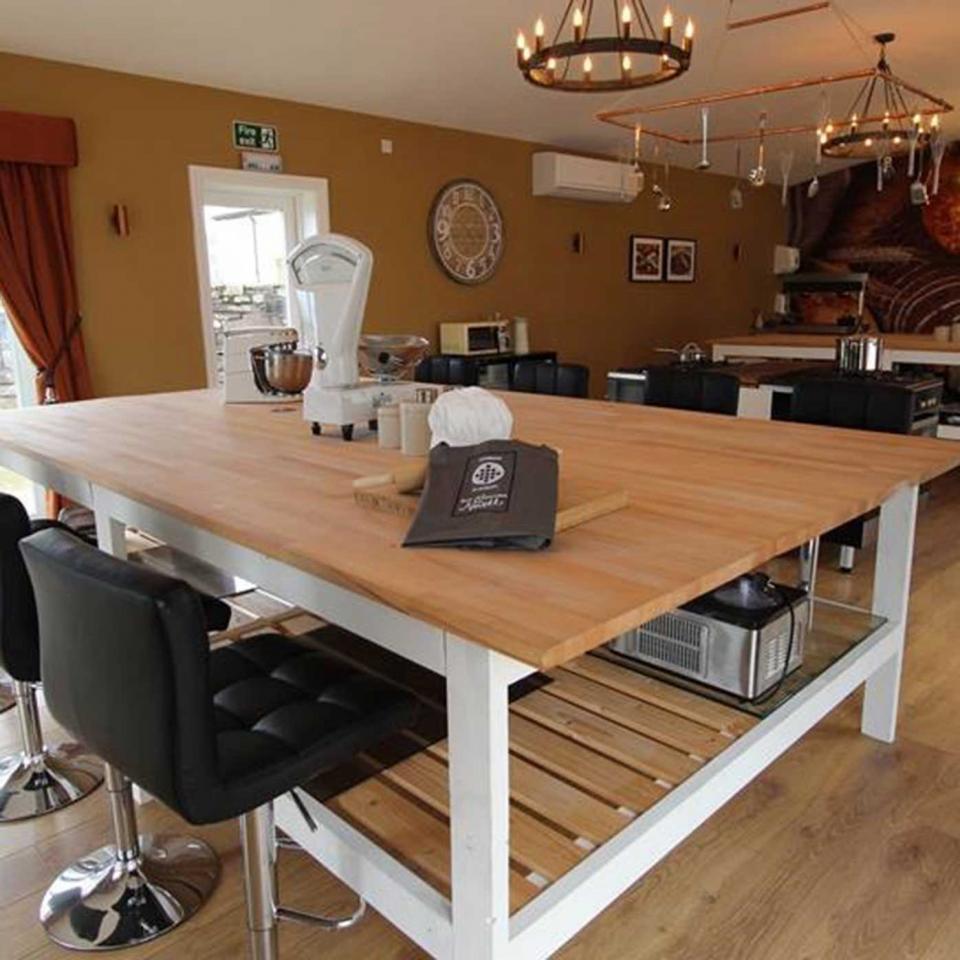 'Cooking is one of the few jobs where you get to use all five senses,' said Jean-Christophe as we tied our aprons for a busy day at his new cookery school at The Corran Resort & Spa in south-west Wales. And, if the award-winning chef was on a mission to prove this, he also wanted to show us how to use less salt, sugar and saturated fats by tweaking recipes and cooking methods. But don't think for a minute it was a day free of indulgence – we'd be whipping up classics such as tarte tatin, raspberry soufflé and scallop shells with puff pastry, and all would taste fantastic.
Checking in for the weekend, I discovered treats aplenty at The Corran, a boutique hotel and spa in a restored 16th-century farm in the lush Carmarthenshire countryside. Each of its 21 cosy rooms has exposed brick and wooden floors, and many also feature roll-top baths and working fireplaces. In the spa, there's an 11-metre pool, sauna, hot tub and treatments.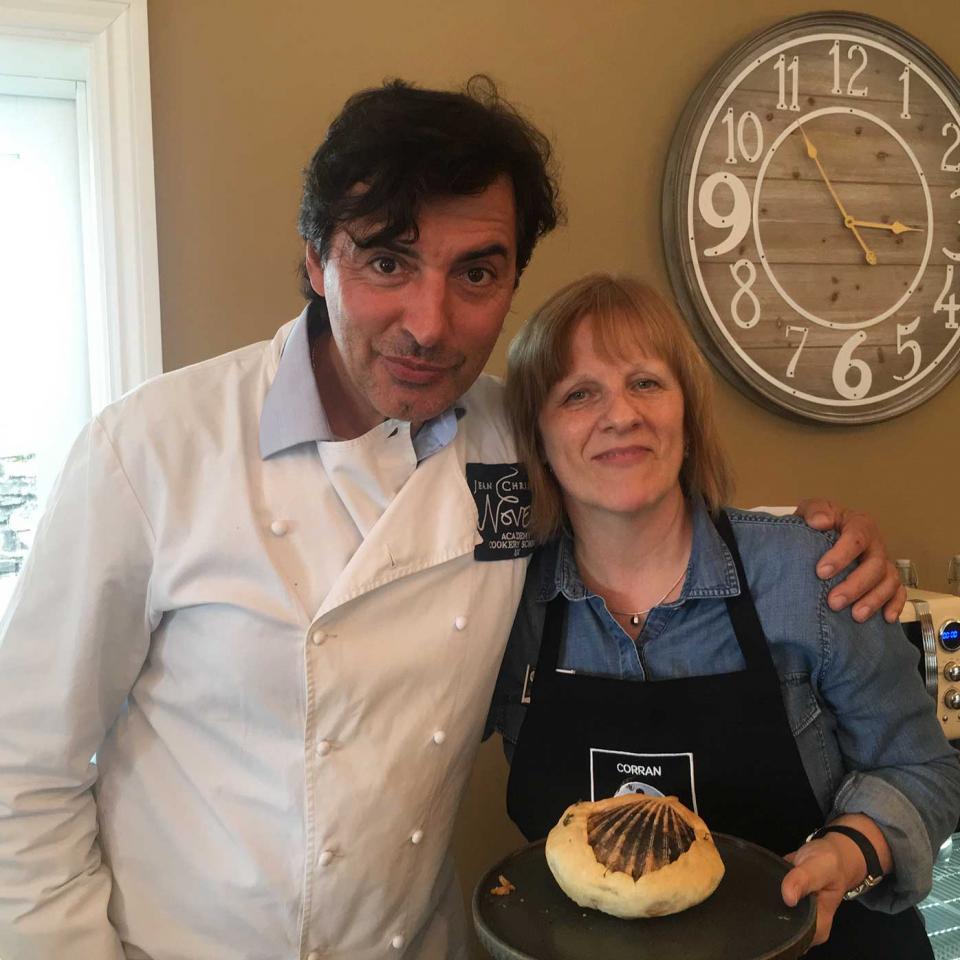 Elaine with Jean-Christophe
All meals at the hotel are served in a lofty stone-walled dining room overlooking the marshes. Breakfast had to be the hearty Full Welsh, and I tucked into locally cured bacon, black pudding and farm-fresh eggs. Local produce was the star at dinner, too. Carmarthenshire sirloin came with slow-cooked Pembrokeshire potatoes, girolles and caramelised shallot gravy; Welsh lamb with giant couscous and spiced aubergine. Puddings included a heavenly lemon posset with meringue and raspberry sorbet.
The hotel's head chef, Cyril Royer, showed us how to cook scallops using no salt, building flavours by plating up with peppery micro leaves, zesty gels and edible flowers. The final flourish was fennel shards sliced with a mandoline, then dried in the oven – simple to recreate at home. We filleted fish, then used it to stuff scallop shells, along with ratatouille, herbs and olive oil, sealing it with puff pastry. Again, no salt, but piquant olives. This recipe can be prepared ahead, then cooked quickly for entertaining.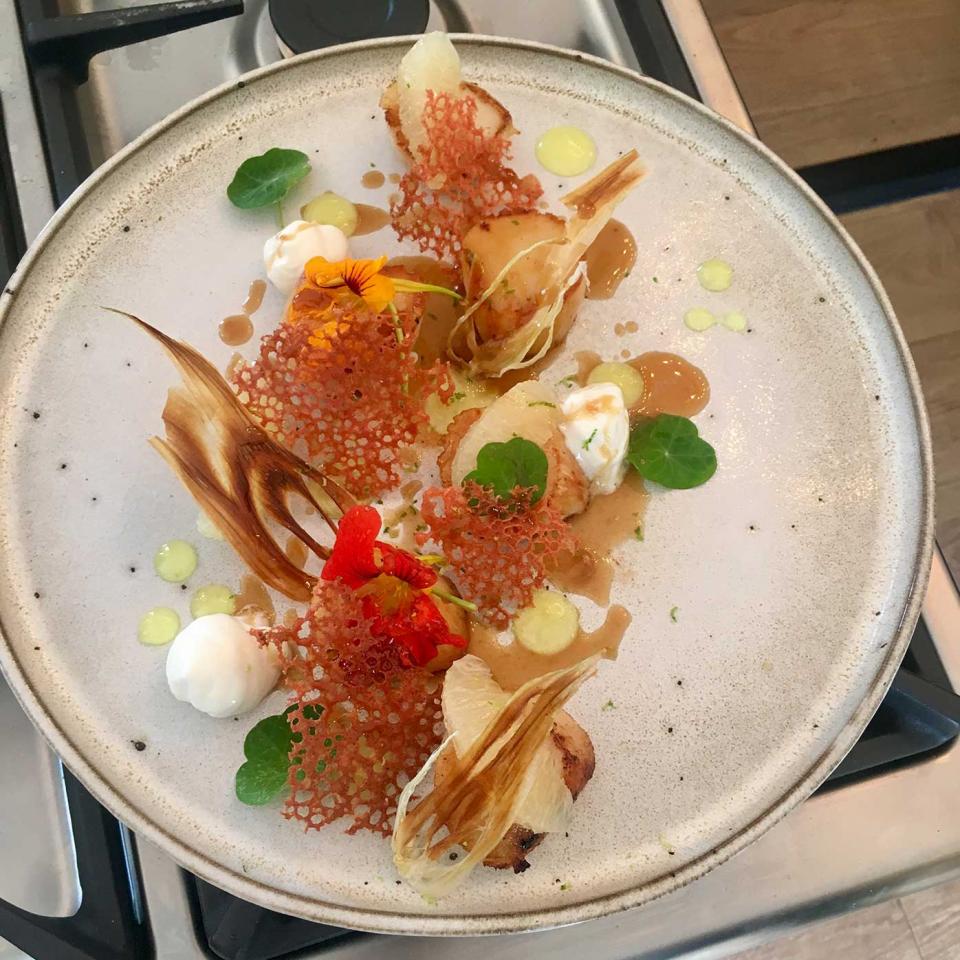 A striking new way with scallops
We also learned how to bone out a chicken leg and stuff it to make a ballotine – another make-ahead recipe. You could also do this with your Christmas turkey (ask your butcher to take the legs off, then cook alongside the crown). Jean-Christophe is a brilliant teacher who makes learning fun. His 30 years in restaurants includes two Michelin stars, so he has a wealth of tips.
When things didn't go to plan in our session, he told us part of the skill of cooking is adapting to ingredients and conditions, which is where your five senses come into play. While making caramel, for example, the atmosphere was humid, so the consistency was wrong, and he showed us how to correct it. You could easily stay cocooned at The Corran all weekend, but I headed out to explore the village of Laugharne, once home to Dylan Thomas, a 10-minute drive away.
There's a ruined castle overlooking the estuary and you can visit The Boathouse, where Thomas lived. It has glorious views, the original furniture – including Thomas's desk – and a great little tea room, another feast for the senses.
Getting there
Doubles start from £150 a night B&B weekend; weekend packages from £210 (dinner, B&B). Courses at The Corran Academy are from £95; Jean-Christophe Novelli Masterclass, held every other month, £400. For offers and to book, visit thecorran.com.