Travel
Staycation: Updown Farm, Kent
by Nicola Smith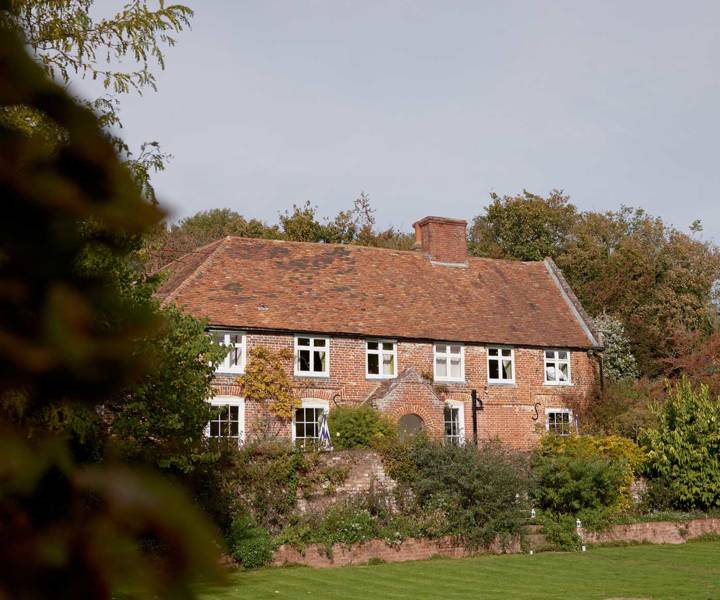 Updown Farm's charming red-brick exterior
A revamped farmhouse in Deal offers proper rural escapism and some truly delicious food
After bumping down winding roads, through fields and onto tracks that make us question if we are on the right road, an understated sign signifies both civilisation and our arrival at Updown Farm. Despite being only 20 minutes' drive from Deal in Kent, this handsome red-brick 17th-century farmhouse appears in the woodland with a delicious sense of welcoming guests to the middle of nowhere.
The feel is very much 'country house retreat meets country house party', as my partner, Fiona and I are welcomed through the grand doorway by Freddie, who greets us by name and proudly gives us a tour. The oldest part of the house was built in the 1690s and extended in the mid-Victorian era, and until the 1980s it was a working farm. Owners Oliver Brown and Ruth Leigh (daughter of renowned chef, Rowley) have lovingly renovated the property, which opened in July 2022, with Oliver heading up the kitchen and Ruth orchestrating front of house.
The modern influence is clear, with the bold orange library and an explosion of abstract artwork at every turn. Huge feature fireplaces sit in both the library and the long, pearl-coloured drawing room, with its beautiful throws and cushions yet, curiously, neither fire is lit on what is a decidedly chilly day. Here we sip our welcome mocktails, made from the on-site lemon verbena bush, and peruse the heaving book shelves.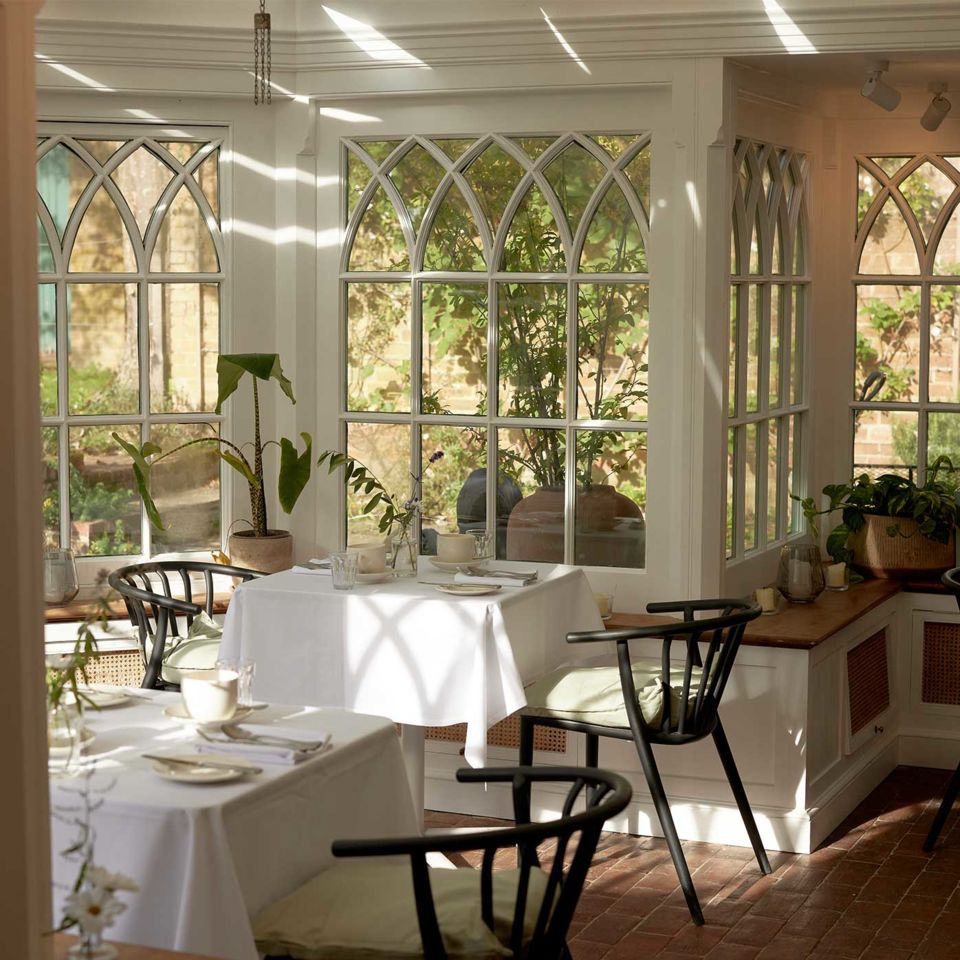 The cosy and intimate farmhouse kitchen-cum- conservatory
Leading off the drawing room is a small, deep blue room housing a generously stocked honesty bar (it has all the ingredients for a Negroni, plus a stash of local beers), but the mood lighting is slightly too moody. When we come to plunder the bar for an aperitif, our phone torches are needed to locate the beer, and to scribble down our libations.
Our room, Bedroom One (there are four rooms plus a two-bedroom Gardener's Cottage), is the largest in the house, with its sprawling super king bed and separate sitting area. An assortment of cushions and pillows are daring combinations of mustard yellow and cyan blue, while the Georgian window frames a picture book garden. Set in seven acres with wild meadow areas and raised borders, Updown Farm promises to come alive in spring, and guests are welcome to explore the grounds or just sit and read in dappled shade (as Jane Austen, a frequent visitor to Kent, might have done...). This is proper rural escapism.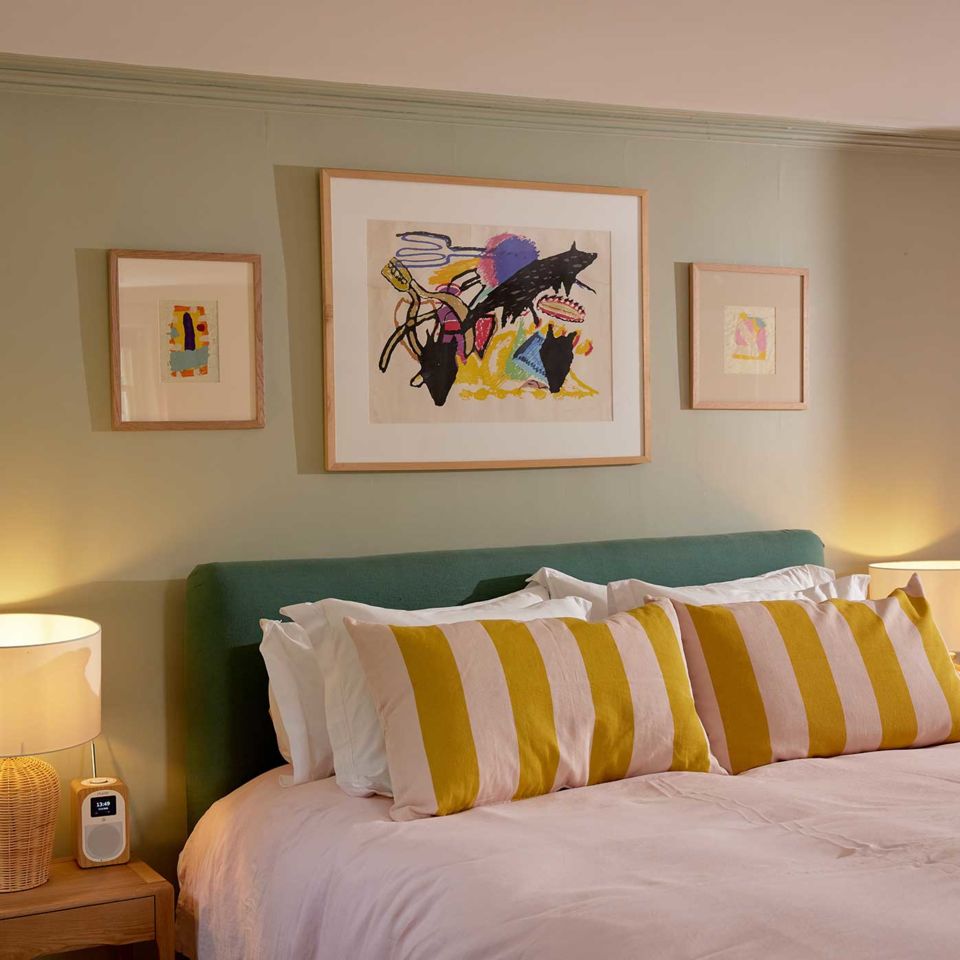 Comfort and style in Bedroom One
We take dinner in the farmhouse kitchen-cum- conservatory, made cosy with its drapes, candles, snow-white tablecloths and mini-heaters, while jazz creates a relaxed but intimate vibe. The kitchen seats up to 12 people, while in spring and summer, dinner is taken in the garden restaurant, under the beautiful covered pergola, warmed by monster gas heaters. With its wicker chairs and scatter cushions, set amid this glorious walled garden, it is a perfect country setting for al fresco dining.
Adjacent to the pergola, the red-brick former stable houses a baker's oven. Freddie tells us that much of the cooking is done in the outdoor oven, including bread, pizzas and sides of beef. When we arrive, smoke is drifting enticingly from the chimney into the late afternoon sky. It explains the deliciously warm, springy bread with salted butter which opens dinner proceedings, while the nutty roasted pumpkin ravioli that follows is equally as exquisite, accompanied as it is by sage butter that dribbles down the chin (no-one cares, it is too delicious). Brown's vision is Italian inspired, using largely locally sourced ingredients, and the set menu changes weekly.
Our main course is succulent pork loin, which comes with a memorable Sicilian caponata: sweet yet with a kick of spice, and a perfect bedfellow for the naughty pork crackling (so crispy that we hear a fellow diner ecstatically crunching away on his across the room). A bubbling hot potato gratin completes the ensemble, all served by the amiable Megan who, despite being at Updown just two weeks, is well informed and supremely at ease. The fragrant waft of grappa signals the arrival of dessert: a wobbling, virginal white mound of panna cotta with quince (marinaded in said Italian beverage), adding a pleasing tartness.
The happy buzz of dinner guests drifts from kitchen to drawing room as we adjourn for coffee, pleasantly sated by our Italian inspired extravaganza. Ottimo! Updown Farm has great plans to add more accommodation, and to transform its cathedral-like barn into restaurant seating, but one thing won't change: it will remain a dreamy Arcadian idyll (with excellent food).
How to book
Rooms at Updown Farm cost from £250 per night bed and breakfast. On Thursday and Saturday evenings, guests eat in the farmhouse kitchen or garden (weather dependent). On Friday evenings and Sunday lunch times, Updown opens the garden restaurant situated under the pergola (weather dependent). For more information and to book, visit updownfarmhouse.co.uk
Don`t miss

---