Travel
Staycation: Toad Hall Cottages, Dorset
by Helen Renshaw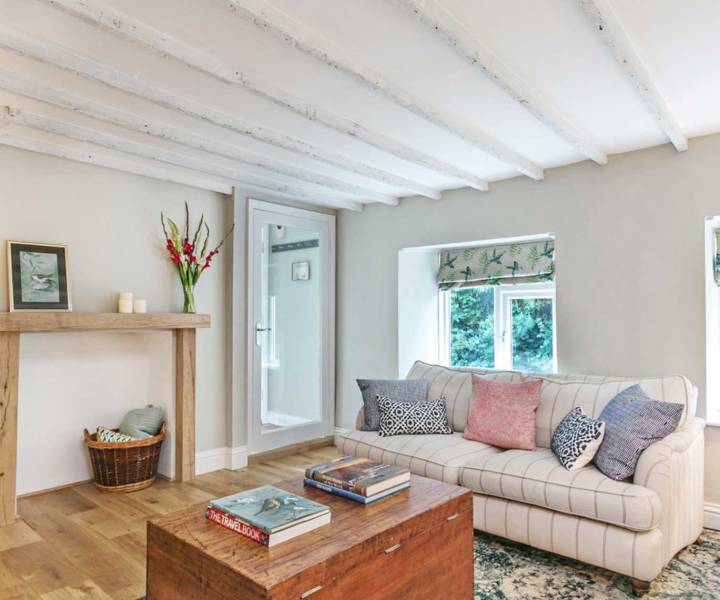 The homely interiors at Wren Cottage
Writer Helen Renshaw unearthed food treasures on a weekend break in Dorset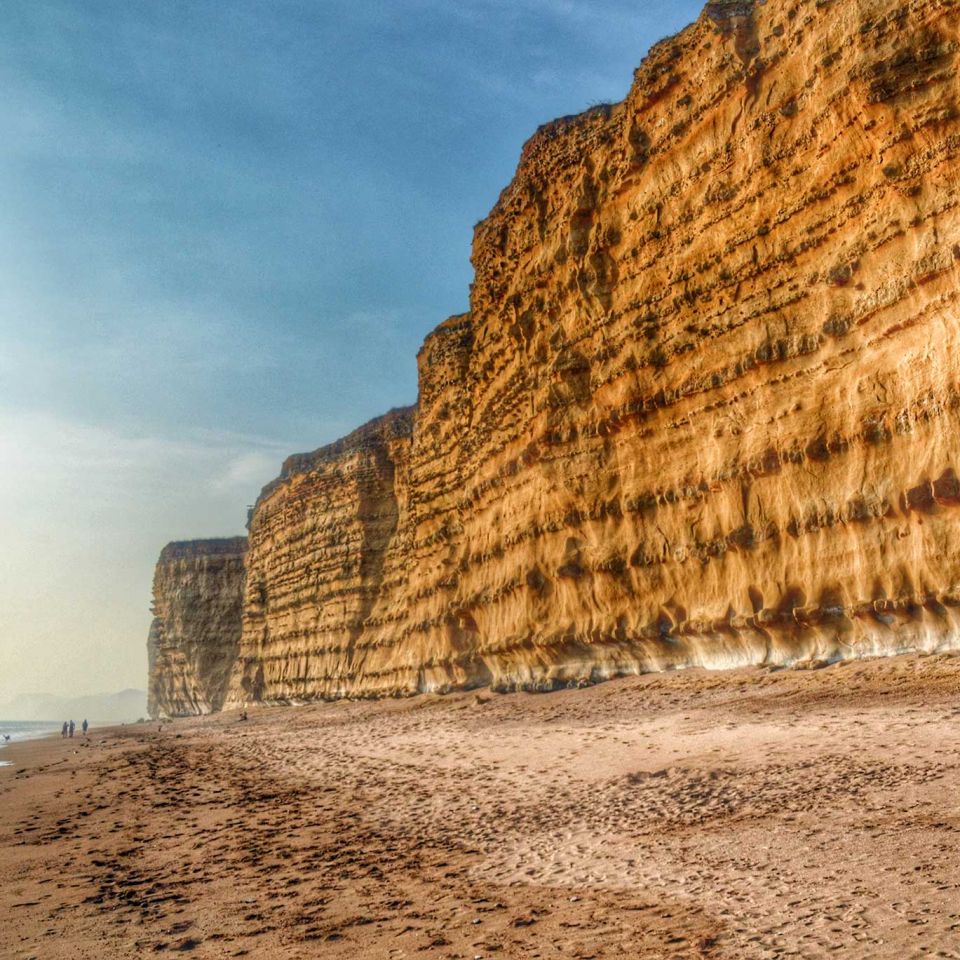 West Bay Cliffs. Image: Getty Images
There's a childlike moment of joy that must surely brighten even the most jaded of souls – it's the moment you turn the corner of a winding, hedgerow-hemmed country lane and catch that first distant glimpse. 'The sea!' someone will yell, and spirits take flight. The moment happened for us (I saw it first!) as we drew close to our home- for-the-weekend – Wren Cottage in the Dorset village of Netherbury.
And spirits continued to soar for the long weekend we nestled there, enjoying the peerless Dorset countryside and sampling the foodie (yup, and boozy) delights that most bountiful county has to offer. The village is a joy in itself. From the moment we drove in across a stream tailor-made for Pooh sticks, Netherbury summoned the innocent charm of a childhood storybook, transporting two harried Londoners back to a more carefree time.
Set in a picturesque valley surrounded by rolling hills, it's the quintessential Dorset village. Seven miles from West Bay (of Broadchurch fame) on the spectacular Jurassic Coast, the village, it turns out, is also the original location of River Cottage. Fans may remember the gamekeeper's lodge from Hugh Fearnley-Whittingstall's early Channel 4 River Cottage series, before he decamped to the current HQ in nearby Axminster – more of which later.
And Wren Cottage is everything a storybook Dorset hideaway should be. Pretty as a picture and stylishly decorated (think Farrow & Ball colours, squashy sofas and the odd quirky antique), just stepping through the front door calms frayed nerves. Cottage highlights include super comfy beds with crisp white bed linen and a mattress so sleep-inducingly pillowy it had me searching for the manufacturer's label. There's a big family table perfect for cheery teatimes spent eating scones smothered in locally produced jam and cream (oh go on, have two. You're on holiday!).
It's dog- friendly, too, and we were touched to find on arrival a welcome box with doggie treats provided alongside wine, fruit, grocery basics and gorgeous spring flowers. After settling in, we kicked off the weekend in perfect style – the River Cottage Friday Night Feast, a jolly communal blowout in a restored 18th-century barn at Hugh FW's 65-acre shrine to all things seasonal, local and sustainable.
It was a twisty half-hour drive from Netherbury to River Cottage HQ down pitch-black lanes – the darkness soon becoming a blessing, as we spent a romantic moment appreciating the starry, starry night over a glass of mulled cider before hopping on the tractor that transports revellers down the hill to the warm, welcoming lights of the barn. There we were served with canapés and – first revelation of the trip – a glass of Kingston Black Apple Aperitif, made from local apples and cider brandy. Is it delicious? Let's just say we bought a bottle to take back to London, but it didn't survive the night...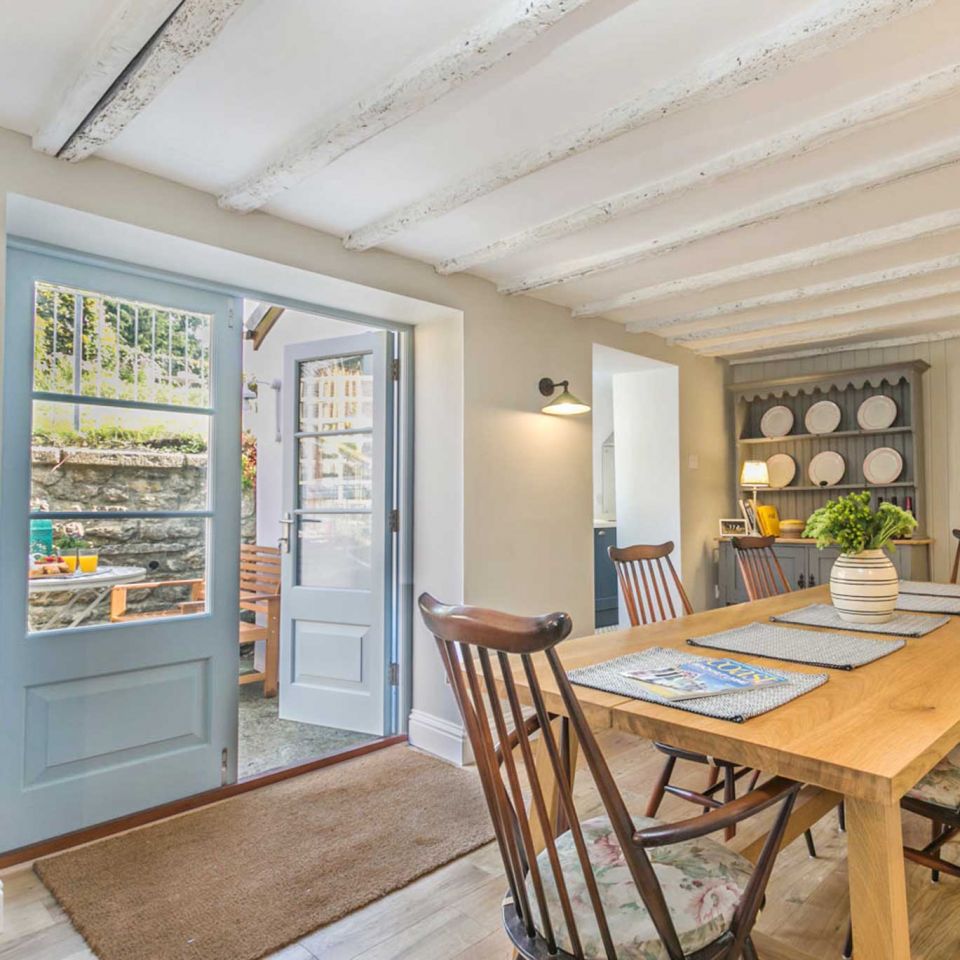 The dining area at Wren Cottage
We joined a cheerful rabble of fellow food-lovers at long tables and were introduced to the feast by the head honcho of Hugh's band of merry chefs. These food magicians teach at the River Cottage cook school, worship at the altar of seasonality and use some kind of West Country alchemy to transform local produce into an exciting and constantly changing set menu.
We kicked off with a starter of tangy local goats' cheese, cobnuts and purple sprouting broccoli atop a bed of fresh leaves (courtesy of nearby Trill Farm) in a pesto dressing. This was followed by succulent, locally caught pollock on a stew of tomato-ey chickpeas and merguez sausage. Next up was pinkly delicious venison, with cauliflower, cabbage, turnip and a deep, rich gravy (48 hours and six bottles of wine in the making), and then for afters we tucked into slow-baked meringue with rhubarb, cardamom cream and honey ice cream.
We headed back to Wren Cottage, tired, full, happy – and with our designated driver, more than in the mood to polish off that apple brandy. As the next morning dawned, we asked ourselves this question: 'Do we really want to get out of bed?' I'm going to level with you. The answer was no. But we had an appointment – a distillery experience and lunch at Black Cow Vodka, a local foodie success story buried deep in gorgeous nearby countryside. After the indulgences of the night before, the very word 'distillery' made us blanch. But our visit to Black Cow turned out to be the best fun we had in our fun-filled weekend. Black Cow is a vodka made from (wait for it)... milk, a concept so unlikely it's earned the tagline 'so wrong it's right'.
The story of Black Cow began when co-founder Jason Barber became the first in multiple generations of family cheesemakers to clock that the milk by-product in the cheesemaking process usually goes to waste. The light bulb that went on his head said: 'Let's turn it into vodka!' Like you do. Our tour included a thorough explanation as to how this works, and a very beautiful copper still that makes it all happen. But the long and short of it is that the milk by-product goes in one end, super smooth vodka comes out the other, this is turned into espresso martinis and everyone has a right laugh. At least, that's what happened when we were there.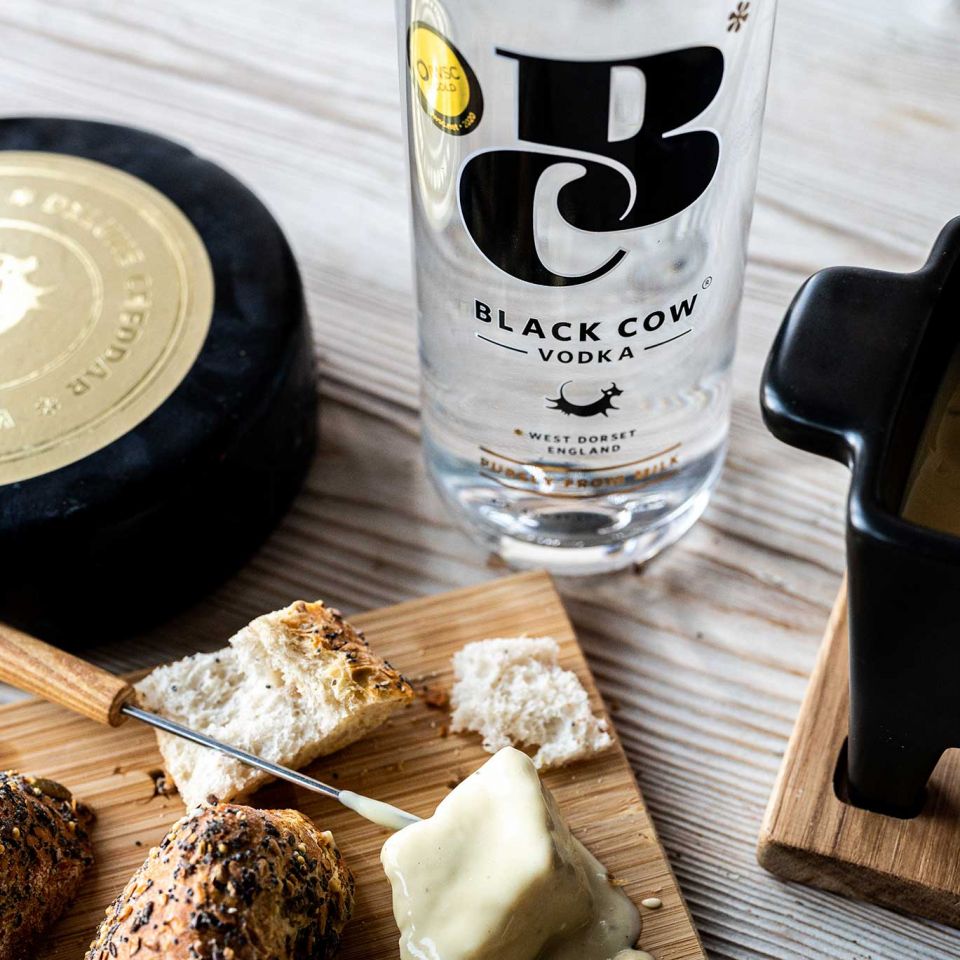 Black Cow vodka
After the distillery experience, the small group of guests were treated to a fabulous lunch featuring celeriac soup with Black Cow cheddar croutons, pulled pork with salty, crunchy crackling and Yorkshire rhubarb. Oh yes, and several more cocktails, including our favourite conjured from vodka, lime juice, sea salt and maple syrup. The time had come to blow away the cobwebs. And luckily for us, the perfect cobweb-blowing location, Lyme Regis, is just a few miles down the road. There we sauntered – well, in truth we were drenched and blown sideways – down the Cobb, Lyme's iconic harbour wall. And at the very end we found a delightful attraction, the marine aquarium.
It's a quirky, family-run place where you can get up close and personal with the marine life that can be found off the Jurassic Coast. Where else can you get kissed by a mullet (that's what it feels like when you feed them by hand), hold a starfish or touch a crab? While in town, we grabbed a bite at the Harbour Inn, a friendly, family-owned local with food that's more adventurous than your average pub. I ordered Lyme Bay scallops with butternut squash, fish bonbons and katsu. Sounds weird, tasted great. A country walk, a seaside stroll and a lazy cottage afternoon later, our idyll was almost at an end. But we still had one treat left – a meal at Brassica, winner of 'Best Local Restaurant, South West' in The Good Food Guide.
Brassica is in Beaminster, a market town two miles up the road from Wren Cottage. This is a place that has caught the eye of restaurant critics Tracey Macleod and Jay Rayner; the latter described it as 'extremely agreeable', a simple phrase which sums Brassica up perfectly. It's a lovely place to share a meal with friends, with big bay windows looking out over the market square, dusky pink walls, cushioned banquettes and well worn (in a good way) tables. Again, the emphasis is on local – 85% of the produce used comes from within 15 miles of Beaminster, and you could almost taste the briny sea air on the brown shrimps with potato pancake that was my most excellent starter. Other standouts were pasta e fagioli with wild garlic, venison with 'nduja, sea buckthorn ice cream and chocolate mousse cake with coffee granita.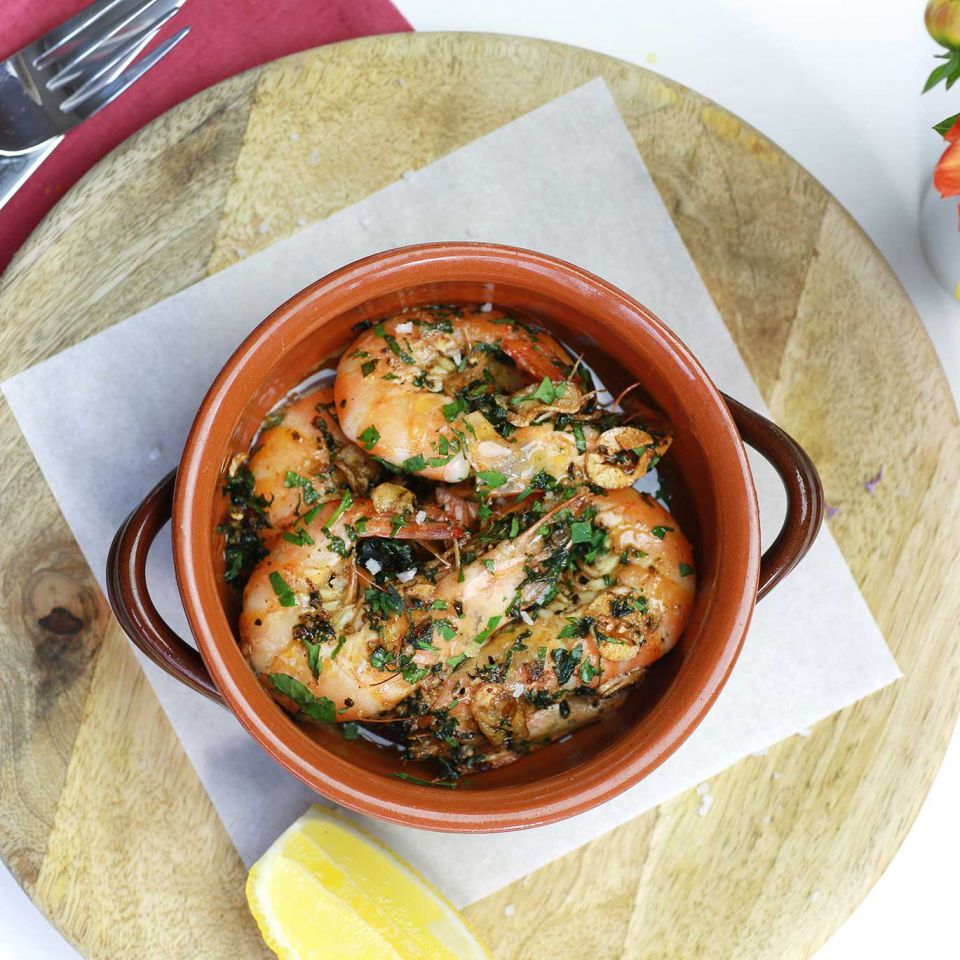 Shellfish at Brassica restaurant
There could have been so many more twists and turns in the story of our foodie Dorset adventure. A longish stroll up the road from Wren Cottage is the highly regarded Hare & Hounds, which is reckoned to serve great food and looks like the ultimate country inn from the pictures.
Sadly, we didn't get to experience it first-hand despite two attempts (on the second, we were told the pub wouldn't be open for dinner because the chef was 'frazzled' from cooking Sunday lunch!). Phoning ahead is definitely recommended at the Hare & Hounds. We also missed out on a visit to the Furleigh Estate vineyard, producer of award-winning sparkling and still wine – time just ran away with us. But our story had a happy ending. We went home a belt-hole bigger but determined to visit again, and happy to have been reminded that the simplest pleasures in life are almost always the best.
How to book
Wren Cottage sleeps six in three bedrooms and has one bathroom. A seven-night break starts at £509 and discounts can be arranged for smaller groups. Toad Hall Cottages has a large selection of properties to rent in the South West of England. For details of the River Cottage Friday Night Feast, visit rivercottage.net and for details of the Black Cow Vodka Distillery Experience, visit blackcow.co.uk.
Don`t miss

---