Travel
Staycation: The Glasshouse Hotel, Scotland
by Rufus Purdy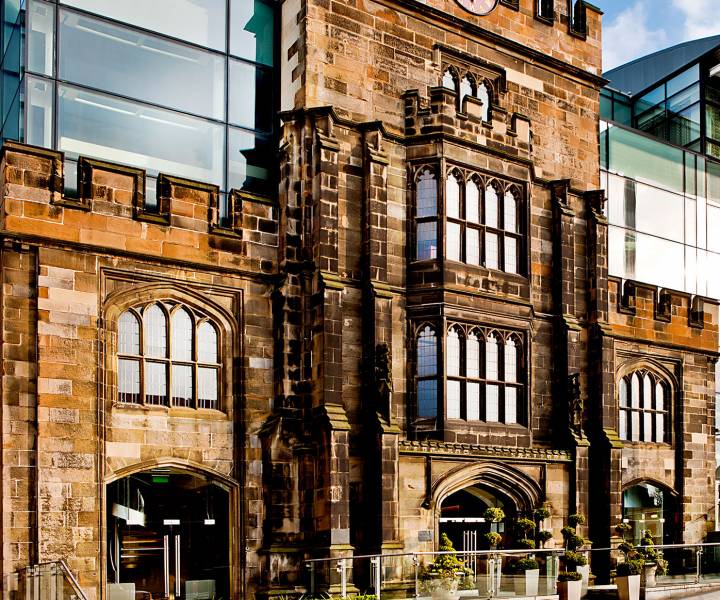 The Glasshouse Hotel
Rufus Purdy enjoys an innovative new whisky-tasting experience, designed to educate this classy Edinburgh hotel's guests about all things malty and moreish.
When you're staying at The Glasshouse Hotel, you have to learn to expect the unexpected. It's my first night here and I'm sitting beside a fire pit in the bar, in which blue flames flick and flutter like electricity from a Van der Graaf generator. Suddenly I hear a rustle behind me and a woman in bridalwear sweeps by while her (presumably) new husband digs around for their room key in a sporran as fluffy as a Highland terrier.
The five-star hotel is a former church with a two-acre roof-top garden and spectacular views. It certainly has got spirit – or rather, I should say, spirits – which is the reason I'm here. The stylish, low-lit bar The Snug may hold around 160 fine malts but it's what The Glasshouse's bar staff does with them that sets the hotel apart. While there are some whose faces would turn thistle-purple at the thought of anyone messing with such rarified drams, I'm not one of them. And the cocktails I sample before dinner – a Dram Of The Dead in which Glenkinchie, Ardbeg and Glenfarclas are combined with grenadine and absinthe; and the Peaty Kiss, a blend of Laphroaig, Jägermeister and orange juice – are to me an exciting way of experiencing what would otherwise be a daunting range.
The cocktails are part of The Glasshouse's Whisky Experience, designed to introduce guests to Scotland's most famous liquid export. So, for the next stage in my whisky education, I join other curious (and thirsty) guests at a dinner presided over by the hotel's 'whisky ambassador' Ken Hanley. A warm, wise, grandfatherly figure in kilt and knee socks, Ken has spent a lifetime savouring theamber liquid – and what he doesn't know about it would barely line the bottom of one of those tiny whisky sample bottles they sell to tourists on Edinburgh's Royal Mile.
The idea of a menu in which each dish is paired with a drink isn't a new one, but I've never tried it with whisky before. And, as we move through the courses – cullen skink with a 12-year-old Glenkinchie; smoked duck breast with a Macallan Gold; venison accompanied by a 12-year-old Dalmore – Ken shows us how to inhale each whisky's scent, identify its flavours and appreciate its 'finish'. My knowledge expands along with my waistline and, by the end of the meal, I'm clear I prefer a smooth, mellow Lowlands whisky. And that I'll never put ice in my whisky glass again.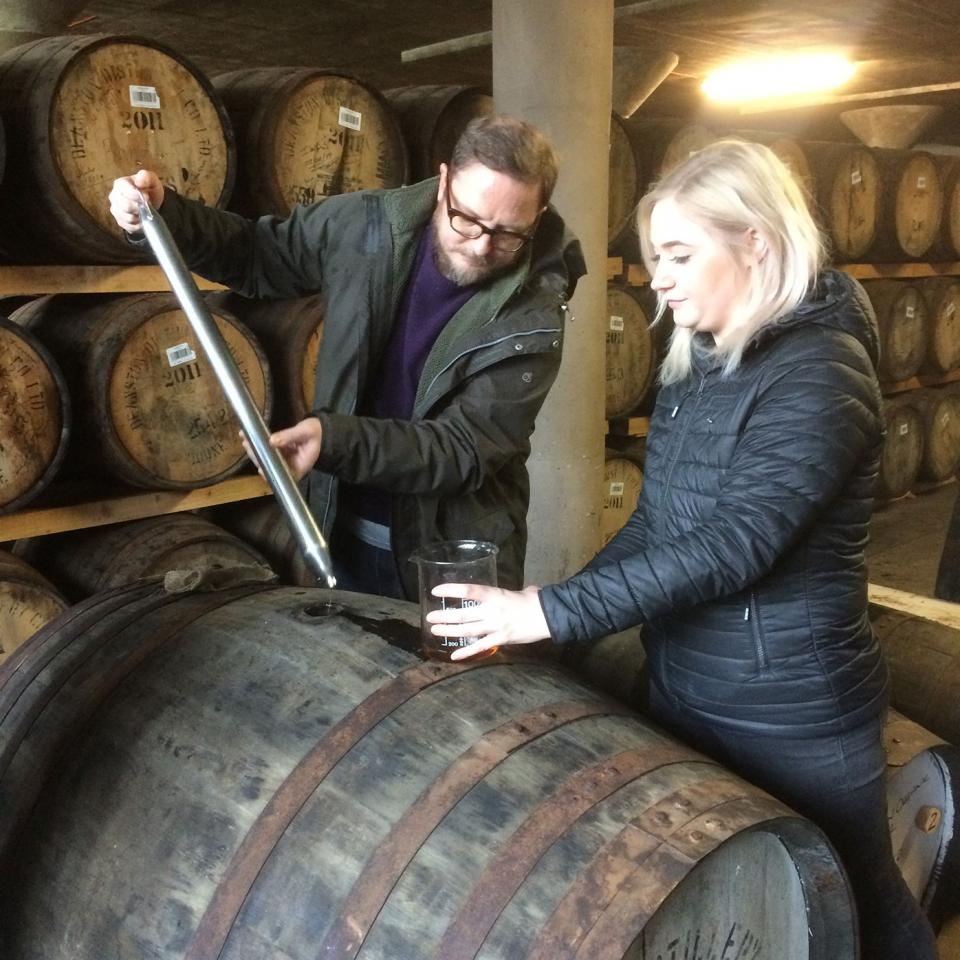 Rufus siphons whisky from a cask at Deanston Distillery
The next morning, we visit the Deanston Distillery in Doune. Here, the famed 'angels' share' – the whisky that evaporates from barrels during the ageing process – hangs in the air in a pungent fug, and even blackens the trees on the other side of the River Teith. 'No one who's worked here has ever had sinus problems,' Ken tells me as we stroll through the rows of casks.
Then it's back to the hotel. In The Snug, I order haggis bonbons, then scan the cocktail list for something to go with it. 'Any recommendations?' I ask the waitress.
'I like the French 75,' she tells me.
'What's in that?'
'Well, there's Champagne, lemon juice and gomme syrup...'
'And?'
She thinks for a moment. 'Oh yes,' she says. 'And gin.'
Expect the unexpected.
How to book:
Double rooms from £200 per night, including continental breakfast. The Whisky Experience is tailored to individual guests' requirements; prices vary (theglasshousehotel.co.uk).
Don`t miss

---