Travel
Staycation: The Europa Hotel, Belfast
by Rebecca Denne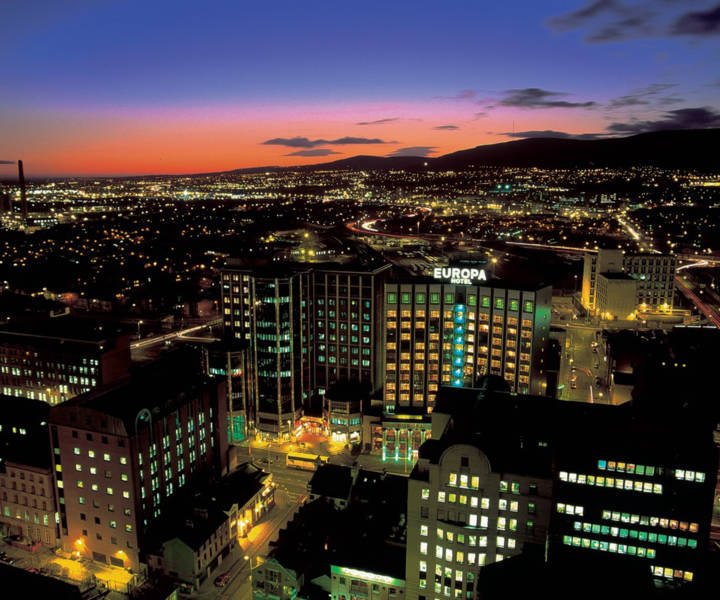 The Europa at night
Having never visited Belfast before, Rebecca Denne's recent city jaunt surprised and delighted. Here's why Belfast should be on your travel list for 2022…
Where is it?
Just a 30-minute cab ride from Belfast International Airport (or 15 minutes from Belfast City Airport), The Europa is the perfect base for exploring the city. Celebrating its 50th birthday this year, the hotel has a sense of excitement as soon as you walk through the doors. A warm welcome from the team is followed by a chance to delve into Europa's history as I pore over the interactive exhibition in the lobby. This isn't just any four-star hotel, it turns out – it's Europe's most bombed hotel. Having suffered 36 attacks during the Troubles, the hotel is known around the world for its past (particularly given it was a base for many named journalists during the conflicts). It's this history, and meeting the people who lived it, that makes for a truly humbling stay.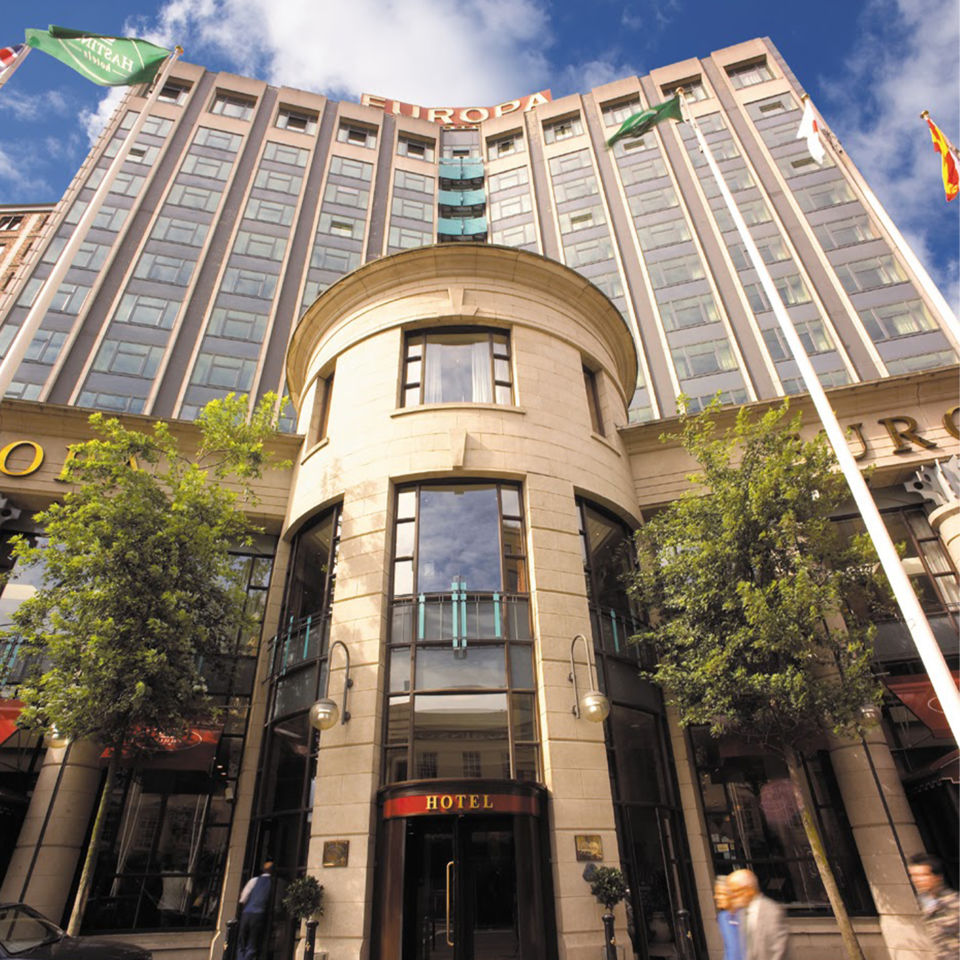 The Europa
What's the accommodation like? 
If, like me, you never want to be too far from the buzz of the city, then The Europa will be right up your street. Standing proud on Great Victoria Street, the hotel welcomes locals and tourists alike, and has opened its doors over the years to the likes of Bill Clinton, Sir Trevor McDonald and Brad Pitt, to name a few. Currently undergoing a £10m refresh, the hotel's rooms are exactly what one wants from a city break: a bed big enough to do a full-on starfish and still not come close to the sides, a bathroom that wouldn't look out of place in a chic Shoreditch boutique hotel, and panoramic views of the bustling streets below. The piano lounge on the second floor is a relaxing space for an indulgent afternoon tea or a pre-dinner cocktail, while the non-residents' lobby bar comes alive on Saturday nights with a jazz band getting theatre-goers and regulars in the mood for their evening ahead.
What did you eat and drink?
After an early flight, lunch couldn't come soon enough. We headed for the piano bar, where I tucked into a comforting bowl of creamy Irish chowder like no other. Chunky, smoky and made with love, it's served with a warm wheaten scone and lashings of salty butter. Heaven. Our evening took us back to the 1970s as we dined on a special celebratory menu to mark the hotel's 50th. And what's the epitome of 70s cuisine? Prawn cocktail, of course. Sweet prawns dressed in the lightest Marie Rose sauce, served with a wheaten scone – I'm beginning to see that these are something of an Irish staple, and rightly so. I'm particularly thrilled when the main course arrives: not one, but two generous slices of the most tender beef Wellington there ever was. The garlicky paper-thin layers of dauphinoise didn't disappoint either. A suitably retro end to proceedings came in the form of baked Alaska; light, airy and just-the-right-side-of-sickly sweet.
Breakfast was a celebration of local produce, including yogurt, breads and preserves (among other delights) from the surrounding areas. It would have been rude for me not to indulge in a hearty bowl of porridge with fresh cream and a glug of Bushmills Irish whiskey to set me up for the day, surely…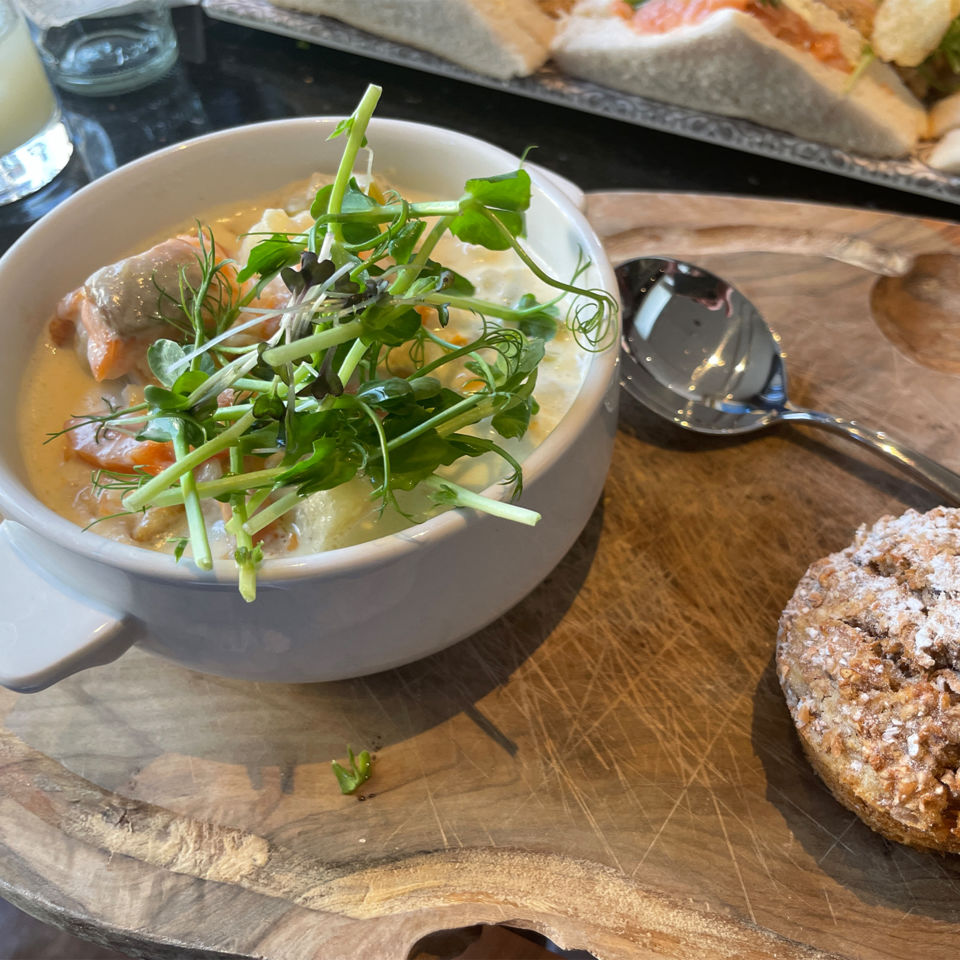 Homemade chowder
What is there to do?
My inner dork absolutely came to the surface as we visited Titanic Belfast and walked across the cobbled streets to see where RMS Titanic set sail for her fateful maiden voyage more than a century ago. Allow yourself plenty of time to wander around the exhibition. Nearby, Game of Thrones fans will delight in the Glass of Thrones stained glass windows dotted around the Titanic Quarter (a full-on GoT Studio Tour launched in February 2022, too.)
Refuel on a walking food tour of the city with the friendly and oh-so knowledgeable folk of Taste & Tour. You'll be able to sample all Belfast has to offer, from the silkiest award-winning hot chocolate at Co Couture and the most pungent of cheeses courtesy of Mike's Fancy Cheese Shop to banana beer (and yes, it does taste of banana!) at the urban museum space, Banana Block. For a breath of fresh air, our guide tells us you're never more than 20 minutes away from a beach or hill walk. I'll stick with the banana beer, thanks…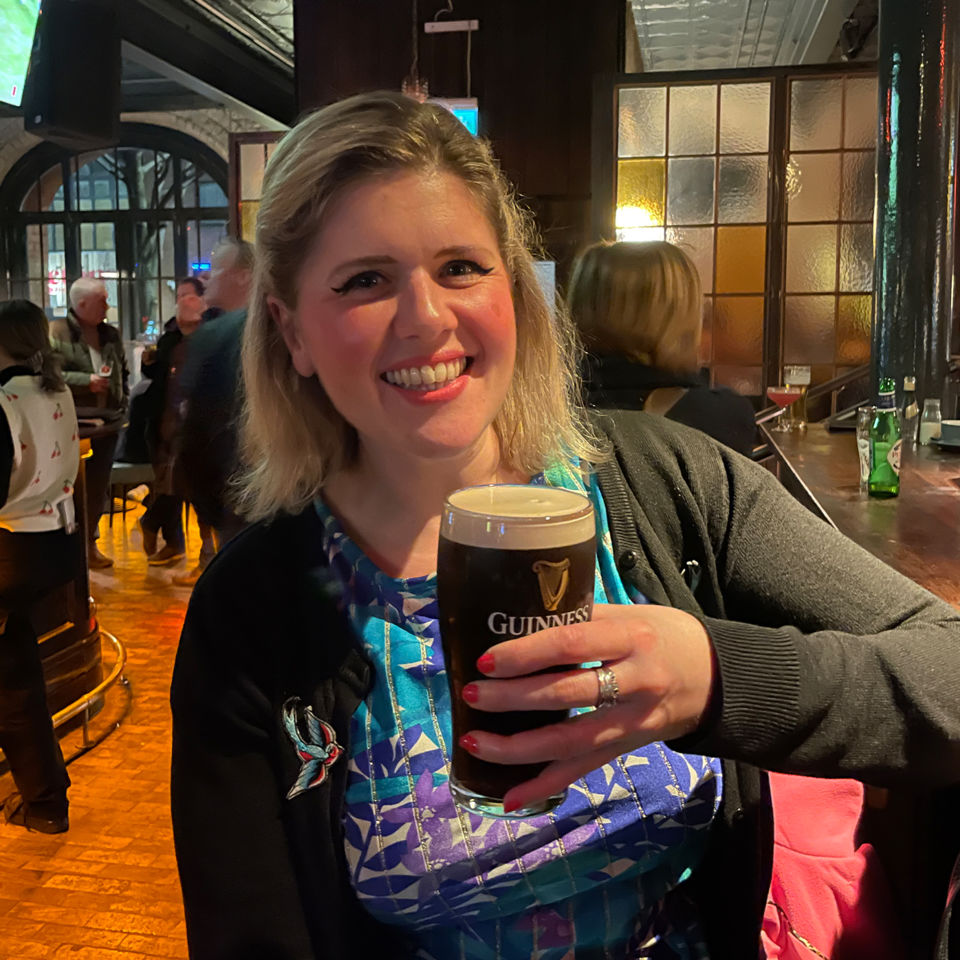 Rebecca enjoying a pint of Guinness
What do I need to pack?
Trainers. While The Europa doesn't boast a gym, there are plenty of steps to get in as you explore the city on foot. Comfy shoes and plenty of layers are a good shout during the winter months. That Belfast air certainly has a bite to it!
Lasting memory
It'd be amiss to visit The Europa and not dig a little deeper into the city's history. A Black Cab Tour provided a two-hour snapshot as we visited some of the areas impacted during the Troubles, saw some of the murals that act as a reminder of the city's past today, and stopped off to sign the peace wall.
Sainsbury's magazine insider tip
Be sure to pop into Sawers (just a 10-minute walk from The Europa) – an absolute treasure trove for all things foodie, including over 200 cheeses and their famous sweet chilli jam.
How to book
The Europa Hotel offers rooms from £95 based on two people sharing a Classic Double Room. To book, visit The Europa Hotel or call +44 (0) 28 9027 1066. Plan your visit at ireland.com/en-gb
Don`t miss

---