Travel
Staycation: Royal Marine Hotel, Brora
by Fiona Gibson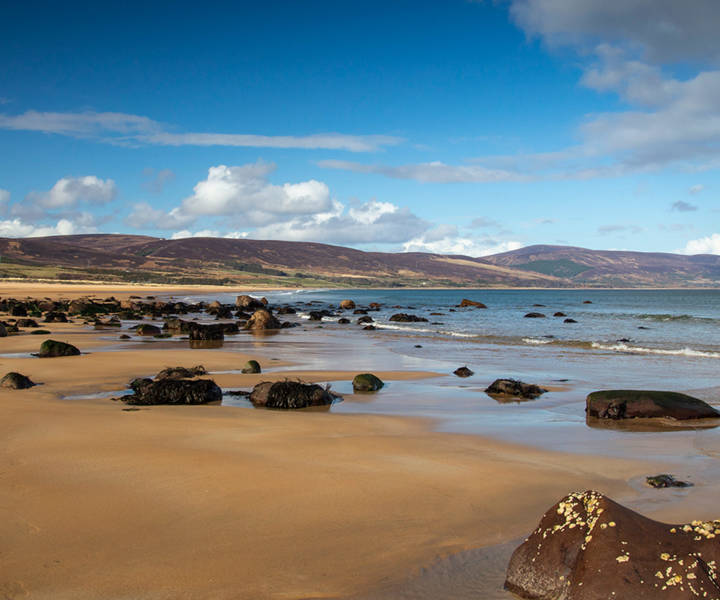 Image: Shutterstock
A restored coastal hotel makes a cosy base for encountering the easygoing, beautiful North-east Highlands
The Royal Marine Hotel
I wouldn't say the beach at Brora, in the North-east Highlands, is deserted. As we stroll along the glorious sweep of soft golden sand, we do see the occasional dog walker in the distance. Oh, and seals too. They pop up in the sea and swim towards the craggy rocks. But that's as hectic as things get around here. Yes, this idyllic fishing village is on the North Coast 500 – the scenic route around the north of Scotland that tops many a tick-list – but if you yearn to get away from it all, then this gem of a coastline is perfect.
We are staying at the Royal Marine Hotel, an elegant former home that's been tastefully restored to retain its early 20th-century charm. Squashy sofas and crackling fires invite you to lounge after a day's exploring. Baskets of soft tartan blankets are on hand. The atmosphere is one of relaxed luxury, and the team couldn't be more welcoming.
In the hotel's Curing Yard Restaurant we tuck into starters of zingy pickled herring with mustard and herby crushed potato, and cured loch trout with asparagus and radish remoulade. Everything is spankingly fresh. Stars of the show are the plumpest seared Orkney king scallops with charred cauliflower. Simply pan-fried sea bass is another favourite. On another evening, it's a classic haddock supper and a juicy burger with haggis. Silken cheesecake and Scottish cheeses round things off perfectly.
For more casual suppers, the hotel bar offers sliders, arancini and generously laden charcuterie and seafood sharing boards. Breakfast, too, is something special, with black pudding from a butcher just five miles along the coast. Naturally, there are tattie scones; we are in Scotland after all. There is also local Brora honey, Caithness preserves and creamy porridge with a cheeky dash of whisky.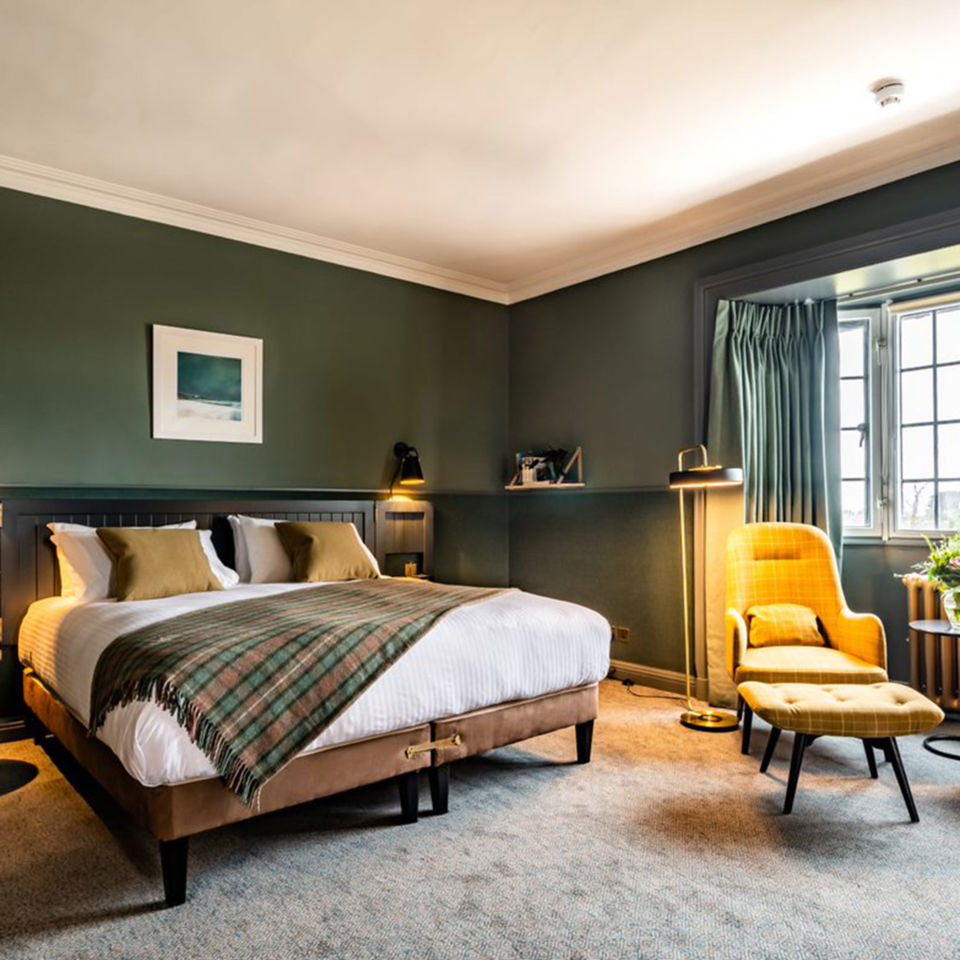 A super-stylish bedroom at the Royal Marine Hotel
Setting out to explore, we head for nearby Dornoch - a gem of a Highland town with its unspoilt beach. The original 19th-century Dornoch Jail is now home to a clutch of boutiques selling highland crafts, textiles and knits. Nearby Tain is another charming, historysoaked town to explore. Back in Brora, we stop for ice cream at the village's much-loved Capaldis, Italian immigrants who launched their business here with just a single flavour almost 100 years ago.
Later, in the hotel bar, we warm our cockles with a 'Dandy' cocktail (dark rum, Cointreau, orange zest) and a 'Green Highlander' (gin, grapefruit, salt and sugar syrup). The cocktails are named after the hand-crafted fishing flies made by Megan Boyd, the celebrated fly fisher who grew up in Brora and counted King Charles among her friends.
Whether fishing, golfing, cycling – or simply strolling around the coast and nearby lochs – it's all about the glorious scenery here. No wonder our room, with its leaded windows and deep green hues, feels so welcoming. Tweedy rugs and locally crafted ceramics evoke a country-house feel. In the bathroom we find scented treats from Arran Sense of Scotland, and plump pillows and cosy duvets bring on sleep of the gods. But not before an evening stroll to soak up the glorious sunset. We watch cormorants stretching their wings on the rocks as the sky dazzles with vivid orange and pink. Yes, the North Coast 500 might top many a tick-list. But I'd far rather linger here.
Don`t miss

---