Travel
Staycation: Shorefields Shepherd's Hut, Dorset
by Christine Faughlin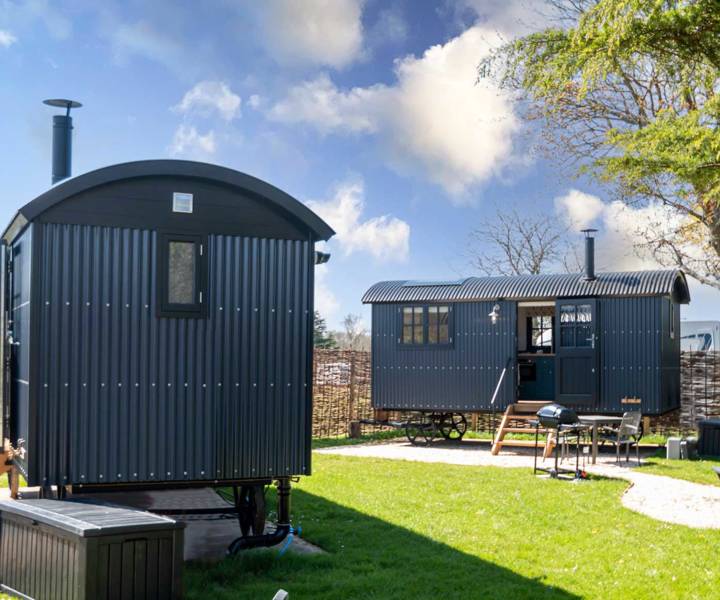 The two neighbouring shepherd's huts, Baa None and Baa One. Image: Rachel Bragg
Bedding down in a chic shepherd's hut adds a bit of contemporary cool to a classic caravan park stay
It's nearing 11pm on Friday night, I'm squinting by the light of my phone at a keypad that operates a boom-gate entry into Wilksworth Caravan Park, and I haven't a clue what the access code is. Endless roadworks and the usual late-Friday traffic put paid to us arriving at a more reasonable hour and now a dropped phone signal is preventing access to the all-important after-hours arrival instructions.
Just as I'm about to resign myself to sleeping in the car, a friendly park warden appears in the darkness to guide us by torchlight past caravans, campervans and tents to one of two bespoke shepherd's huts situated in a quiet, private corner of the park. Despite the late hour, he cheerfully shows us around the hut and it's clear to see we are in for a quirky stay.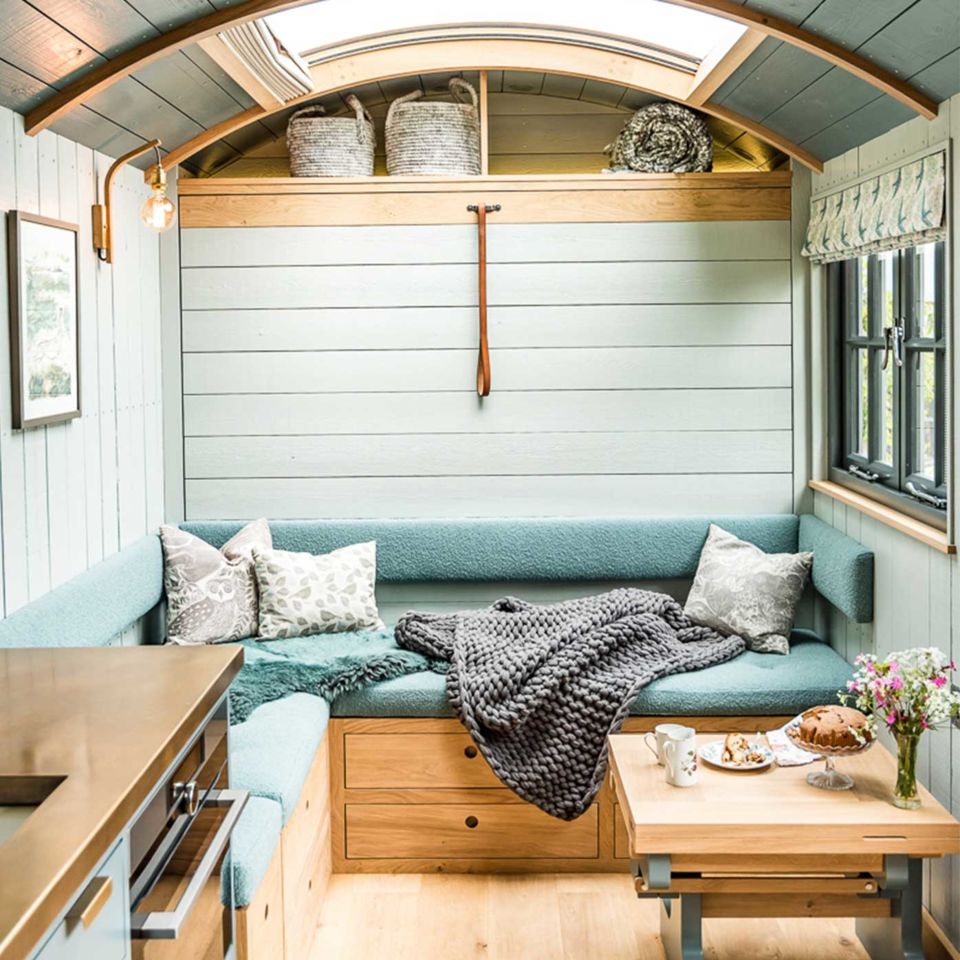 The stashed-away bed, cleverly stored in the back wall. Image: Rachel Bragg
Our shepherd's hut – named 'Baa None' – has sheep motifs dotted throughout. It's cleverly designed to make best use of space without compromising on comforts, from an en-suite bathroom to a woodburner for chilly nights and a Quooker tap in the handmade shaker-style kitchen, which gives boiling water on demand.
Although compact in size, the hut is bright and airy thanks to multiple windows and a vast skylight that makes sleeping under the stars possible. Most clever is the space-saving double bed that's fully made up and stored vertically in the wall by day, and then pulled down over the banquette seating area by night. We set it up in seconds and are fast asleep soon after.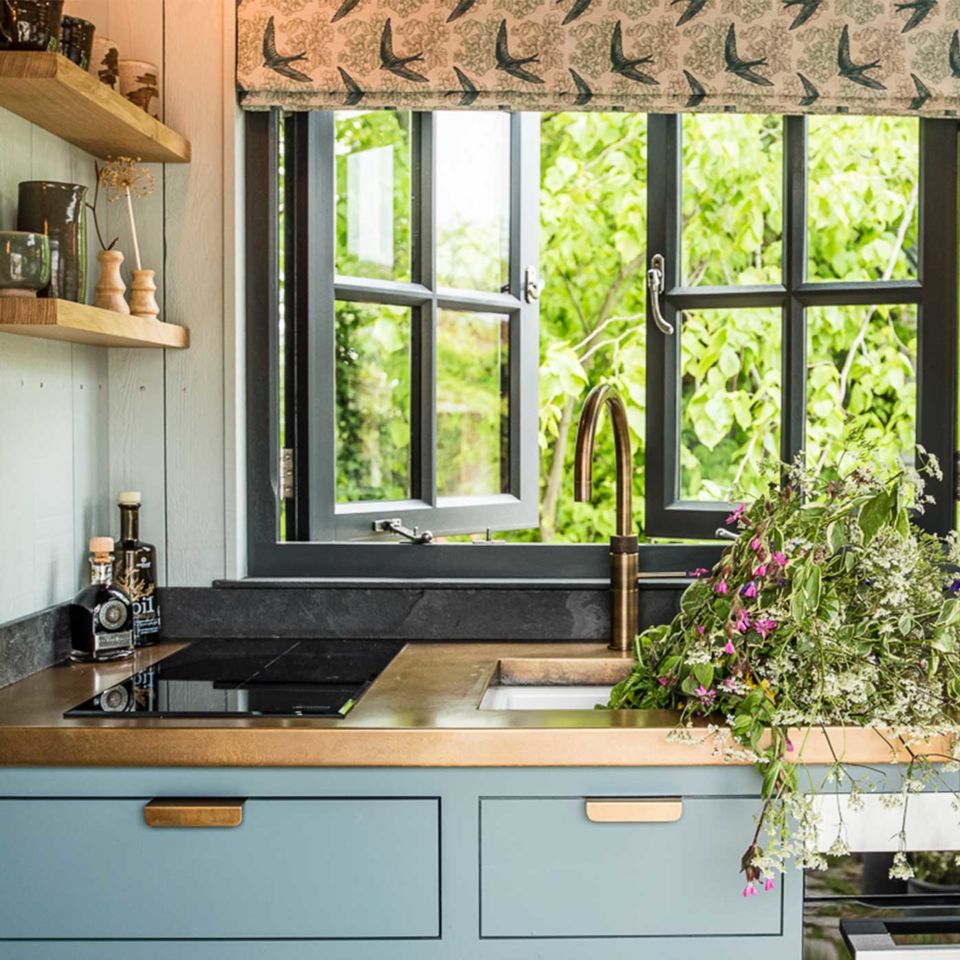 Shaker-style designs in the hut's kitchenette. Image: Rachel Bragg
I have a bit of a soft spot for caravan parks – like most Australians, I spent half my childhood holidays at them. But as a grown-up, the fun facilities on offer here – pool, football field, playground – don't have the same pull they once did.
So next morning, we leave the site to explore nearby Wimborne, a riverside market town with pretty streets lines with independent shops and eateries. We buy books in Gulliver's Bookstore and poke around Salamander Cookshop – a cook's dream – before stumbling upon Le Petit Prince Patisserie, a popular bakery offering excellent pastries, light breakfasts and lunches and delicious patisserie.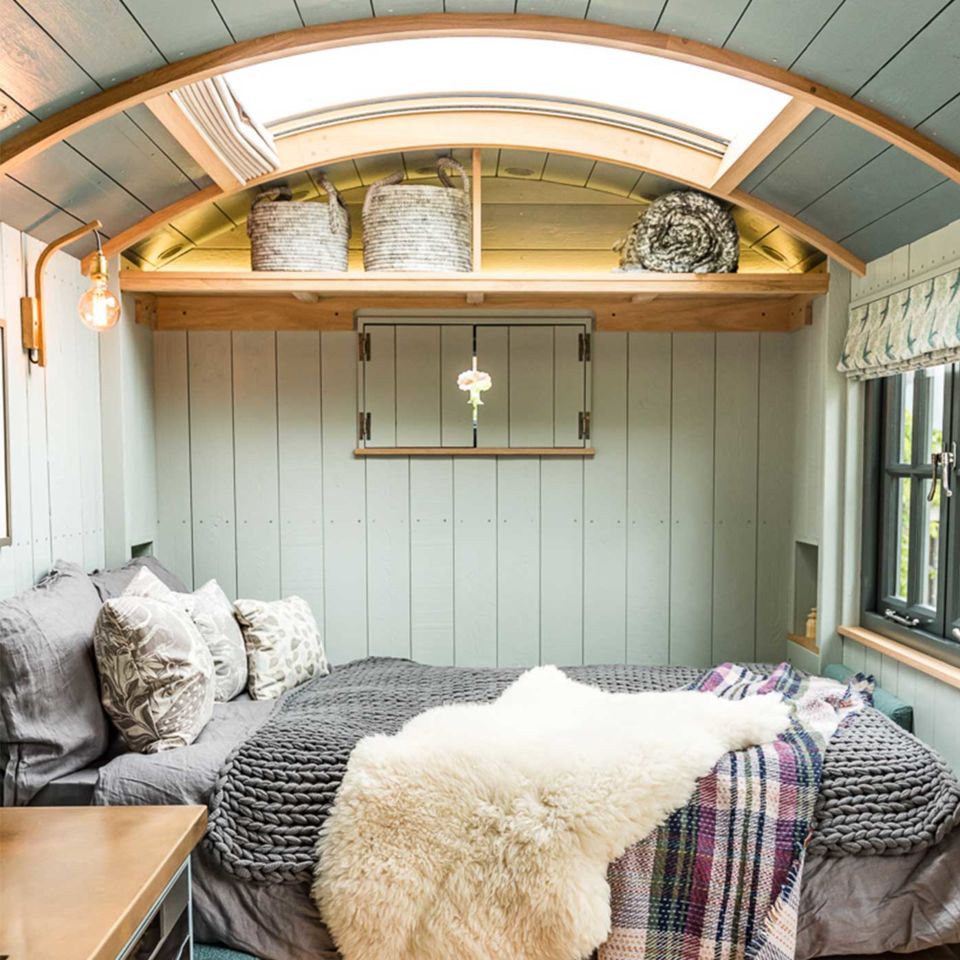 The vast skylight that makes sleeping under the stars possible. Image: Rachel Bragg
There's a secret garden out the back by the river that's a real suntrap and a lovely spot for tucking into top-notch sandwiches. Across the road, we load up on goodies at The East Street Deli to take back to the hut for dinner. The sun is getting low in the sky as we sit outside the hut with a glass of wine and our deli treats, listening to birdsong.
We are quite removed from the rest of the park, but are in full view of the second hut – Baa One – and I wonder if I'd be as relaxed if it had been occupied. But then, as I hear laughter carry across the park, the distant sounds of families getting settled for the night and children calling out 'goodnight' to newfound friends, I'm reminded that sometimes, the best part of a caravan park holiday is your proximity to other people.
How to book
A two-night weekend (Fri to Sun) stay at the Baa None shepherd's hut costs from £320, based on 2 people sharing. For more information and to book, call Shorefield Holidays on 01590 230 151 or visit shorefield.co.uk/holidays
Don`t miss

---