Travel
Staycation: a weekend away at River Cottage, Dorset
by Helena Lang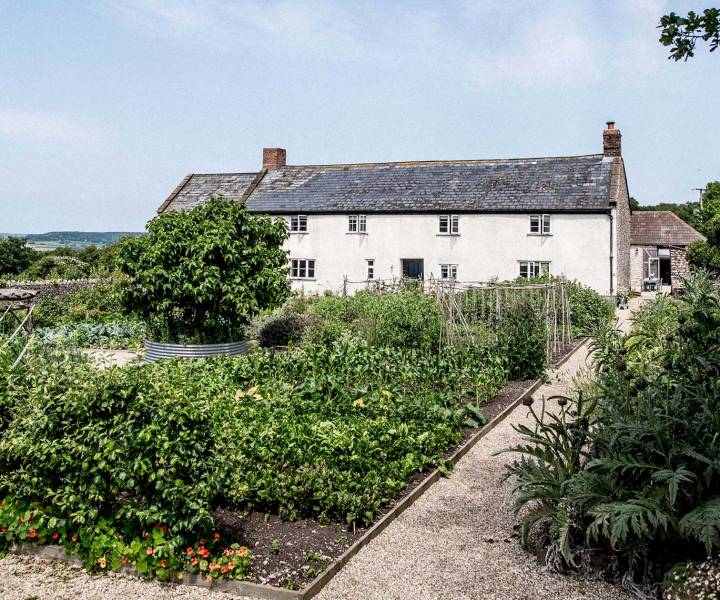 The 'peaceful and calm' farmhouse
What is it like to stay for a weekend at Hugh Fearnley-Whittingstall's River Cottage in Dorset? Helena Lang finds out...
The fat, fluffy marmalade cat was twitching its tail while it snoozed with one eye open on the doormat of the River Cottage Farmhouse. We gingerly stepped over it and entered the beautiful white building, our home for the next two nights, and the quintessential townie's fantasy country retreat. Downstairs it's all flagstone floors, scrubbed wooden tables, log burners and squidgy sofas. Upstairs there's low beamed bedrooms, sheepskin throws, deep baths and a view. There are no TVs and there is a dodgy WiFi signal. The atmosphere is peaceful, calm and a tribute to simple rural living at its very best. Heaven.
Our bedroom window looked out over the kitchen garden and having recently caught the grow-your-own bug I couldn't wait to get out and explore – even though this was a misty and damp January afternoon. There were regiments of giant leeks, sprouts and kale standing to attention in the raised beds and even a beautiful lone rose drooping on the arbour, a stash of hives for honey bees and beyond in the fields, some strapping and handsome young heifers.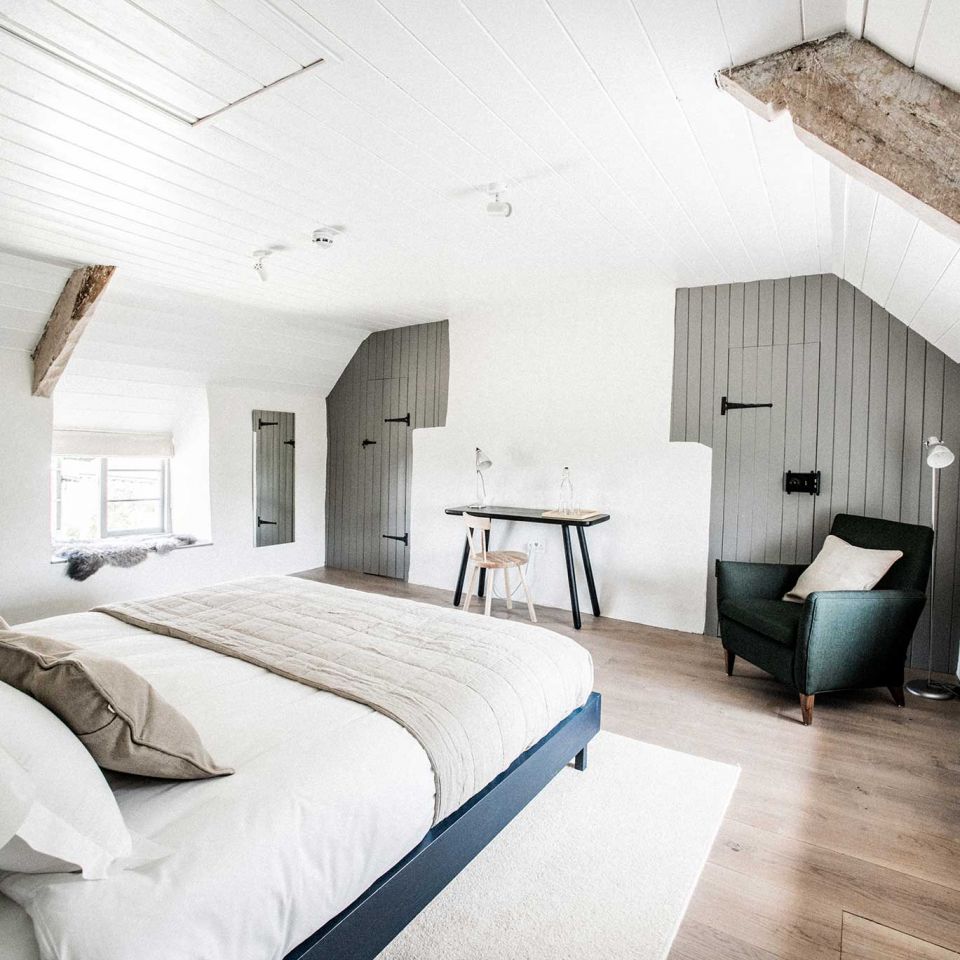 A farmhouse bedroom
When we stayed, pre-Covid, you could rent a room in the Farmhouse for a couple of nights and have breakfast cooked for you but currently, for obvious reasons, it's only for exclusive hire (it has three double bedrooms and sleeps six) and you need to self-cater. However, you can order a hamper of many of the ingredients grown or produced either on the farm itself or by local producers and find your fridge and cupboards stocked with meat, fish, veg, milk, yogurt, preserves and the like, and cook them yourselves in the kitchen. This is where the great man himself, Hugh Fearnley-Whittingstall filmed many of his original food programmes and recipe videos so perhaps some of his skill might rub off?
Part of the whole River Cottage experience is attending one of the famous Feast nights. Traditionally these would kick off with a homemade cocktail in a yurt at the edge of the farmyard, where members of the team would talk you through the ethos of River Cottage, the ingredients and recipes used for the platters of tasty canapés handed around. Then guests would merrily troop down to the 18th-century barn that's been converted to a dining room to sit en masse at trestle tables where you'd get to know your fellow guests and conversation really flowed.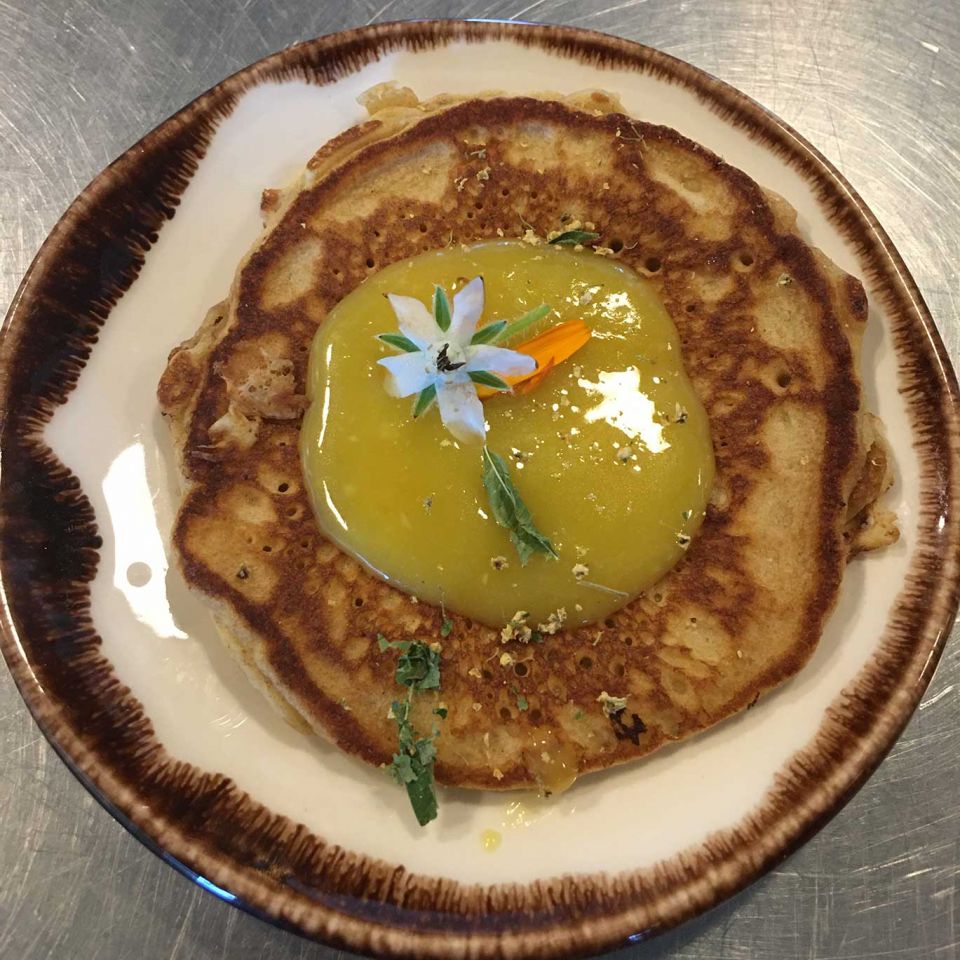 Pancakes with homemade lemon curd
On the chilly January night we visited, the menu included British chickpeas with local squash, carrot, leaves and a yogurt dressing, followed by Lyme Bay brill with cauliflower and fennel, then lamb with Jerusalem artichokes, leeks and kale and rounded off with almond cake, apple and cream. All of it beautifully cooked and presented – no ugly mounds of food here – and a real tribute to Hugh Fearnley- Whittingstall's philsophy of using local ingredients and cooking them simply. It's good to know that the pandemic has not put a stop to the Feasts, though things are somewhat different, of course.
Previously guests arriving for dinner would be transported down the valley on a tractor trailer, but now it's a 10-minute (ish) walk from the car park (note, appropriate footwear is a must). Weather permitting, you can wander the grounds cocktail in hand, and dinner numbers are now limited to 30 and on separate tables. Beforehand much of the food had been served 'sharing style', but now it's sensibly plated up. But, no matter – it's a glorious evening in a fantastic setting and one that should be on every foodie's bucket list.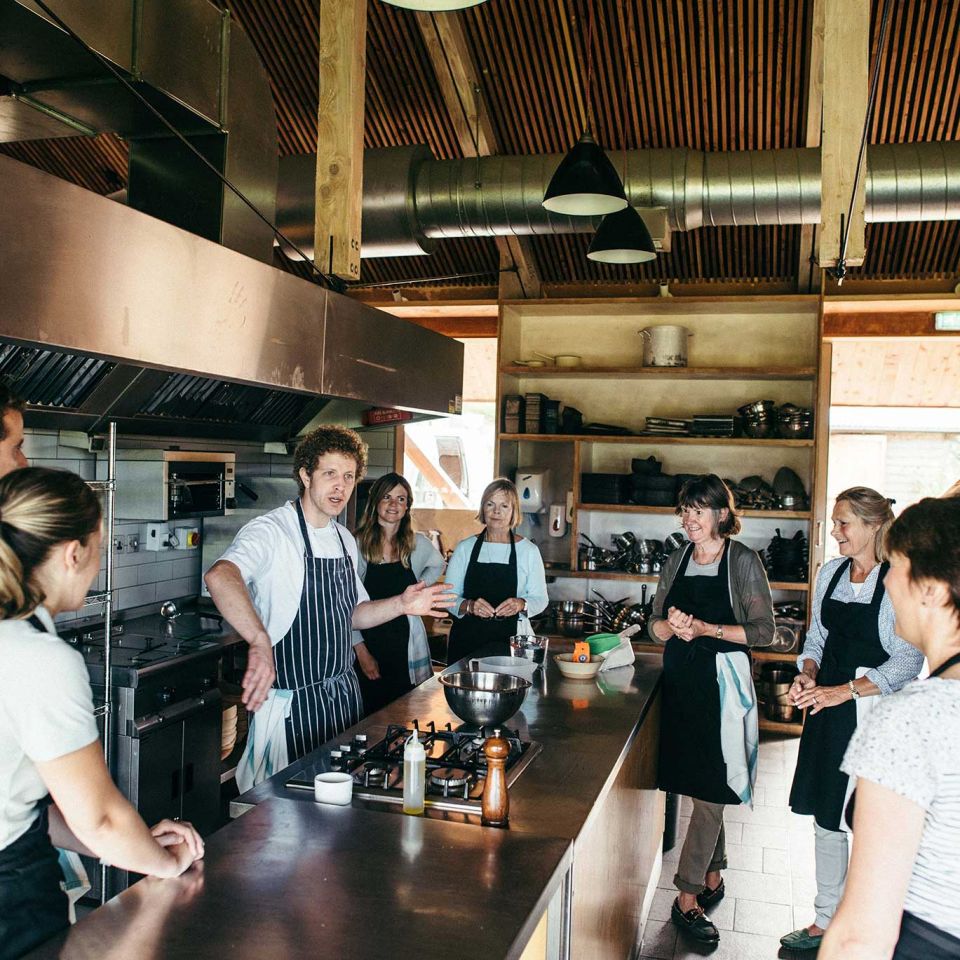 My chief reason for visiting – and what gets the cooking establishment very excited – was do one of the cookery courses that River Cottage is renowned for. I had picked the fermentation and pickling course (£155 per person) with the guru of this popular food trend, Rachel de Thample, author of The River Cottage Handbook: Fermentation (Bloomsbury, £11.89). I wanted to master the skills that would provide me with beautifully stocked larder shelves groaning with jars of goodies and use up the produce from my grow-my-own gluts. In addition, I'd been reading about how important it is to eat more gut-friendly food and fermented foods tick those boxes. Rachel is superbly skillful and passes on her incredible knowledge in a down-to-earth and accessbile way.
On the day, she started us off gently making luscious lemon curd and we then progressed to marmalade, spiking ours with star anise and a smattering of chilli, before pickling turnips and bottling our very own sauerkraut. Side by side in our pairs (most people came as couples, and courses are currently capped at 10 people only), we shredded rind, sliced veg, weighed sugar and measured vinegar. It was hugely satisfying, fun and informative with a break for lunch (and a glass of wine) and peppered by Rachel delivering fluffy curd-laden pancakes, and her very own cinnamon buns amongst the tips and advice. Packing up our handmade goodies at the end of the day I started to fantasise about my next course – what should it be? From vegan cooking to cider making, the options are many.
How to book
Feast events cost £80 per person for four courses, cocktail, tea or coffee and petit fours. The Farmhouse costs £1,200 for a two-night stay and sleeps six people. Courses cost from £95. For more information visit rivercottage.net
Don`t miss

---