Travel
A food-lover's trip to Sardinia
Sardinia is a beautiful Italian island rightly proud of its cuisine and food. Helena Lang visited the Madinedda Hotel and Valle D'Erica in the north of the island and sampled Vermentino wine and delicious local gourmet treats galore.
I'd heard that Sardinia was heaving with supermodels and Formula 1 playboys. Now, I don't know about you, but while the coast sounded fabulous – sugar white sand and azure blue sea – I don't really want to compete with a Naomi Campbell lookalike romping through the surf on my holiday. Rather than dodging superyachts and selfie-taking celebrity wannabes, all I crave is a pretty beach, some time to catch up on my reading and a great restaurant where I can spend the evening eating delicious Italian food. Could Sardinia deliver?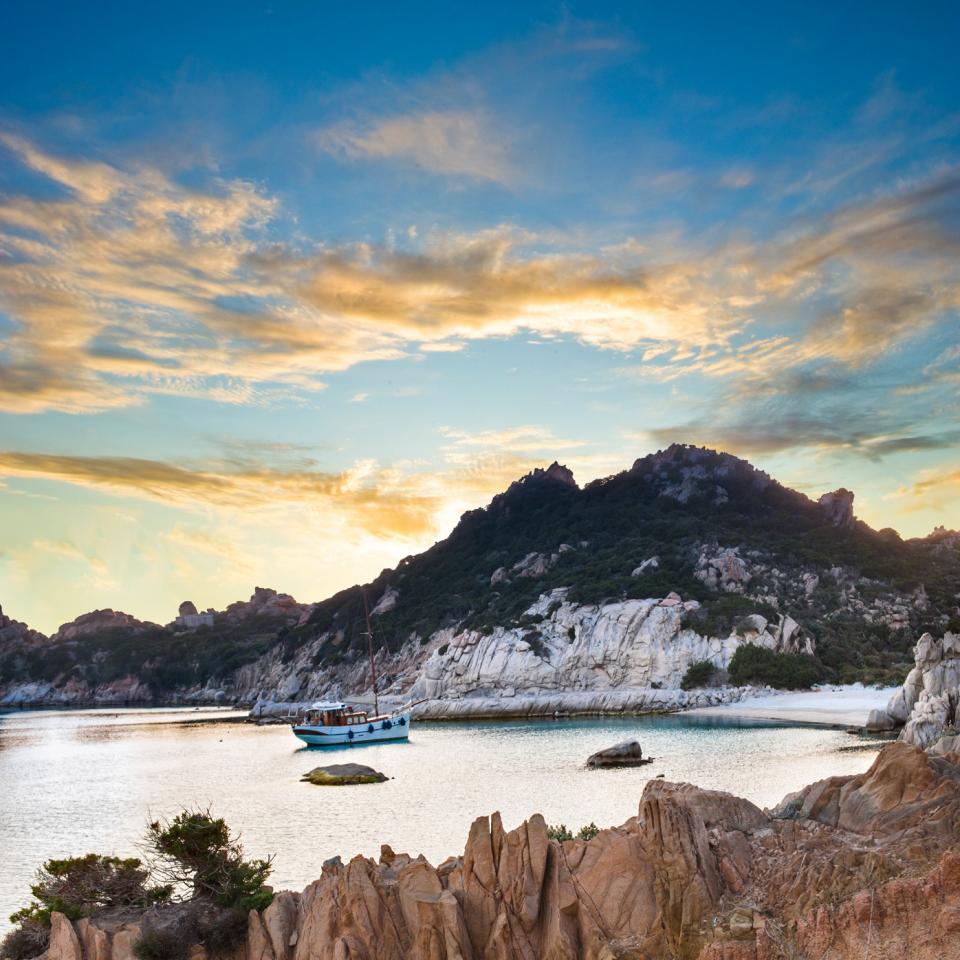 The lunchtime view from the balcony of the Petra Ruja restaurant at the Marinedda hotel is of the glorious bay below and the clever layout of the hotel and its grounds means there are no unsightly buildings in the way. The sea looks tempting but isn't going to lure me away from dawdling over a delicious seafood risotto and sheets of carta musica, the paper-thin Sardinian bread rubbed with olive oil, salt and rosemary. We've only just arrived and already this holiday is working its magic.
Finally, we work up the energy to drift from our table to our suite - large, comfortable and laden with places to flop, novel in hand. The accommodation is all low-rise so, whether your room has views out over the bay or the surrounding countryside, it's easy to forget you're in quite a big resort (there are 195 bedrooms), albeit one whose beautiful grounds are smothered in giant tufts of wonderfully scented lavender, bushy rosemary plants and huge yellow clouds of the curry plant Helichrysum. Stone paths weave between the buildings and the gardens, and the hotel's pools, spa and beach are all a stroll away.
At dinner in the Punta Canneddi restaurant that night we enjoy our first bottle of Vermentino – the island's trademark grape variety, most of which is produced in the Olbia region not far from the hotel. Crisp and cool, it proves the perfect partner to a first-course of mussels and then a 'primi platti' of fregola – the distinctive Sardinian pasta of pea-sized balls in a rich clam sauce.
The à la carte dinner is a nightly five-course affair that comes at no extra charge (all guests stay half-board), but needs to be booked. Guests can browse the salad bar to begin with, before a choice of starter, pasta course, main course and dessert, and while portions are not huge, the ingredients and standard of cooking is first-class. Every night becomes a treat night and our first meal continues with small parcels of stuffed John Dory and finishes with a delicious Sardinian pastry called seadas, layers of baked pasta stuffed with cheese and orange zest and drizzled with honey.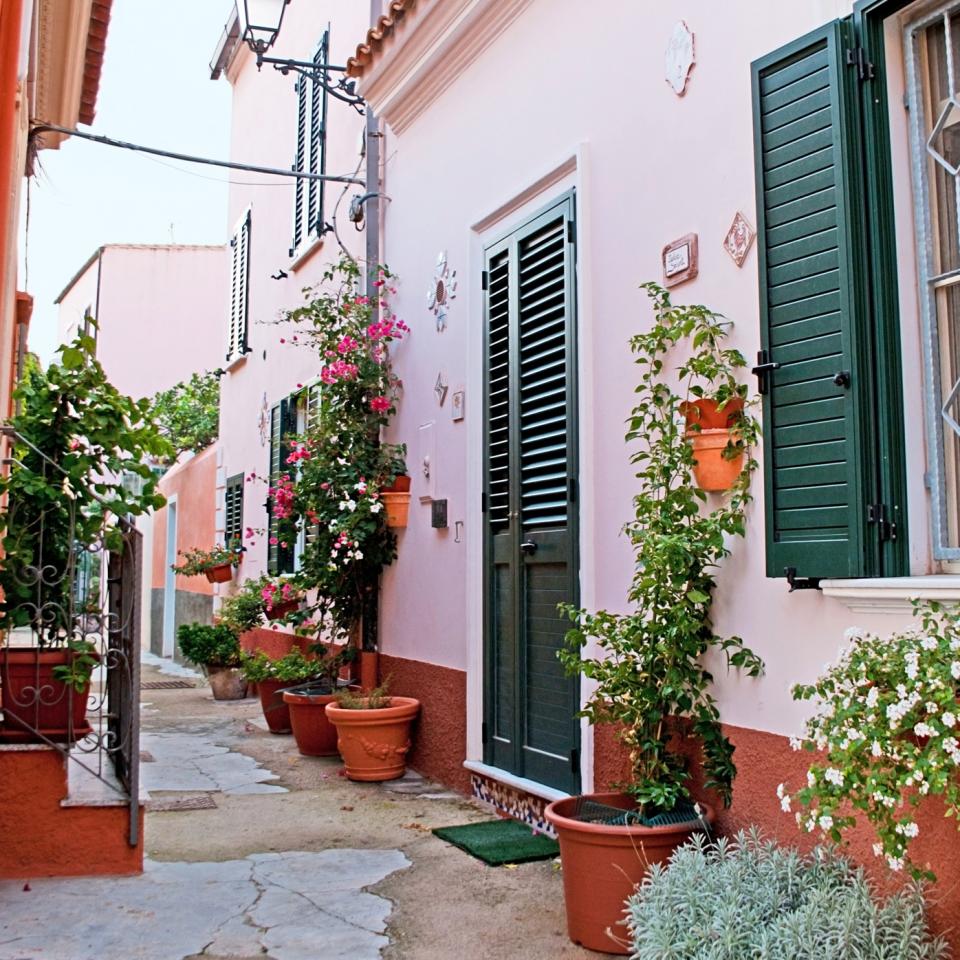 As we discover over the next few days, the north west is quieter and less flashy than it's eastern sister the Costa Smerelda where the likes of Silvio Berlusconi have villas, but if you want to catch the glamour bug then join a high-speed boat trip on the super-quick Poseidon from the nearby fishing village of Isola Rossa.
Our day out along with other hotel guests takes in the islands of La Maddalena archipelago, bustling with boat trips in high summer but quieter at the beginning and end of season. We swim in tiny secluded bays in water that's a strange shade somewhere between green and blue, tuck into a picnic on board and browse the tiny boutiques and shops of Maddalena, itself a higgledy-piggledy village with a jumble of tomato, lemon and biscuit-coloured homes.
Back at the hotel, windswept and tired we graze the nightly canapé platters arranged beautifully in the bar before an early night. The next day the sun has vanished and grey skies threaten rain. The advantage of staying in a hotel like the Marinedda is that, with a large thalasso centre-cum-spa, this doesn't mean being confined to your room. The 'wellness' area is extensive (around 2,500 sq m) with multiple seawater pools at different temperatures and a Jacuzzi pool. You can work out in the covered open-air gym, warm up in the Turkish bath and saunas, then chill out in the relaxation area munching fruit and sipping herbal infusions. The staff are charming and the therapists excellent. I book myself a massage, not even considering the gender of my therapist until he arrives. Luca, a Peter Andre lookalike, bats away my British reserve and delivers a perfect muscle-melting treatment.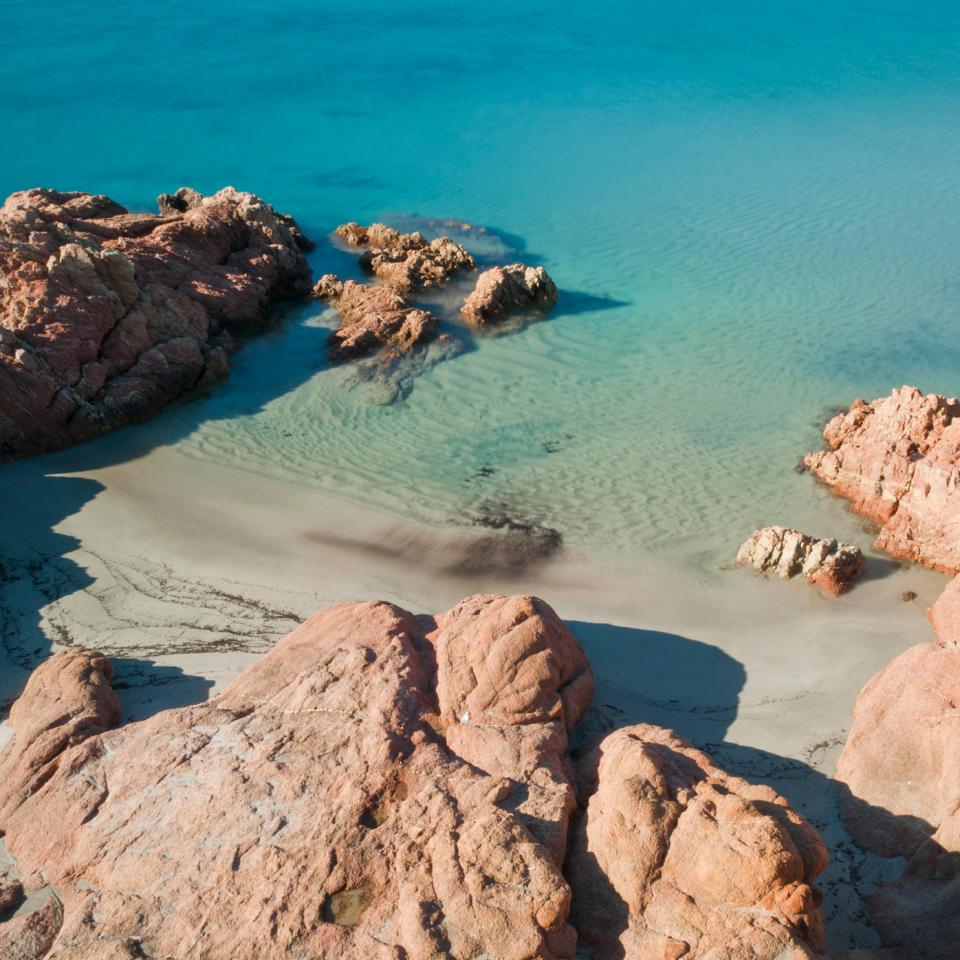 We spend the second part of our week at another Delphina hotel, Valle d'Erica, further north and closer to the jet-set action. On the way we drive through the beautiful Gallura region with its rocky landscape and amazing rock formations, stopping for lunch in Aggius, a village with houses hewn from rock. Plenty of clever Brits are buying up cottages here, only a 40-minute drive from the coast but where prices are more reasonable and there's a good selection of bars and restaurants. Over a long lunch at Il Mosto we taste delicious locally produced wines and beers and sample the whole gamut of local delicacies including charcuterie, cheeses, pasta, salads and pastries before a stroll around the quaint village museum.
Cooler, slicker and with a younger, more glamorous clientele, the Valle dell'Erica is actually two linked hotels overlooking a sea creature-rich marine park and coastline of tiny bays. Dinner at the buffet restaurant is a bustling affair with a huge variety of dishes on offer, including first-class fishy canapés, fish tartare, carpaccio, roast and grilled meats and amazing gateaux and desserts. The à la carte restaurant Il Grecale is a more upscale event and, sitting on the terrace with chairs and tables covered in sheer white linen, it all feels very photogenic. The food is Italian but with a contemporary twist, and highlights include a seared tuna burger, linguine with clams and lemongrass risotto with mussels. For dessert, a caramel semi-freddo is sublime.
For true Sardinian atmosphere and food with all the earthy, punchy flavours of this stunning island, dinner at the hotel's Li Ciusoni restaurant is a must. A short golf buggy ride up the steep hill behind the resort, it's a totally different experience from the smart waterside eateries. You are welcomed with a glass of Torbato sparkling wine to sip while the team find you a table in the large, tiled trattoria where women sit hand rolling gnocchi in the traditional way. Then it's a 'serve yourself' buffet for plates of antipasti piled with tender artichoke hearts, plump olives, fruity sun dried tomatoes and piquant balsamic onions.
There are slabs of stuffed focaccia to soak up the juices and a selection of charcuterie and grilled steak to munch on too. But don't fill up too much – there is pasta to come, including a cheesy, gratinated lasagne served with a spicy ragu followed by a platter of crudités. Secondi platti is chunks of roasted porchetta with a dish of crispy rosemary potatoes. All is delicious and it's hard to find room for dessert, even my favourite seadas. We're seranaded by musicians playing traditional instruments including pipes and tiny guitars – a real celebration of Sardinian culture, with the guests all toasting each other with glasses of mirto, a Sardinian liquer made from myrtle berries.
All of this does, of course, mean there is no chance of leaving Sardinia in supermodel shape. But whatever the effect on your waistline, it's worth it for the total relaxation, the delicious food and wine and the stunning beauty of the coastline.
For more details, go to delphinahotels.co.uk.
About the author