Travel
Float your boat: sailing in the Caribbean
by Simon Lang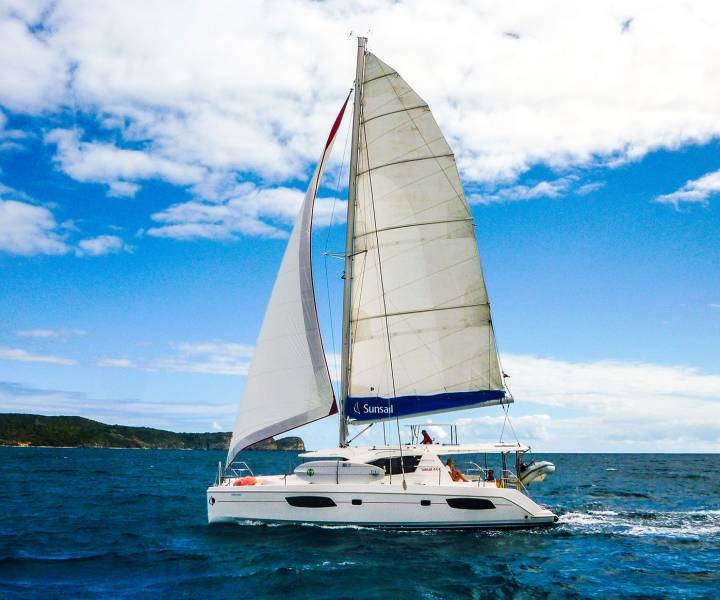 Image: Getty Images
You don't need to know a thing about boats to enjoy a fabulous sailing holiday in the Caribbean – swimming with sea turtles, eating at top-notch restaurants and partying the nights away, as Simon Lang discovers.
So here's a question: Why would you choose to sleep in a small cabin on a catamaran in the Caribbean when you could be in a luxury hotel, with a giant bed, room service and a marble bathroom?
Short answer: For a (probably) once-in-a-lifetime, unforgettable experience, and a morning view like no other.
Long answer: With an embarrassingly new-looking pair of deck shoes and a stowable duffel bag with its price tag only recently removed, I arrive at Antigua airport with some apprehension. I am, after all, not a sailor. Yes, I did some sailing back in the day when the world was black and white and the internet was but a dream, but really, I can no more tack than I can gybe. An humiliating rescue 10 years ago of myself and my (then) 11-year-old daughter from a dinghy in calm seas 50 metres from shore during a Caribbean holiday is still an uncomfortable memory. The patronising cheer from the hotel bar as the rescue boat towed us in remains to this day a blow to my ego. This time, fortunately, my fellow mariners – magazine and newspaper journalists – are a mixed-ability bunch. Some are hardened sailors, while others have never sailed before.
Our boats are two large catamarans moored in Antigua's historic English Harbour (home of the last remaining working Georgian dockyard in the world and once commanded by Lord Nelson) on the island's south-east coast. My home for the week is The Maroubra, a Sunsail 444 catamaran with four cabins, each having the luxury of en suite shower and toilet.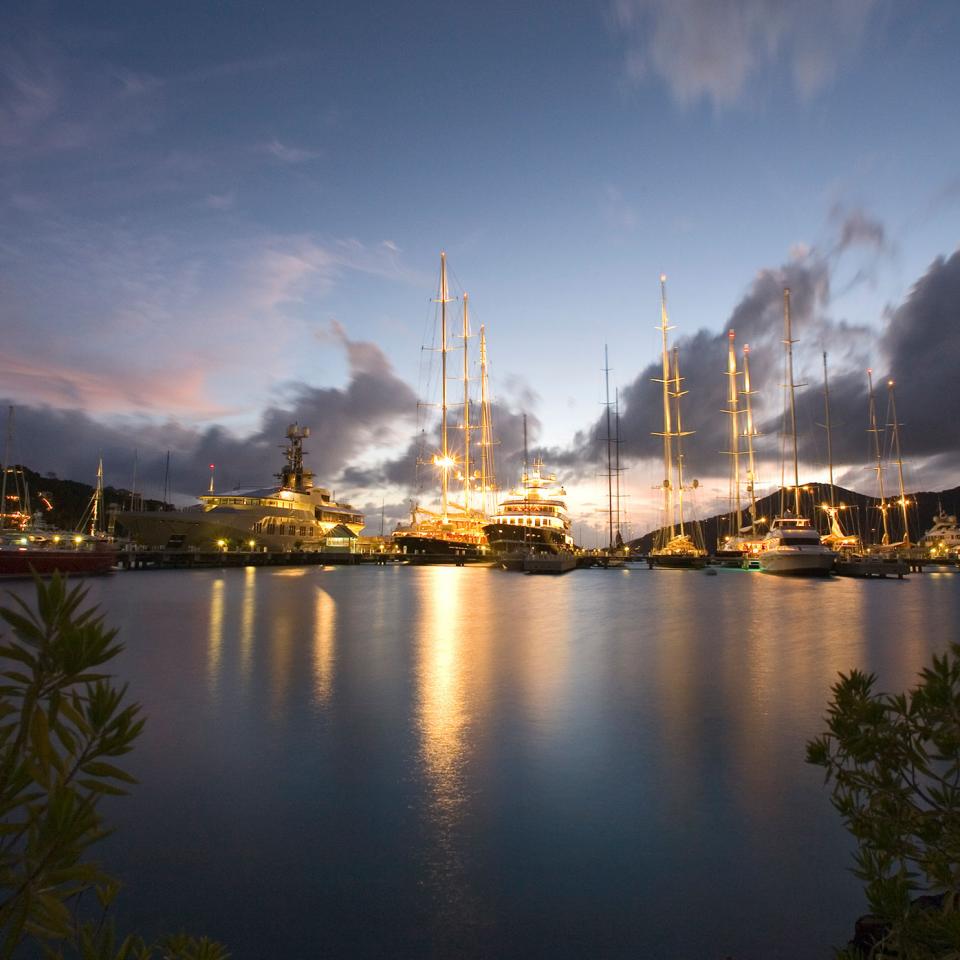 Antigua's English Harbour, once commanded by Lord Nelson
I'm very pleased with my well-appointed cabin, which is similar to the type of rooms you'll find in luxury mobile homes, although this one is on water. Far removed from my earliest memories of sailing as a teenager on a (much richer) relative's yacht (all mildew, marine diesel and chemical toilets), these modern cabins have running hot and cold water, power and USB points, air-conditioning, lights above the bed, wardrobe and even a small bookcase. I feel very comfortable, and the gentle rocking of the boat at anchor has the most soporific effect. You may have been stressed before your holiday and even had trouble sleeping, but on a boat you sleep like a baby.
Morning comes and we make our own breakfasts on board. As the toast pops up, it's hard not to feel special as we gaze out over English Harbour, enjoying the envious glances of those taking a morning quayside stroll.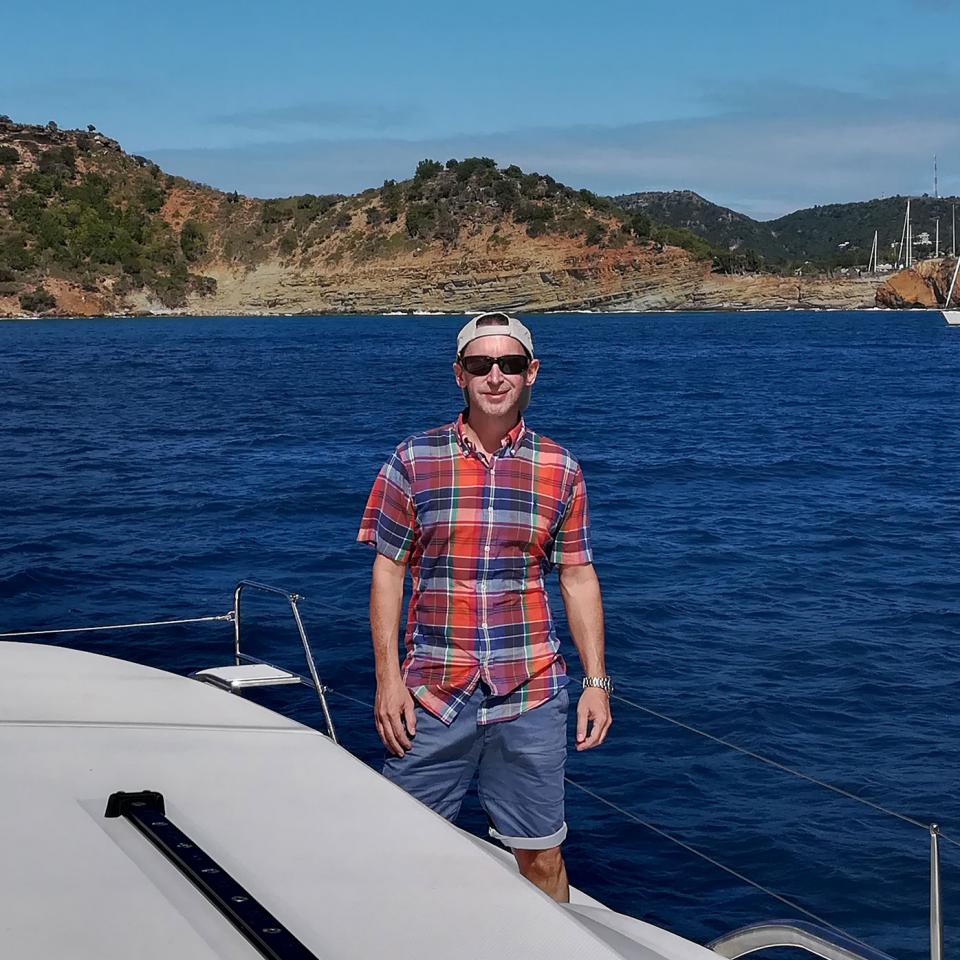 Simon on deck
Later, after the essential safety talk, the fun really begins. We pile into an inflatable dinghy (known to sailors as a tender) and set off on the 10-minute trip to Freeman's Bay for some snorkelling. Here, we find two shallow wrecks teeming with fish and we're thrilled when a huge sea turtle glides majestically around us, though it seems oblivious of us.
The underwater action has worked up our appetites, so our dinghy drops us back on land in English Harbour, where we have lunch at South Point Hotel in nearby Falmouth Harbour. The chicken and black bean rice is served in typical Antiguan style – that is, you order and it arrives with a smile an hour later. No one minds though, as the band is great and so are the cocktails. After lunch, we take the short drive to Shirley Heights. Once part of a military lookout complex, it's renowned for its Antiguan sunset – which I'm sure is amazing but, sadly for us, it's smothered by a thick blanket of cloud. However, nobody minds because (and a pattern is emerging here) there is a fantastic steel band playing reggae and calypso, and a real carnival atmosphere, so pretty soon we're all dancing. Later, we rejoin our boats, which our skippers have moved to Falmouth Harbour.
Roaring hangovers next morning are alleviated somewhat by a stunning rainbow. The colours are so vivid it looks almost painted onto the sky. That afternoon we set sail for Jolly Harbour, a couple of hours away on the west coast of Antigua, with a stop halfway to moor off a secluded beach where we swim, snooze and snorkel the afternoon away. This is one of the reasons for choosing a sailing holiday. You see a lovely bay with no one in it and you can spend the afternoon there, pretending you own the place. It's the kind of freedom you never have on land, especially in Antigua where the roads aren't great, so access to the coastline is limited.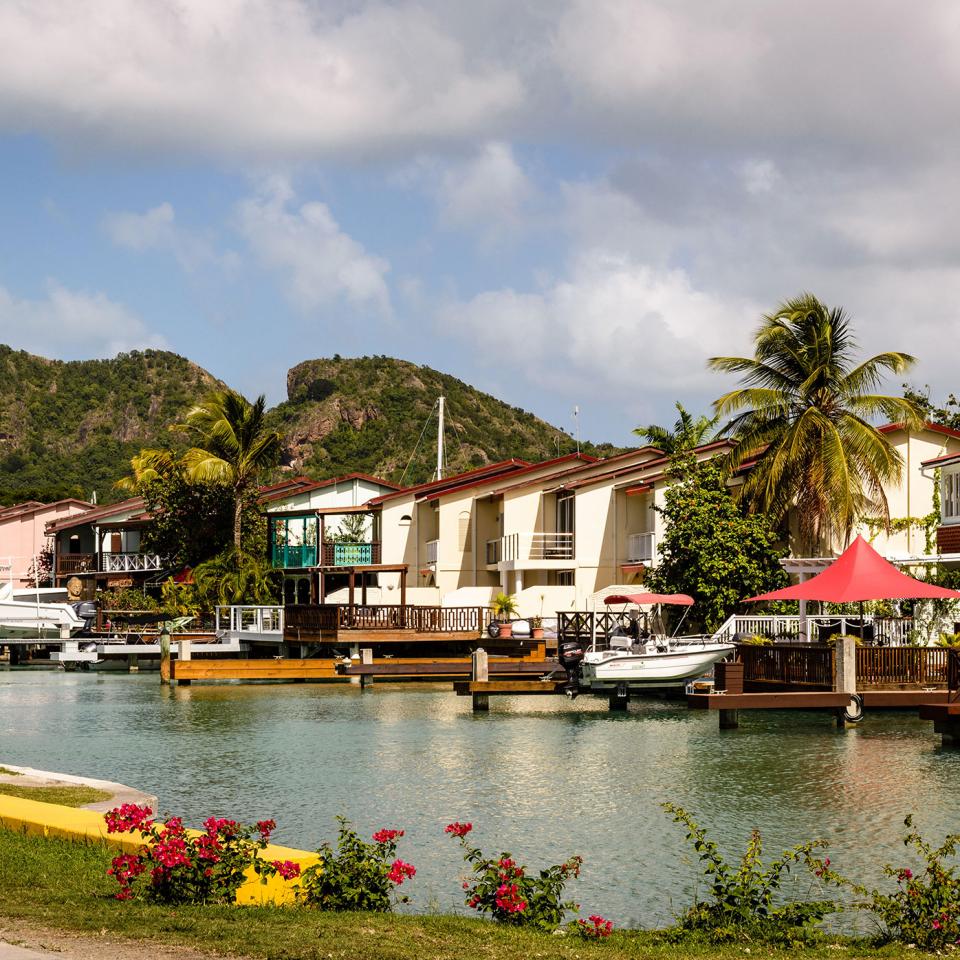 Laid' back' Jolly Harbour
Our skipper, Stephane, has by now taught me how to secure mooring lines, attach fenders (two different knots), and drop and retrieve the anchor. As we motor into Jolly Harbour I feel useful, even slightly competent, and help moor the boat in the marina by securing the bow and stern lines, with Stephane at the helm.
Jolly Harbour lives up to its name, with lively bars and colourful wooden houses – all laid-back charm and friendly faces. We decide a bit of home-cooking and an early night are in order so, after stocking up at a local supermarket on ingredients for a chicken curry and a cooked breakfast the next day, we share the kitchen duties and spend the evening chilling and reading on the deck, with its villa-like lounge area providing plenty of space for us to put our feet up.
If nothing else will convince you a sailing holiday is worthwhile, then our next stop at uninhabited Green Island on Antigua's east coast surely will. The bay is a perfect crescent of white sand with nothing behind it but vegetation and nothing in front but crystal-clear, turquoise water. In the still, silent bay three yachts are anchored far apart. This is where we spend a magical evening swimming to the beach, barbecuing, and drinking beer and rum into the small hours.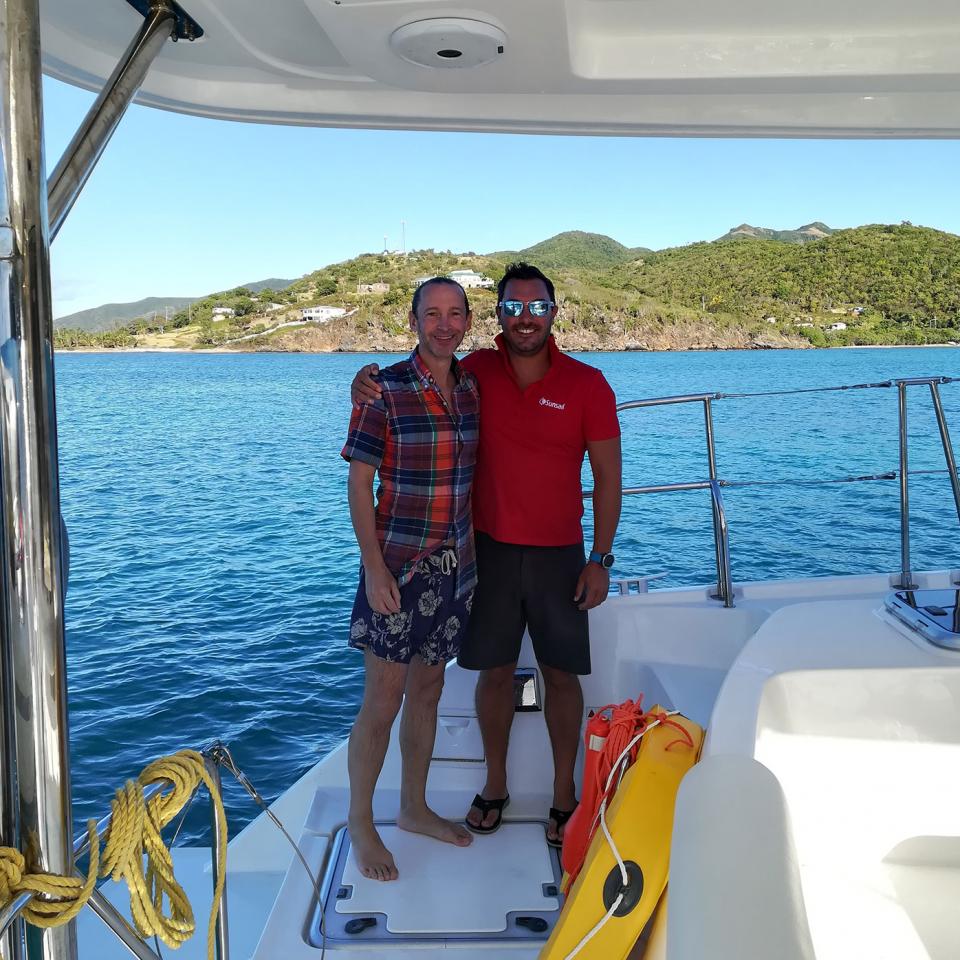 Simon (left) with skipper Stephane
The next day we carry on with the Robinson Crusoe vibe – Green Island really is so very special – and hang out on the boat with the occasional dip when the sun gets too hot. However, hunger soon gets the better of us and we're craving a fabulous lunch, so we sail back to Falmouth Harbour, where we drop anchor and head by tender to Pigeon Point Beach, where we find Catherine's cafe and enjoy tuna ceviche followed by a top-notch chargrilled mahi- mahi fish.
As with all the places we've been, the atmosphere is welcoming. Everyone, including waiting staff, wants to say hello and chat, and I notice a special camaraderie between mariners. The enormity of the ocean, the elemental forces and dangers they pose, together with a greater understanding of the environment, seem to bind people together – a feeling reflected in the friendly faces of sailors in the marinas and port bars.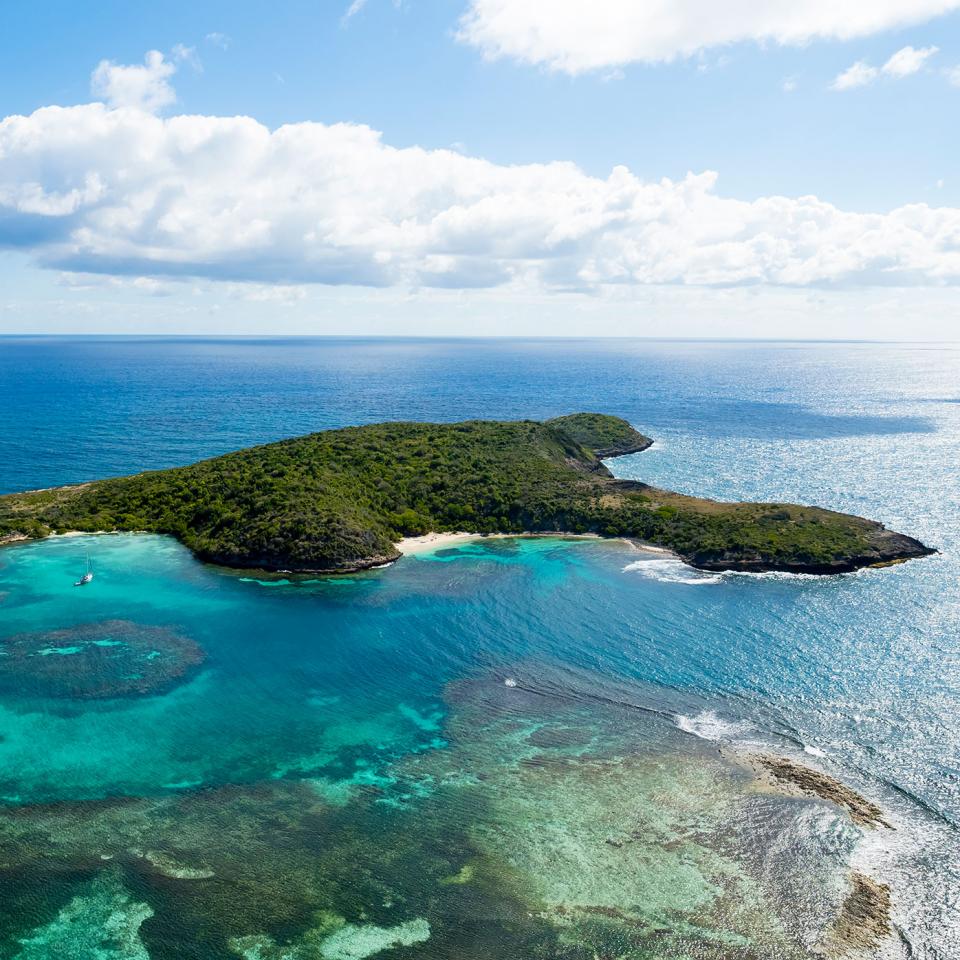 Idyllic Green Island
That evening, we barbecue fish on the boat before heading into English Harbour for the evening, to soak up the party atmosphere.The following morning, we pretend to be billionaires and anchor off the idyllic white sands of Love Beach, where we enjoy lunch at Jacqui O's restaurant and beach bar. I'm in heaven, especially when presented with the best crab salad I have ever tasted, followed by chargrilled parrot fish with ratatouille and rice, all set in the most stunning location.
After sleeping off our lunch on beach beds, we did something ordinary folk can only dream off, and call our tender to pick us up. You can't help but smile as you revel at playing a Wolf Of Wall Street-type, even if it is for only a day.
Now you're probably thinking this all sounds lovely but it's out of your league? Although the £5,065 cost of chartering our boat for a week does sound high, remember it sleeps eight to 10 people (eight is recommended). Of course, if you need a skipper (and you will unless you are a class level 2 sailor), then the cost is £6,740. But between eight of you, that's £842.50 each, plus flights and food, for a holiday you will never forget.
Getting there
Chartering a Sunsail 444 (from Sunday 25 November 2018) for one week costs £5,065. With skipper, yacht damage waiver and fuel, £6,740. The Sunsail 444 sleeps eight to 10 people. British Airways flights from London to Antigua from £500.
3 things all rookie sailors need to know
1. Take plenty of drinking water and food. The weather is unpredictable, so you need to be sure that if you can't make your next stop or two, you have enough on board.
2. Mooring buoys in some Caribbean ports can get busy. The advantage of a skippered holiday or being part of a flotilla means your skipper can call ahead and book a spot or will usually know the marina staff well and can call in some favours.
3. Sailing isn't allowed after sunset on a Sunsail holiday, so remember to get back to your mooring in time each evening.
Don`t miss

---