Travel
Mountain rescue: enjoying Après ski in Austria
by Helena Lang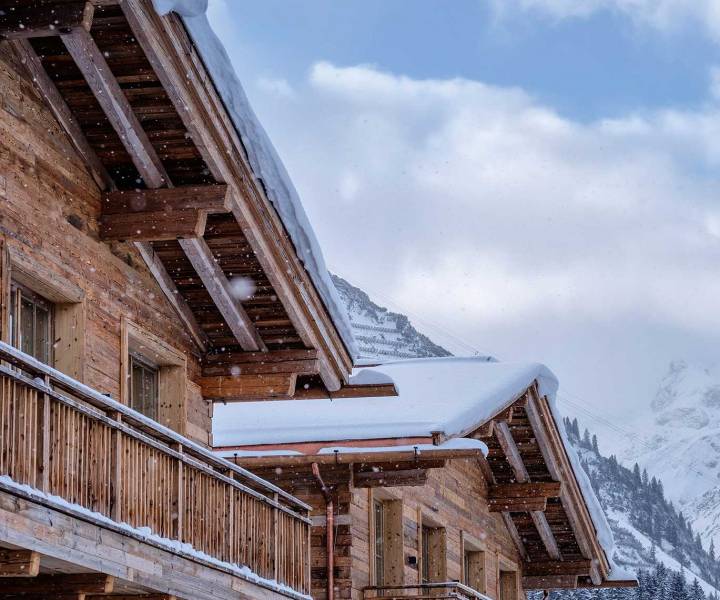 Severins alpine retreat
You don't have be a skiier to enjoy crisp snow, towering mountains and that beguiling Austrian après ski lifestyle, as Helena Lang discovers...
I am not a skiier, but, I do love mountains, finding their craggy peaks mesmerising and challenging in equal measure. I've also taken a particular liking to Austria, having enjoyed several wonderful summer holidays hiking the green hills and bountiful valleys and enjoying the locals' upbeat and gracious hospitality. Austrians know how to have fun. And they know how to have it in style. So when I was invited – pre- Covid – to join a group of non-skiing grown-up girls on a long weekend trip at a unnasumingly luxurious (and, admittedly, eye-wateringly expensive) Austrian boutique hotel I wasn't going to refuse. As an antidote to a busy city life what could be better? Severins describes itself as an Alpine retreat, and it is indeed squirreled away up a slightly out-of-town residential road near Lech, a popular and upmarket ski resort.
From the outside, the hotel is positively unprepossessing. Attractive, of course, with its crisply angled pointed rooves, sturdy balconies and wooden exterior, but none of this hints at the laid-back luxury inside. The pine clad suites (one of only nine) that await us are a haven of dove grey wool, fluffy sheepskins, and crisp linen – and that's just the beds. There's squishy gunmetal grey sofas, deep baths and wetroom showers, and a complicated system of digital lighting and music which any high-tech hobbyist would love. I'm much more interested in the little platter of tasty sweet delicacies laid out as a welcome treat (macaron lollipops!), and the view from the floor-to-ceiling windows of the sunlight dappling on the pine forest on the horizon as evening falls.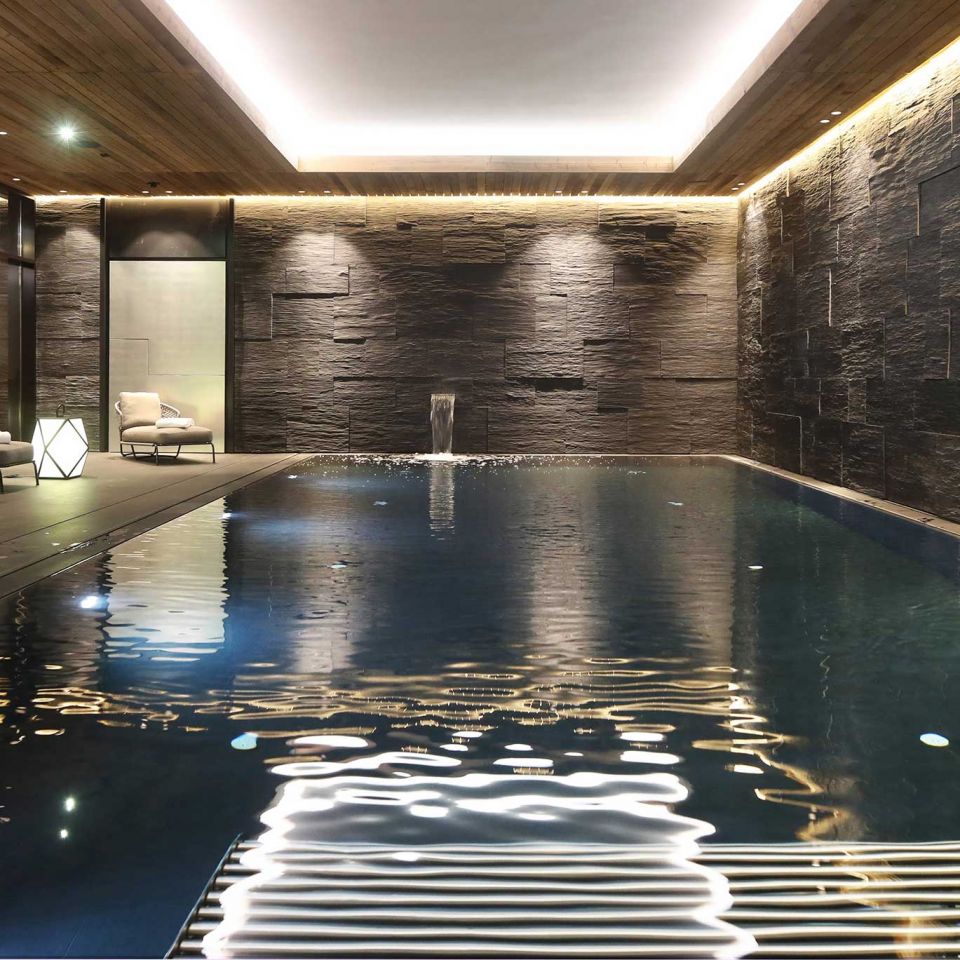 The hotel's 'beautiful underground pool'
Heavenly dining
My chums and I gather for a 'We're here!' glass of fizz before dinner in the hotel's restaurant, a masterpiece of understated chic. Refined, and yet informal, it's where chef Kevin Szalai is busy perfecting his contempory take on Alpine cuisine. There are no cheese fondues here. Instead Kevin delivers dishes with titles such as Deer & Moss (actually a hunk of tender venison with an artichoke purée) and Heaven & Earth (black pudding and apple).
As the skies darken, we slip our ski suits over our skinny jeans and sweaters for a stroll down the mountain into town. Guided by our phone torches, we march through the twinkling crystals towards the glowing bars stopping halfway at a little mountain hut where kindly villagers have tucked bottles of schnapps into a little bird-house of a cocktail bar to revive tired party goers. That's Austria for you. Several shots later we make it down the last 1km and head straight to Krone Ice Bar, clearly the centre of après ski action and where pumping dance music and tankards of gluhwein create an irresistible sense of bonhomie. It would be rude not to join in...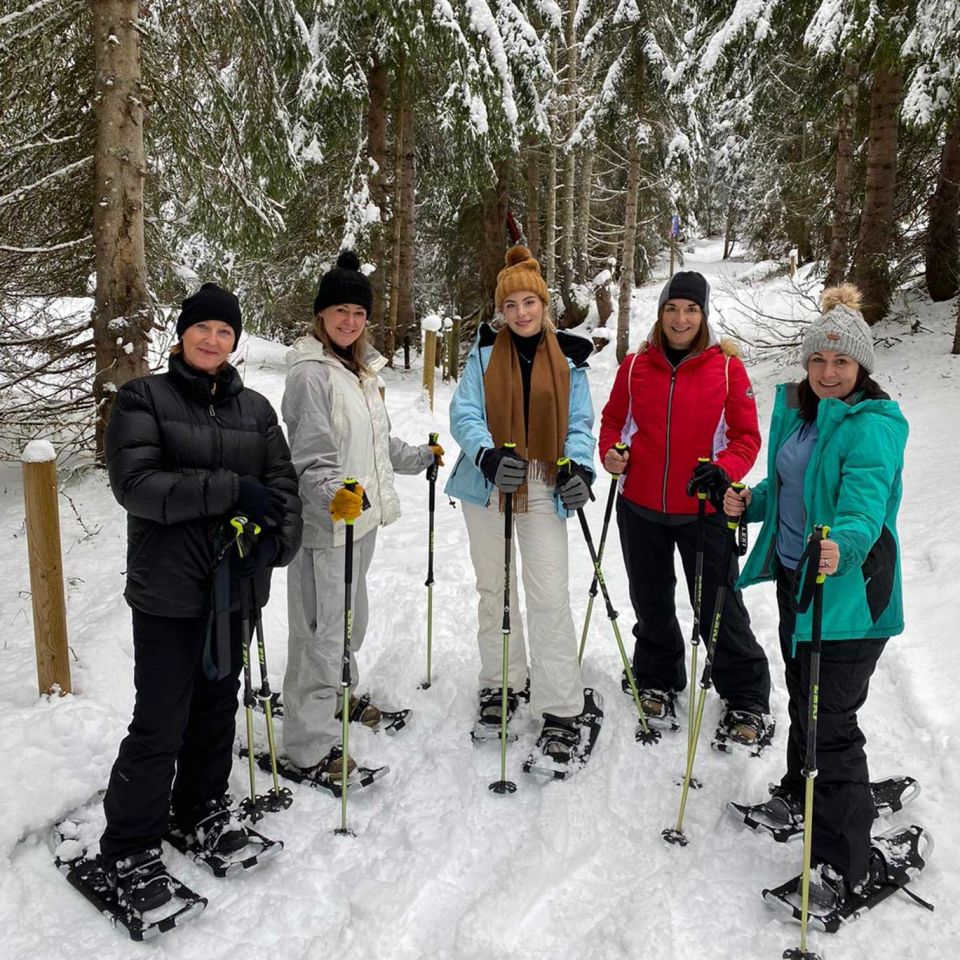 Helena (in the red jacket) with the other 'grown up girls'
Fondue fun
Morning breaks, and after a detoxifying session in the hotel's beautiful underground pool, sauna and steam rooms it's back on with the skisuits, this time for a snowshoe hike around town. This is a bit like having tennis rackets strapped to hockey boots, but after a few minutes peseverence you soon get the hang of it. You just have to lift your foot very high, take a big stride before plonking it down again. A suprisingly exhilarating few hours see us stomping through the forest, alongside gurgling mountain rivers, admiring the shaggy highland cattle and the picturesque huts and houses a long the way.
We certainly feel like we've earned our lunch when we reach Hus Nr 8, the most wondefully cliched Austrian Alpine restaurant you could ever hope to visit, and hurray for that. We're snuggled into a tiny wooden room that effectively becomes a booth once all of our bottoms are squashed in and feel instantly at home among the ruby red linens, the pine cone decorations and glowing lanterns. It's like Santa's grotto and suddenly I'm starving. This place is fondue central and we go for it – a cheese one, a meat one, chips and jacket potatoes. All washed down with crisp, refreshing Austrian lager.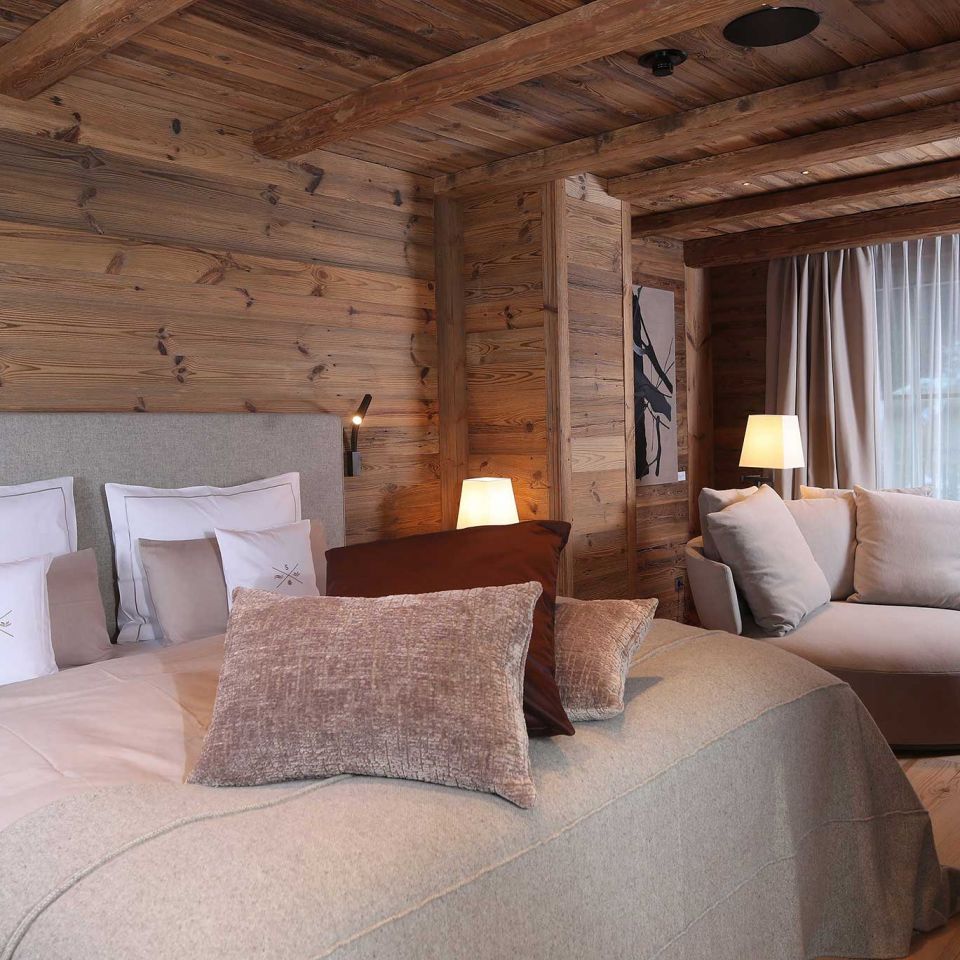 A senior 'haven' suite
And it's not our only taste of exceptional Austrian fare, for it's revealed that Lech am Arlberg is known as the 'world's gourmet village' due to its amount of award-winning chefs and restaurants. Our visit happened to coincide with a local food and wine festival Arlberg Weinberg, so the next afternoon we spent a happy few hours sipping our way through Austrian wines, nodding along to tips and tricks from wine makers while watching expert chefs make little tasting canapés of their signature dishes, and local producers carved us slivers of their award-winning cheeses, hams and sausages.
On our last night, we ate in The Residence, the hotel's private sleeps- eight separate villa, where you get all of the benefits of the hotel but you and your family, or gaggle of millionaire chums, can chill out in your private outdoor hottub, tinkle the keys of the grand piano and just chill (should your pockets be deep enough). The Severins team had prepared the most splendid feast and, as we gazed into the flames in the state-of-the-art fireplace, sipped our Austrian wine, told tall tales and spilled secrets, it became clear that this Alpine retreat had provided us all with a little bit of mountain medicine, treating body, soul and spirit with its Austrian sense of style and service. And most importantly, Fun (note the capital F).
How to book
Nightly rates at Severins start from €690 for a Junior Suite on a B&B basis; severins-lech.at. For more on the Arlberg Weinberg event, visit lechzuers.com/en/ arlberg-weinberg. For further details on the region, including other accommodation options, visit lechzuers.com/en.
Don`t miss

---