Travel
A weekend escape to Megève, France
by Neil Davey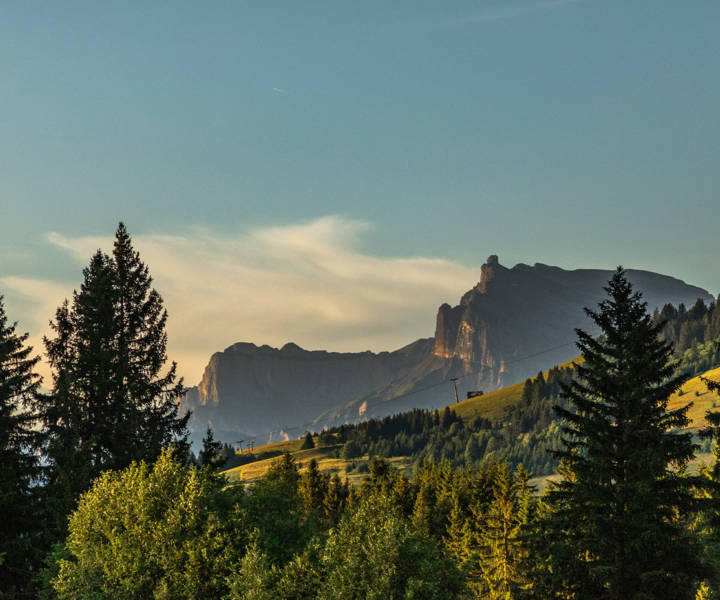 Image: Marie Bougault
Neil Davey heads to the French Alpine town Megève out of ski season for its annual food festival, and discovers a town that's perfect for a quick weekend break any time of the year.
Where is it?
Located less than an hour out of Geneva, in the French Alps, and in the shadow – sort of – of Mont Blanc.
What's the accommodation like?
Outside of season, Megève is home to around 3,000 people. In ski season, however, the population can swell to a remarkable 60,000 people. As you can imagine, this means there are a lot of hotel rooms and all sorts of accommodation available at the (currently) less popular times of year. I stayed at Le Lodge Park, a brilliantly eccentric, but very comfortable, very friendly, very central hotel. Decoration is a heady mix of plaid, hunting trophies – fur throws and antler chairs, anyone? – and dark woods. So vegans may wish to avoid it, but for anyone else, it's a charming and relaxing place, with a compact but very decent spa.
What did you eat and drink?
Cheese, basically. Lots and lots of cheese. Sorry vegans. Again. For a ski resort, Megève is quite low altitude, meaning cows can live quite happily in the foothills, munching away on the area's lush greenery and producing high quality milk for regional specialities such as Abondance, a creamy, sharp cheese that comes from the pretty, brick red Abondance cattle that you'll see all around the place. Yes, there's an abundance of Abondance, before you ask…
Expect to find Abondance and other cheeses in the fondues (although out of ski season you may need to pre-order in some restaurants). The other great regional speciality, péla, is the Megève variation on tartiflette: onions, bacon, potatoes and Reblochon cheese, baked to melting, comforting perfection. The difference between the dishes? In péla, the potatoes are fried. In tartiflette, they're steamed.
Because it's a modern, high-end ski town, though, food ranges beyond the traditional, and cravings for Italian, burgers and even sushi can be satisfied.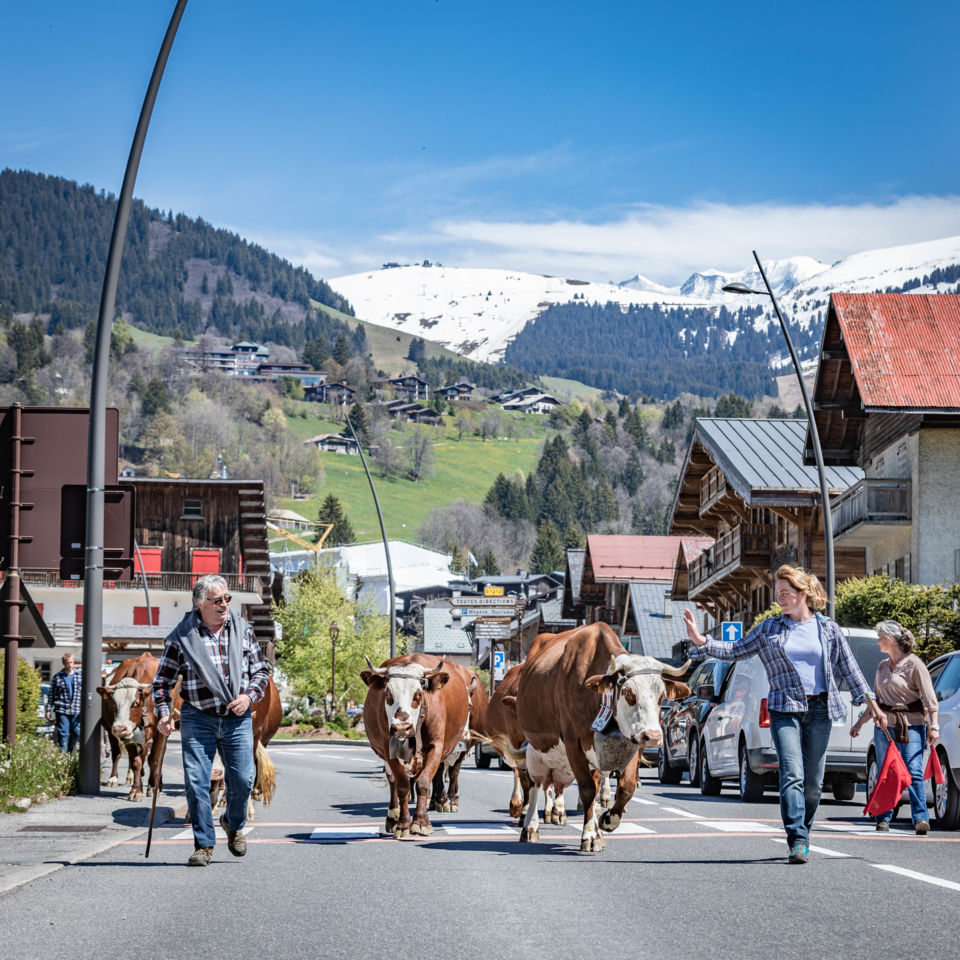 What is there to do?
In the winter, ski. At other times of the year… well, hiking and walking are both popular. For those wanting the former, there are challenging paths and steep inclines. For those less energetic, there are also well-defined routes, through some stunning forests and countryside. Bikes – and ebikes – are also easy to hire.
The local airfield offers light aircraft flights over the region and to the stunning Mont Blanc, for sightseeing in a different form.
Shopping is very good indeed, with a mix of many well-known brands and local, upscale independents. You can also find art galleries and museums.
The local leisure centre, Le Palais, is also remarkable. A great pool, and spa facilities, a very well-appointed gym, a climbing room, rather than a climbing wall. If your knees can't take skiing anymore, you can still justify the apres-ski life with an hour or two at Le Palais.
The leisure centre is also a fine counterpoint to – and location of – Toquicimes, Megève's annual food festival celebrating 'la cuisine de montagne'. Across four days, locals, local chefs, celebrity chefs, producers et al, get together to celebrate the region's food via competitions, cookery demonstrations, masterclasses, panel discussions and assorted events, alongside a market selling great local produce.
You can also enjoy a round or two of golf once the snow has cleared.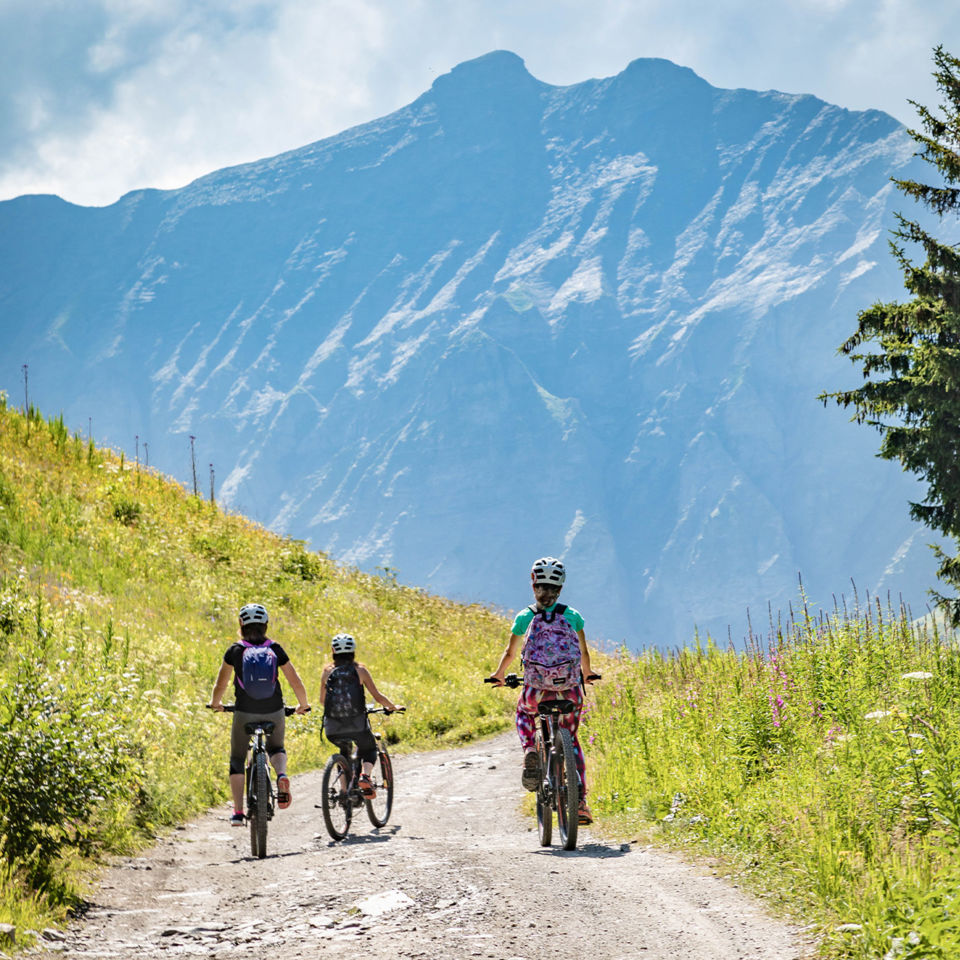 Image: Simon Garnier
What do I need to pack?
In ski season, at the risk of sounding facetious, ski gear. The rest of the time… well, even in October, at the time of my visit, it was shirtsleeve weather. Nights were decidedly chilly but skies were clear and blue and the sun shone. A little warm clothing is recommended in autumn and spring, as well as walking boots or sturdy shoes, depending on how intense your intended yomping will be. A little smart clothing is a good call at all times of the year, as there are some very chic bars and restaurants dotted throughout the town but, for the most part, smart casual and comfortable clothing will fit the bill. Elasticated waistbands may also be a sound investment if you find it hard to say no to cheese. Ahem.
Lasting memory
Even in a short, three-night stay, there are too many to pick from, although being a little out of town at Le Refuge for a péla and walking out, contentedly full of cheese and puds and bacon, into a night of no clouds and little light pollution was dazzling.
The clean air was also wonderful, leading to the sort of sleep I'd forgotten existed over these last two, slightly weird years.
Sainsbury's magazine insider tip
If you're visiting a restaurant out of season or on a lunchtime for fondue, check that you don't need to give notice.
Walk as much as possible – there are little pockets of beauty everywhere.
Don't wait for ski season. With Geneva just 90 minutes from London, and Megève just 60 minutes' drive from Geneva, it's an ideal location for a short break or long weekend, with options to suit many a budget.
How to book
For more information, take a look at megeve.com.
Double rooms at Hotel Lodge Park cost from £339 per night. Visit en.lodgepark.com. Return flights to Geneva from London Heathrow are priced from £71pp with Swiss Air.
Don`t miss

---