Travel
Just chilling in the Maldives
Francesca Syz discovers that these Indian Ocean islands can offer the whole family a holiday of a lifetime...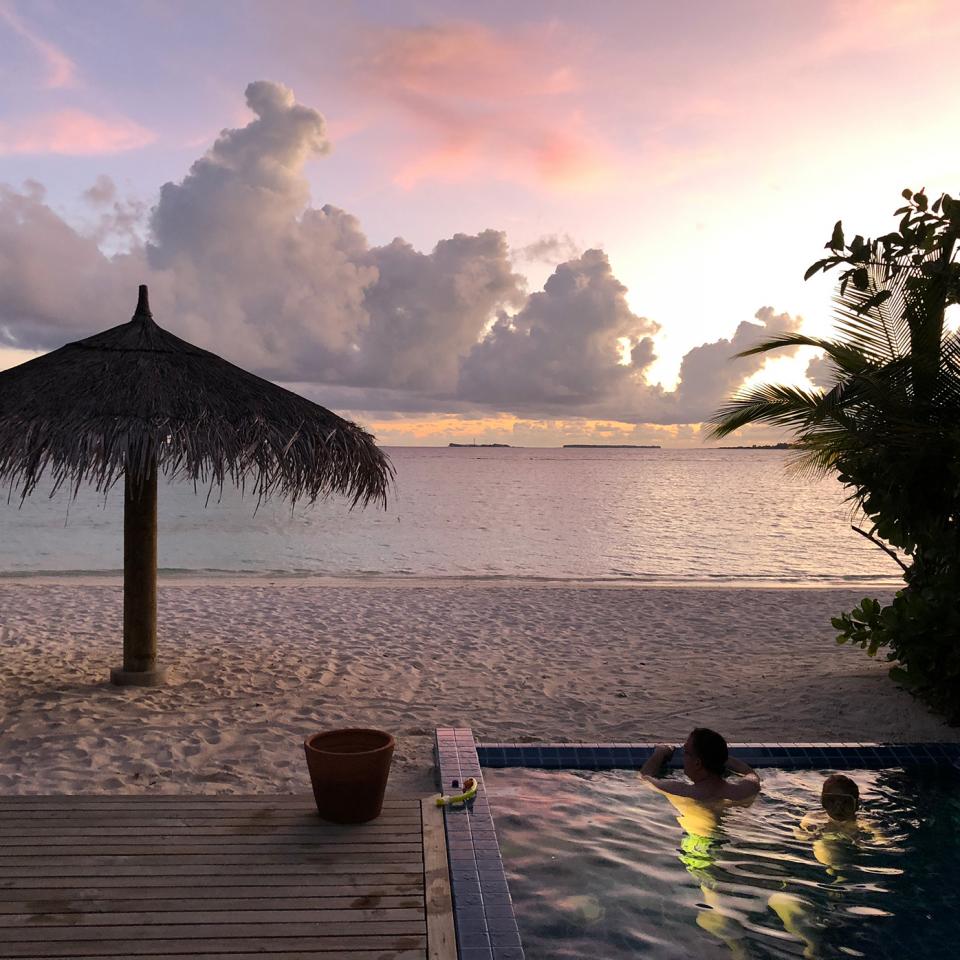 Watching the gorgeous sunset from the pool
Ahh, the Maldives. Spectacularly beautiful, romantic... child-friendly? Clambering down from the seaplane with seven-year-old, Eva, onto the sun- baked jetty at Robinson Club Noonu, an idyllic private island resort 200 miles north of the Maldivian capital of Malé, I was yet to be convinced. But having been promised it would be – and with a price tag considerably lower than most resorts in the Maldives, we decided to give it a go.
My husband Christy and I had been to the Maldives before so we know the deal. You're in a self-contained resort so you don't really go for a cultural experience but rather for the sugar-white sand, the turquoise waters and wonderful seafood – a luxurious fly-and-flop option with fantastic opportunities to swim and snorkel.
So why take Eva? Well, unlike many small people, she loves a long haul flight. To her, it's an excuse to watch the latest movies on rotation for many hours. She was also getting confident with her swimming and had recently learnt to snorkel in a pool. Just the thought of introducing her to that bath-warm Indian Ocean, teeming with sea life, was enough.
A pretty little tropical island, Noonu is so small you can walk around it in about 15 minutes. It's run by a friendly team of Maldivians and Germans. We were soon following a sandy, palm-shaded path to our room – a fresh, contemporary beach suite with a plunge pool.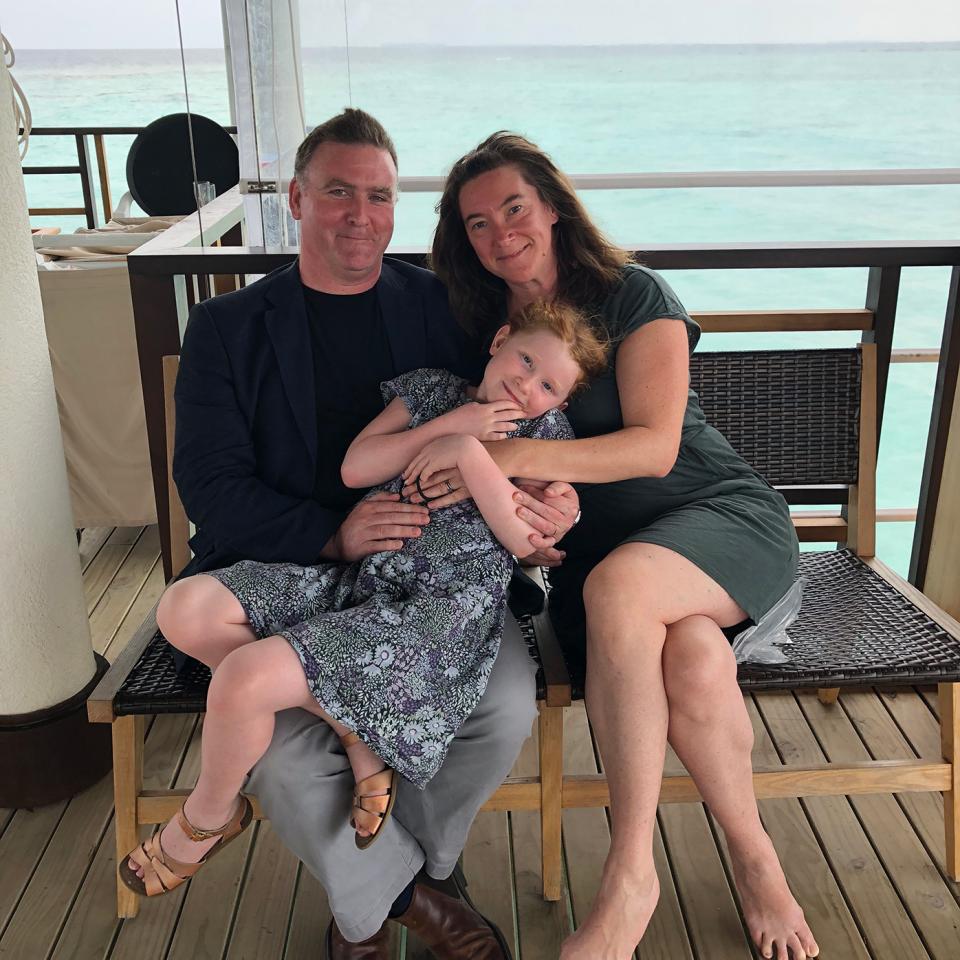 Francesca with husband Christy and daugher Eva
Cocktail hour
After settling in, we headed off to pick up our complimentary snorkelling gear and then checked out the 'all-inclusive' lunch buffet at the airy, beachside restaurant. I was slightly anxious about this. Could a buffet really be nice enough to get excited about three times a day for a week? I soon realised it could.
At service stations all around us, chefs were shaping elegant little disks of beef tartar, slicing tender tuna sashimi and pouring chilled shot glasses of gazpacho. To Eva's delight they were also spinning pizzas and grilling homemade burgers. Maldivian, Indian, Thai, Chinese, European – it was all being prepared in front of our eyes. The 'all inclusive' offering also included most wines and spirits, so you could order anything you liked to accompany your food.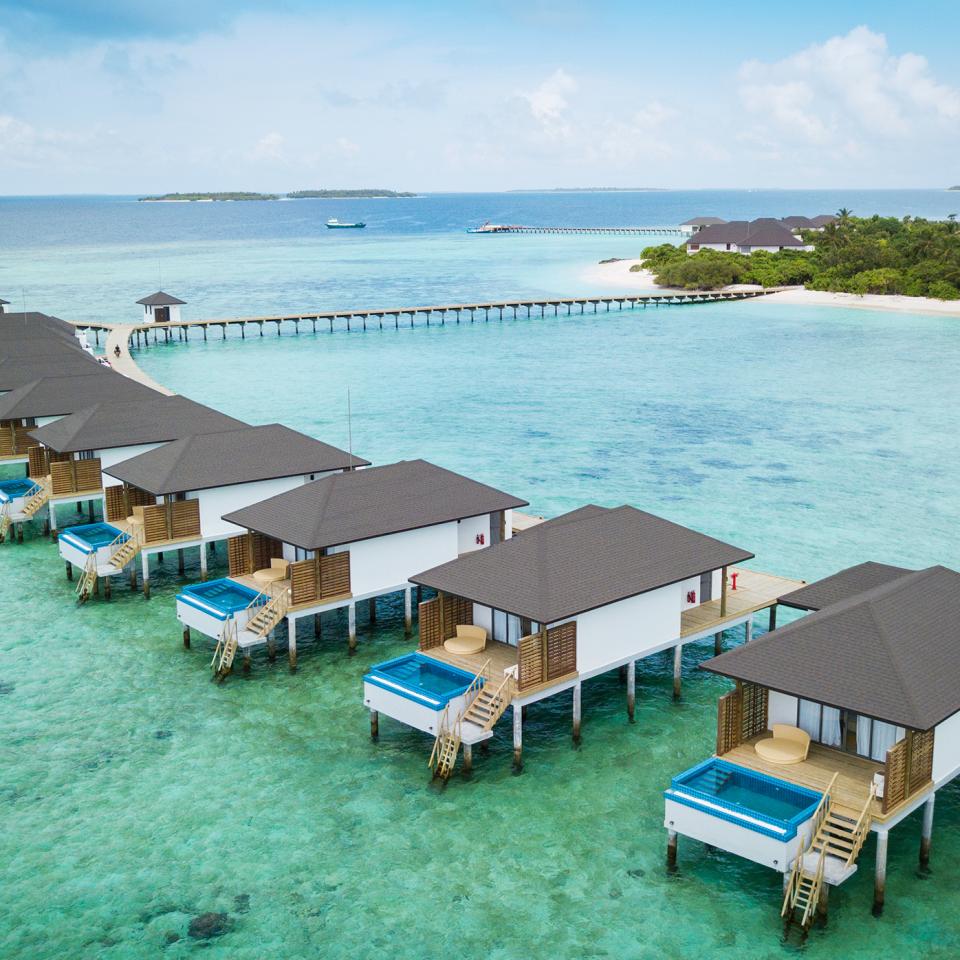 The 'fresh, contemporary beach huts'
Eva couldn't wait to check out the kids' club, housed in a little thatched hut. She was soon making friendship bracelets with the others, so we snuck off for a nap. It was late afternoon when we all finally donned our snorkels and wandered straight off our terrace and into the ocean. Never had getting Eva into the water been so easy and before long she was happily paddling around, head down, transfixed by the brightly coloured fish below.
At sunset, we headed over to the island's Sundowner bar, flopping down on three strategically-placed beanbags on the sand. and blended in perfectly among all the other couples, families and groups of friends. Eva guzzled watermelon juice, Christy, an icy Asian beer, I, an absurdly 1970s Pina Colada, as we watched the sun turn everything fuchsia and sink into the sea.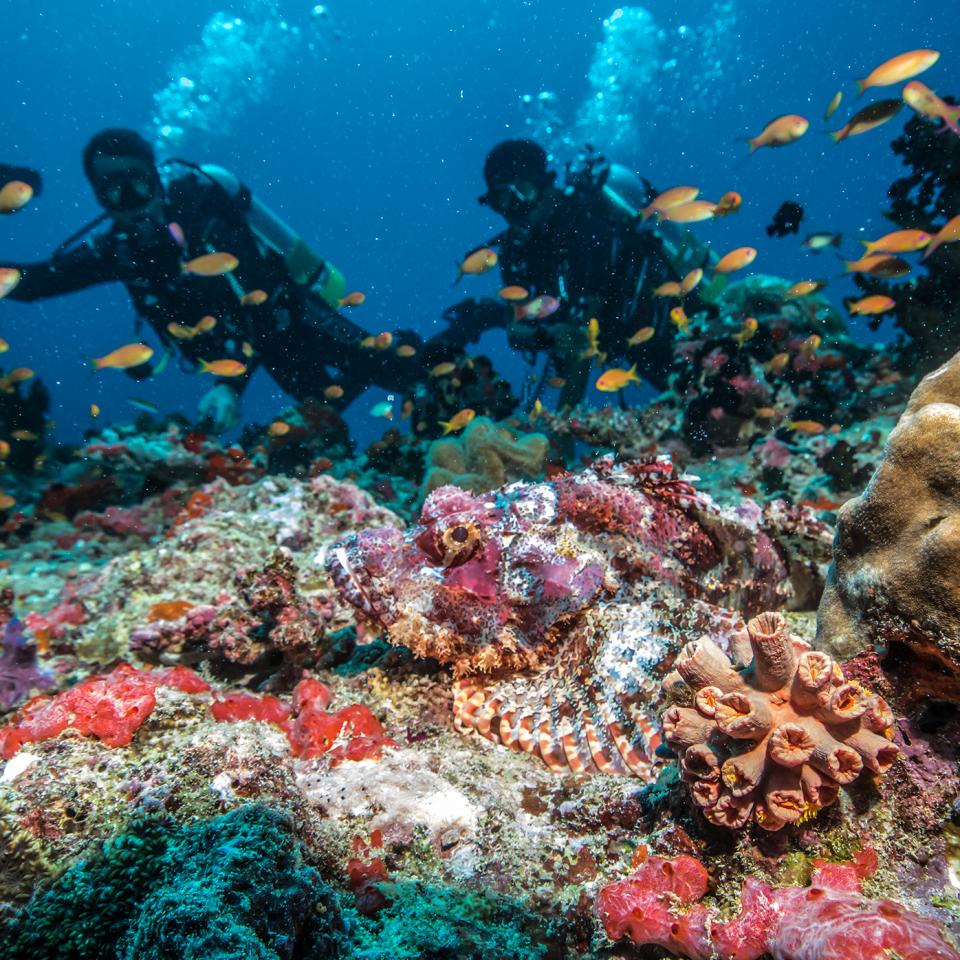 Snorkelling with the 'brightly coloured fish'
From soothing massages in the jungly spa and water polo matches in the large communal pool, to yoga sessions in an open-sided sala and kids' bonfires on the beach, we tried it all, and spent lots of time snorkelling right from the beach. There's live music and dancing in the main bar every evening and the staff will probably try to get you on your feet. You might find this a bit 'Hi-de-Hi' but everyone else – especially Eva – had a hoot.
The highlight for her was an excursion in a glass bottomed boat, watching turtles, parrot fish and baby sharks glide below. For us, it was an afternoon cocktail during an unexpected tropical shower, while Eva played in the kids' club. Sitting barefoot at the bar, clinking glasses, the warm rain lashing down a few feet away, we were transported back to our carefree backpacking days, a moment worth its weight in gold.
How to book
Seven nights from £1,108 per person on an all-inclusive basis – or around £2,815 for two adults and one child (robinson.com). Return flights from London to Malé from £480 per person with Etihad (etihad.com).
About the author