Travel
A foodie weekend in Fez, Morocco
With direct flights available from the UK, this sunny city makes the perfect getaway, says Leah Hyslop.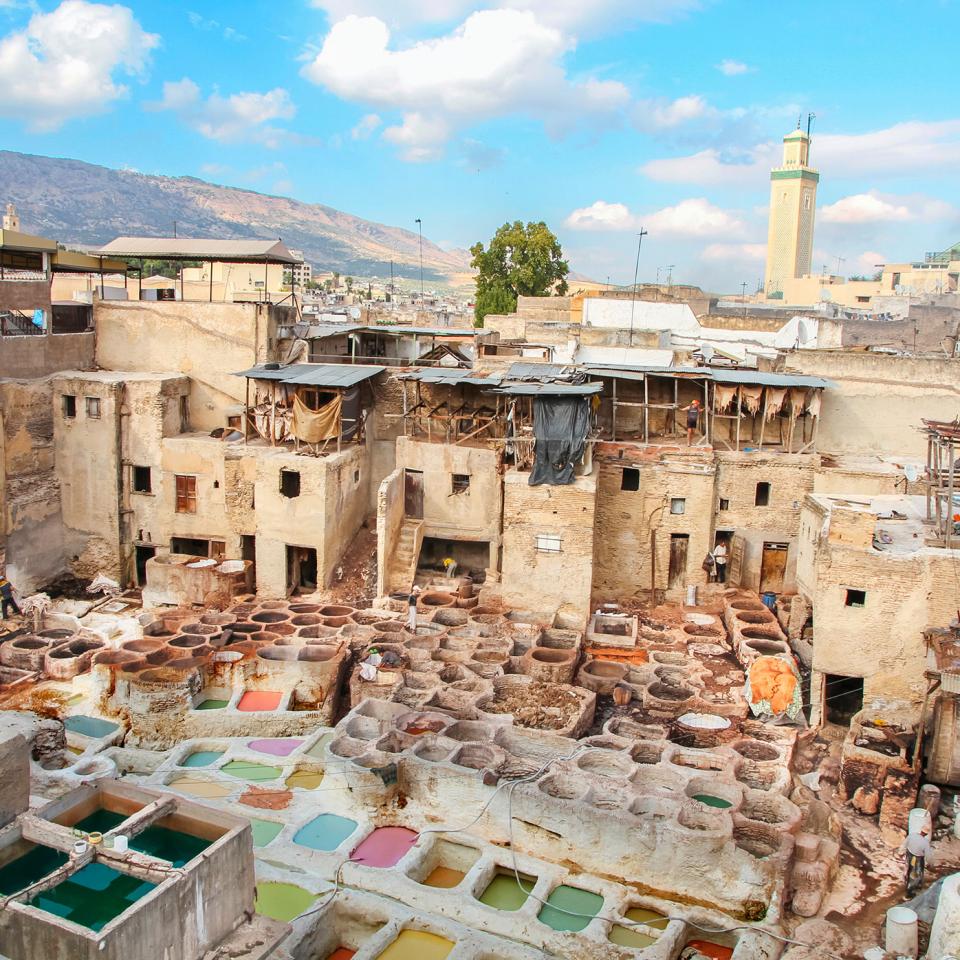 I love travelling to new places. It's a thrill arriving somewhere I have no bearings and no preconceptions; where I can wander around unknown streets, uncovering their secrets. But five minutes after arriving in Fez, I wish I hadn't wandered straight into town without a map.
Morocco's most ancient city is home to the one of the world's largest medinas – an intricate labyrinth of shops, homes, mosques and monuments crammed into more than 9,000 shadowy alleyways. Though your hotel can give you a map of the main streets, truly exploring Fez means accepting you're going to get lost. The good news is that there's probably nowhere else in the world as glorious to get lost in. As my husband Craig and I step foot through the medina's famous Bab Boujeloud, or 'Blue gate', the city explodes around us. There are street sellers waving fresh bunches of mint for tea; women staggering under baskets of pastries perched on their heads; leather merchants haggling over handbags. On one street, where the textile workers are, I have to go on tiptoe to avoid the river of purple dye gushing over the cobbles; in another, eels fished from the river writhe in buckets. It's noisy and chaotic – and you need to keep your wits about you. 'Balak, balak!' I hear someone bellow behind me, and jump out of the way just in time; a laden donkey is thundering down the street. 'It means "Watch out!",' a local tells me, and it's a good job I learn the phrase; you barely go five minutes without someone 'balaking' at you. For years, British tourists gravitated towards Marrakesh, but new direct flights have recently opened up Fez, which is often described as Morocco's cultural and religious capital. In its heyday, this was a place where kings built palaces, where mosques and universities flourished. Today, the city is not quite so prosperous, but remnants of grander times rub shoulders with the dusty bric-a-brac shops and spartan bakeries. Everywhere I look, I catch sight of another architectural detail; an intricately carved wooden door or the shimmer of mosaic in a mosque.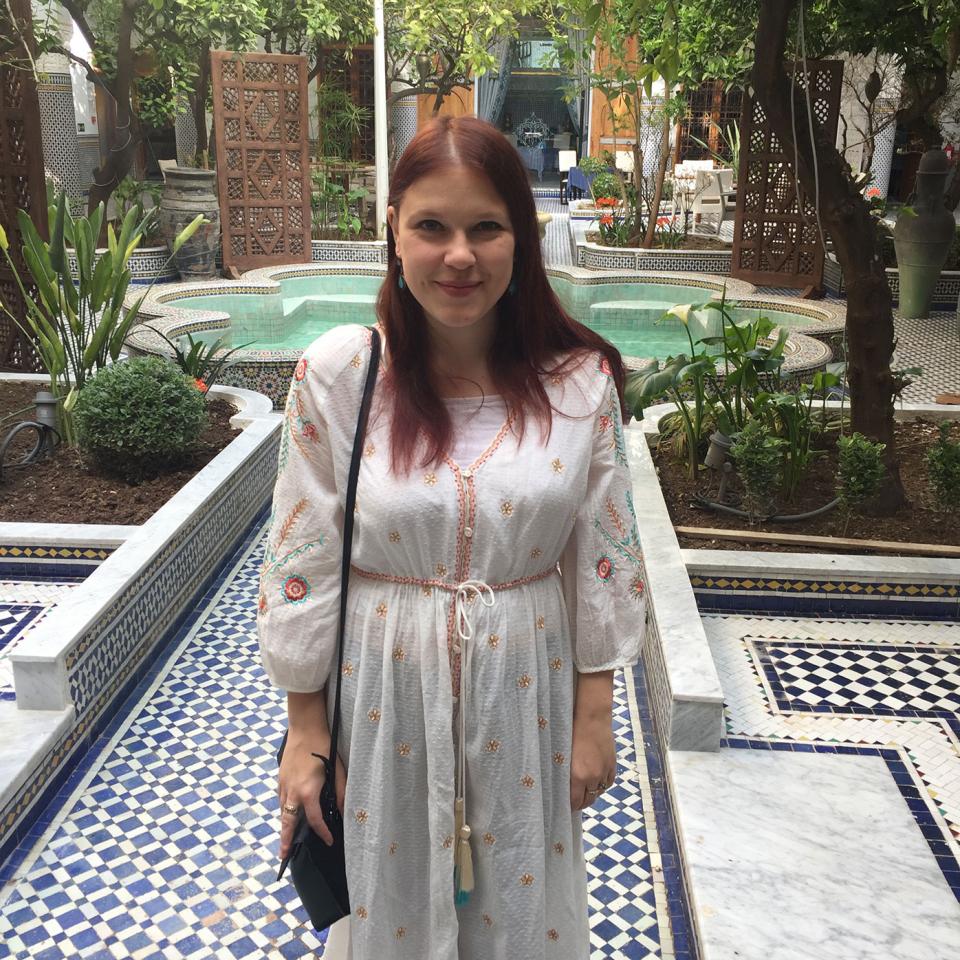 The medina is chaotic – but thankfully, there are plenty of places to escape for a moment of peace. Our hotel is one of them. Owned by Brit Jemima Mann-Baha and her Moroccan-French husband, Palais Amani is a quintessential Moroccan riad with the spirit of a boutique hotel. The riad's beating heart is the beautiful interior courtyard, with its mosaiced floor, gurgling fountains and the heady scent of jasmine and oranges. Snaking off the courtyard are 18 simple, stylish rooms, a hammam for pampering and – best of all – a rooftop terrace. Sitting there at sunset, sipping a refreshing cup of mint tea while the call to prayer echoes around the medina, it's hard to believe I'm only a three-hour flight from the UK.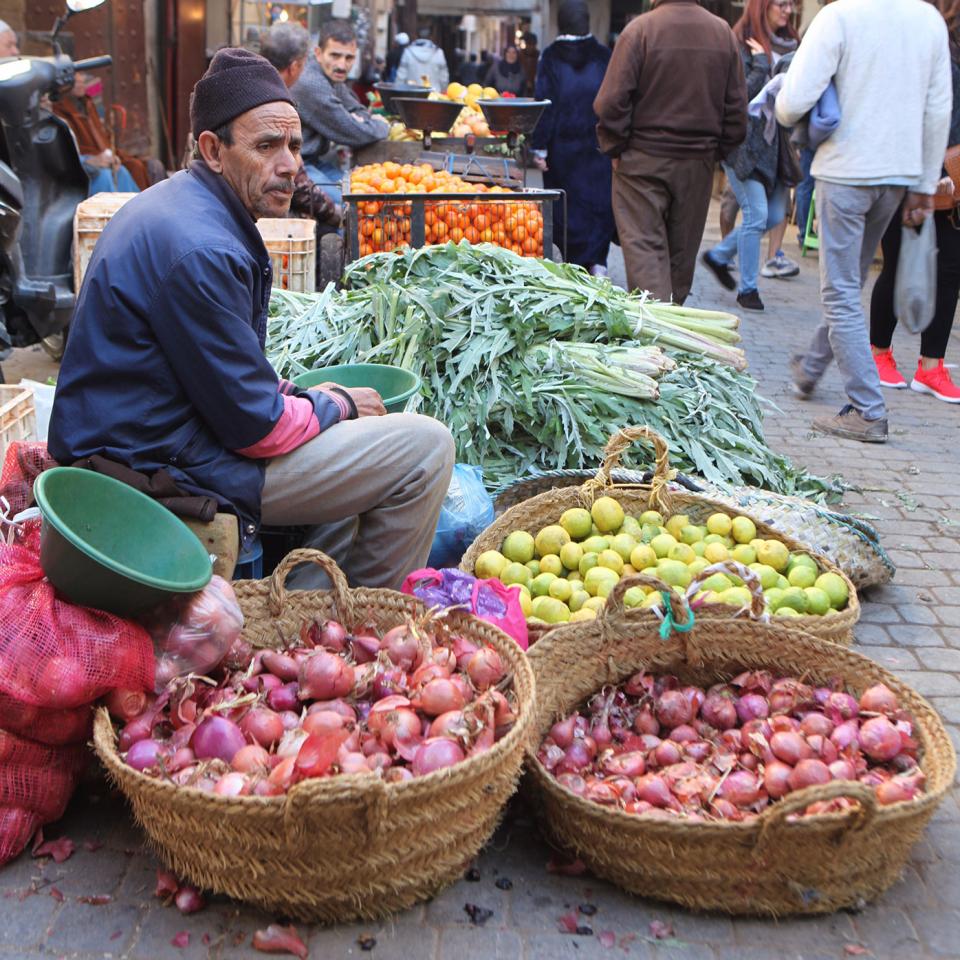 A tempting array of produce awaits in Fez fruit and veg market
Insider's tour
After a restful night's sleep, I'm keen to start exploring again – and this time with a guide. One of the attractions of Palais Amani is the range of experiences it offers guests. For a food-lover like me, the chance to tour the medina with one of the hotel's chefs, before cooking a feast with the ingredients we buy, opens up a new side to the city. I'm paired with softly spoken chef Zakia Mounadil, who starts the tour by taking me to her favourite spot for bisara. You'll spot stalls selling this cheap-and-cheerful Moroccan soup, made from puréed beans, all over the city. We perch on a bench, next to locals in their robes or djellaba, and scoop it up with thick hunks of bed, sprinkling over chilli and cumin as we go. The soup is thick, garlicky and utterly delicious – and I usually wouldn't have given this no-frills stall a second glance.
Next, we weave our way to the fruit and veg market, where gleaming oranges and bunches of fragrant coriander and mint sit alongside vegetables I've never heard of before. Zakia picks out produce for our cooking class while I sample the olives, plumping eventually for the buttery red ones. On our way back, we stop for raib – unsweetened yogurt piled into an overflowing glass. 'You can always tell a local from a tourist by the way they eat it,' I'm told. 'Tourists eat it with a spoon, and the locals just drink it!' Inspired, I tip back my head and drink the raib in one go; it's as creamy and refreshing as an ice cream.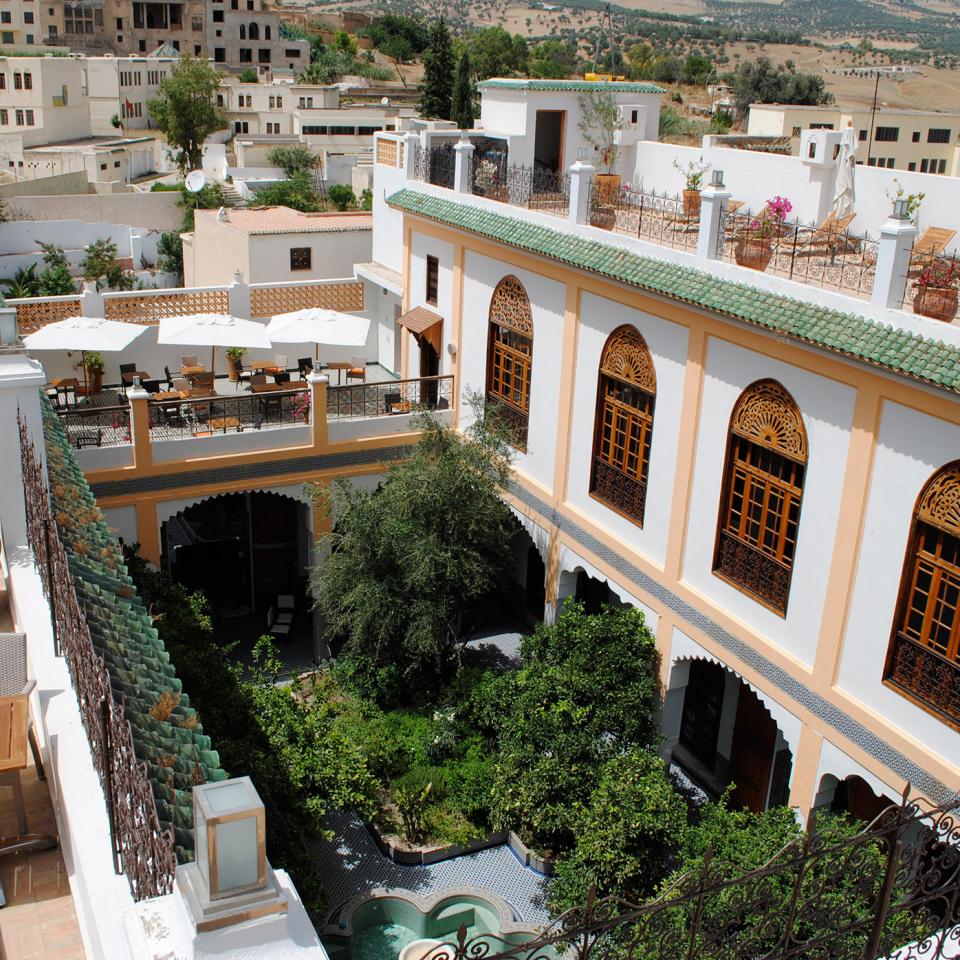 Listen to the call to prayer from the rooftop terrace of the Palais Amani
Back at Palais Amani, we meet head chef Houssam Laasiri, who is waiting for us in the gorgeous rooftop open-air kitchen. With the ingredients we've bought, I get to work creating an authentic Moroccan tagine. I've cooked plenty of tagines in my time, but I'm amazed at how different the chef's methods are – for one thing, I've never poured almost half a bottle of olive oil into the pan. The result is mouthwatering – tender chicken, richly layered with spices, and pops of umami from those red olives.
Bags and burgers
No trip to Fez is complete without a visit to a tannery, where the leather bags and belts Morocco is so famous for are made. The best way to see them is to visit a leather shop; you're unlikely to escape without buying something, but you'll enjoy their panoramic views over the tanneries for free. As Craig and I enter, we're handed a sprig of mint; at first we're confused, but, as our nostrils are assaulted by a pungent animal smell, we realise why. Holding the sprigs to our noses, we stand by the window and watch as hundreds of animal hides are spread out on the rooftops to dry. Workers jump in and out of vats of dyes in every colour imaginable, heaving huge skins behind them. It's a physically demanding job but the workers do it with such agility, they resemble ants scurrying among paint pots.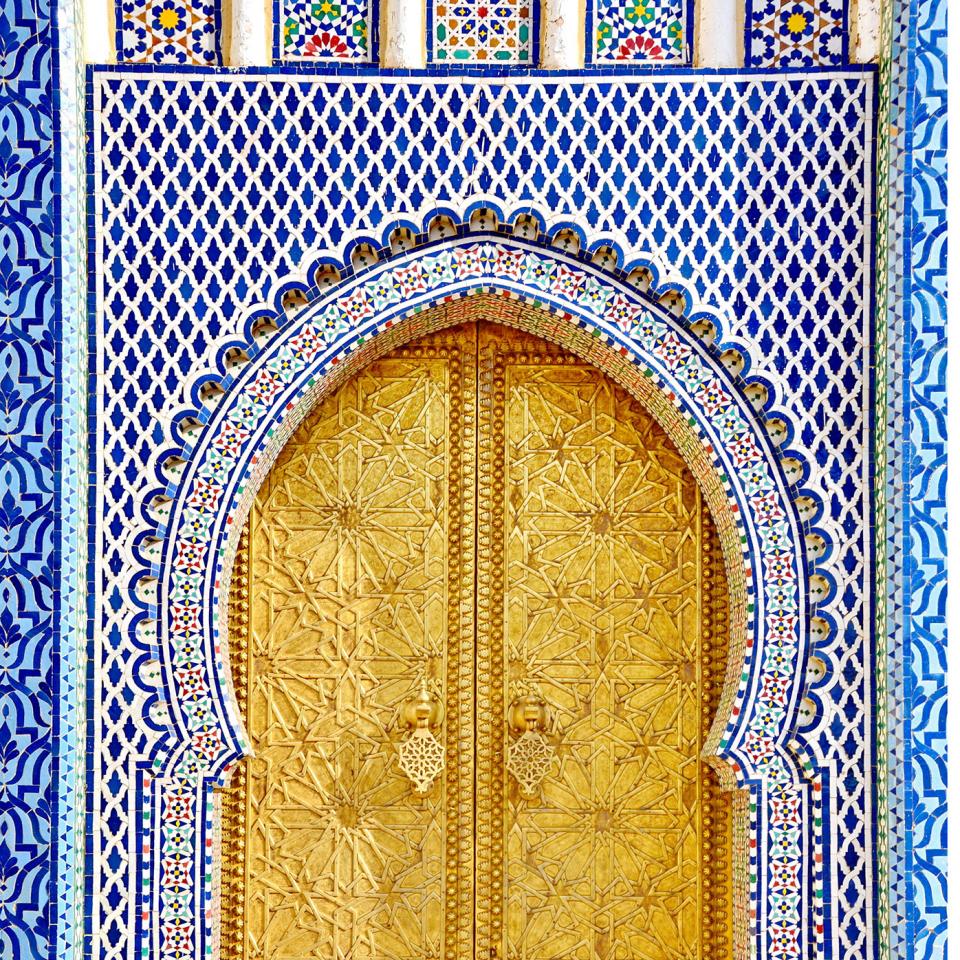 With a new and definitely overpriced handbag in tow (it turns out I'm very bad at haggling), we wrap up our day with an unusual delicacy. At Café Clock, a charming café of higgedly-piggeldy terraces, Craig and I tuck into the famous camel burger. Dolloped with a homemade spiced ketchup, it's delicious – and we are proud to make it back to the riad afterwards without getting: a) lost, or b) run over by a donkey.
Fez might be overwhelming at first but, once you've got your medina legs, you might never want to leave.
How to book:
A double room at Palais Amani costs from €160 per night. The Fez Cooking School package, including a tour of the medina and cookery class followed by lunch, costs from €77 per person. Flights from £47.69 one way with Air Arabia Maroc.
About the author