Travel
Edinburgh festival food guide
by Fiona Gibson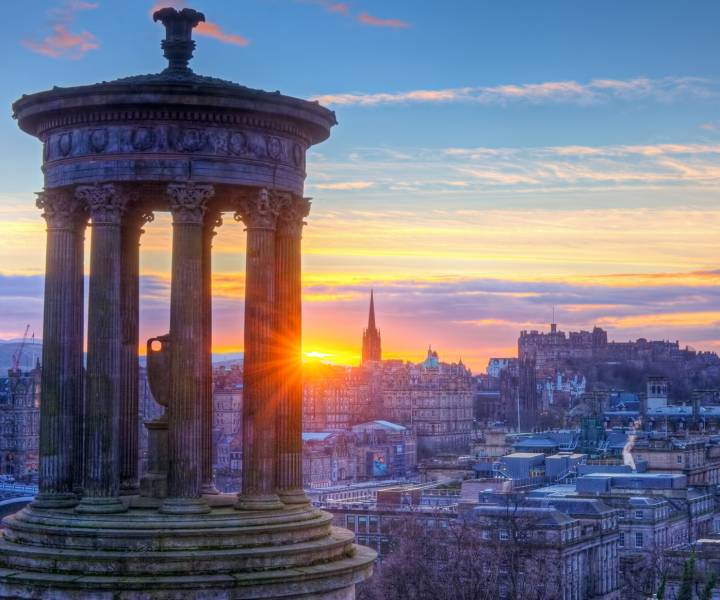 Image: Shutterstock
August is party time in Edinburgh as five festivals whip the city into a frenzy. Fiona Gibson tracks down 10 foodie hotspots to fuel her through the fun...
Day One
Think Edinburgh Festival and you're probably picturing comedy or drama. In fact, five festivals are happening at once: Edinburgh International Festival (EIF), The Fringe, the Book and Art festivals and the Royal Edinburgh Military Tattoo. To fuel myself I head for what's rumoured to be Edinburgh's best coffee at the Dovecot Gallery, Infirmary Street. It also offers top-notch smoked salmon bagels and cake.
While the Royal Mile buzzes with street performers and actors in full costume, nearby George Square Gardens is a street- food haven offering burgers, seafood and nose-tingling curries. I grab a portion of Spice Girl's Malaysian satay that's zingy with ginger and lime, and hot-foot it to my first show – Exposing Edith, perfect for a Piaf fan like me.
Charlotte Square is home to the Book Festival where I catch an event by Scottish author James Robertson. Afterwards, I head for Italian street food restaurant Civerinos in Hunter Square. I try a delicious pink 'slushy' concoction called a Frosé (semi-frozen rosé wine) followed by an antipasto plate with hams, cheeses, vegetables and garlic focaccia and a grilled peach, ricotta and pancetta salad.
Time for a nightcap in the form of a cheeky absinthe – favoured tipple of Picasso and Oscar Wilde – at the hip Holy Garage in George Square Lane. It's hard to believe that the buzzing pop-up bar is an unassuming lane of lock-up garages the rest of the year.
Day two
My festival 'home', Old Town Chambers serviced apartments, have teamed up with Valvona & Crolla on Elm Row, Scotland's oldest deli, so guests can enjoy a breakfast box delivered to their door. After pastries, jams, cheeses and hams, I'm ready to catch my first show of the day at the Traverse Theatre.
For lunch I am lured by fresh seafood at the Lobster Shack on George Street. The al fresco pop-up is dishing up grilled lobster with garlic and herb butter; they buy straight from the fishing boats at North Berwick harbour and it tastes like it, too.
The Chop House at the Arches, East Market Street, is a new branch of the popular steakhouse. The excellent dry-aged Scottish beef is cooked on the custom- designed charcoal grill, and comes with hand-cut chips. Then we go to the Hub on Castlehill for Alan Cumming Sings Sappy Songs.
Day three
I'm up before the crowds, tucking into avocado and poached eggs on toast at Copper Blossom in George Street. A favourite for brunch (and, at night, the cocktail crowd), the outside tables offer a stunning view of Edinburgh Castle.
After an exhibition at the Fruitmarket Gallery, I head for Mark Greenaway's eponymous Scottish restaurant in North Castle Street. The seven-course tasting menu includes scallops with pork crackling, heritage vegetables in a pea custard, and Scottish hake fillet with cockles and clams.
There's just time to stock up on treats. At Cranachan & Crowdie on the Royal Mile I browse Hebridean cheeses, Selkirk bannocks, oatcakes, shortbreads and a selection of Scotch. What better souvenirs of my festivals experience?
For more information, visit edinburghfestivalcity.com and edintattoo.co.uk.
Conquering the festivals:
The five Edinburgh Festivals combine to create the world's biggest cultural event. No wonder Edinburgh's population doubles in August. Here's how to make the most of your stay:
- Book must-sees in advance, making sure you leave time for anything that catches your eye when you're here. Visit edinburghfestivalcity.com.
- Culminating in over a thousand performers in one stunning display, the Royal Edinburgh Military Tattoo is deservedly popular – so book early.
- Edinburgh is a walkable city, and hoofing it is often quicker than taxis. Flat shoes are a must for negotiating cobbled streets and ancient steps. Factor in more time than you think you'll need when hopping from venue to venue, and bear in mind that the Royal Mile gets particularly congested.
- For a breather in stunning surroundings, enjoy your lunch in Princes Street Gardens while gazing up at Edinburgh Castle. Every Saturday, the nearby Grassmarket hosts a farmer's market, so you can easily throw together a fabulous picnic lunch.
Don`t miss

---