Travel
Celebrating New Year's Eve in Lapland
Francesca Syz rings in the New Year in Lapland with her husband Christy and daughter Eva...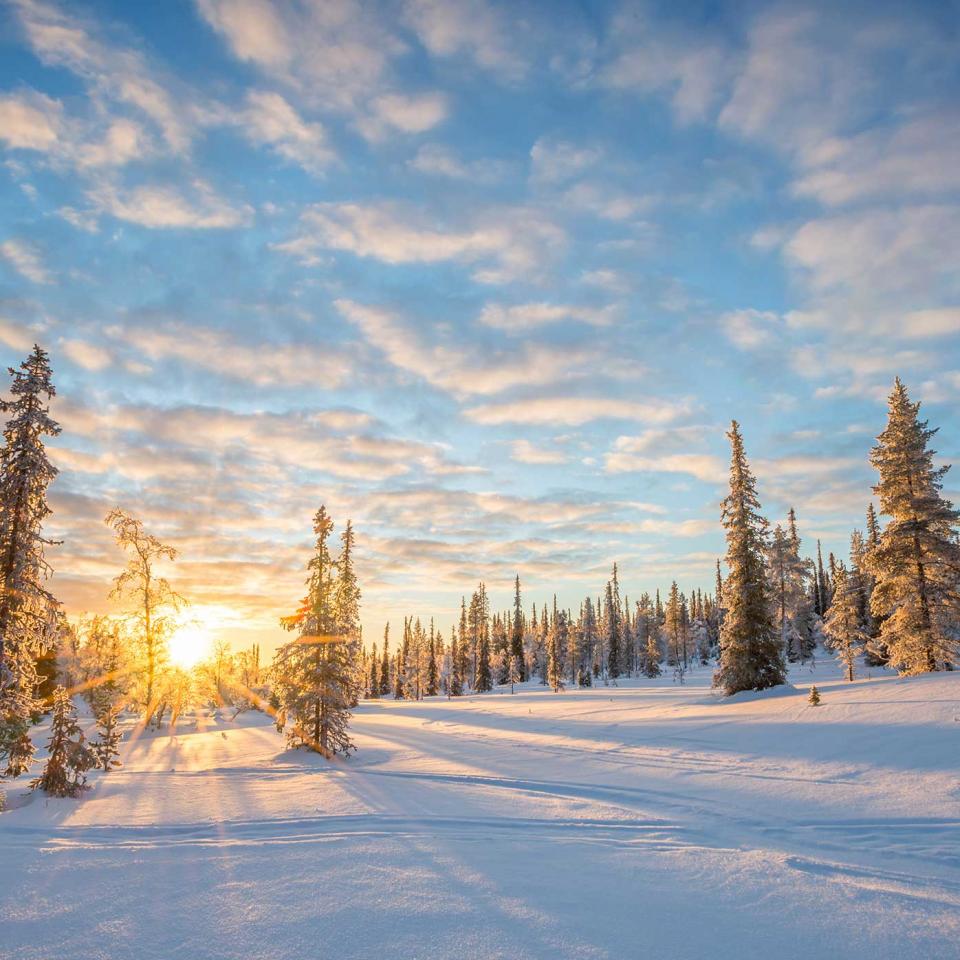 I'm a huge fan of staying at home on New Year's Eve. I spend so much of the year running around like a headless chicken, it feels like a nice, calm way to round things off. So it's with some trepidation that I let my husband Christy and six-year-old daughter Eva talk me into spending New Year 2018 in Swedish Lapland.
Before the Christmas pudding was cold, we were heading to a remote lodge just 100km below the Arctic Circle. Local Göran Widén has been running Brändön Lodge for 20 years. His laid-back private hideaway sits on the small island of Brändön ('bränd' meaning 'fire', 'ön' – pronounced 'oon' – island), one of more than a thousand within the remote Luleå archipelago in the north part of Sweden's Bay of Bothnia. All become icebound between December and April when the sea freezes and they make ice roads across it to link the four inhabited islands.
We're a family of snow lovers but not of skiers, so one of the things that appealed to me about the trip was that it provided fun Arctic experiences requiring no skill – and all the gear.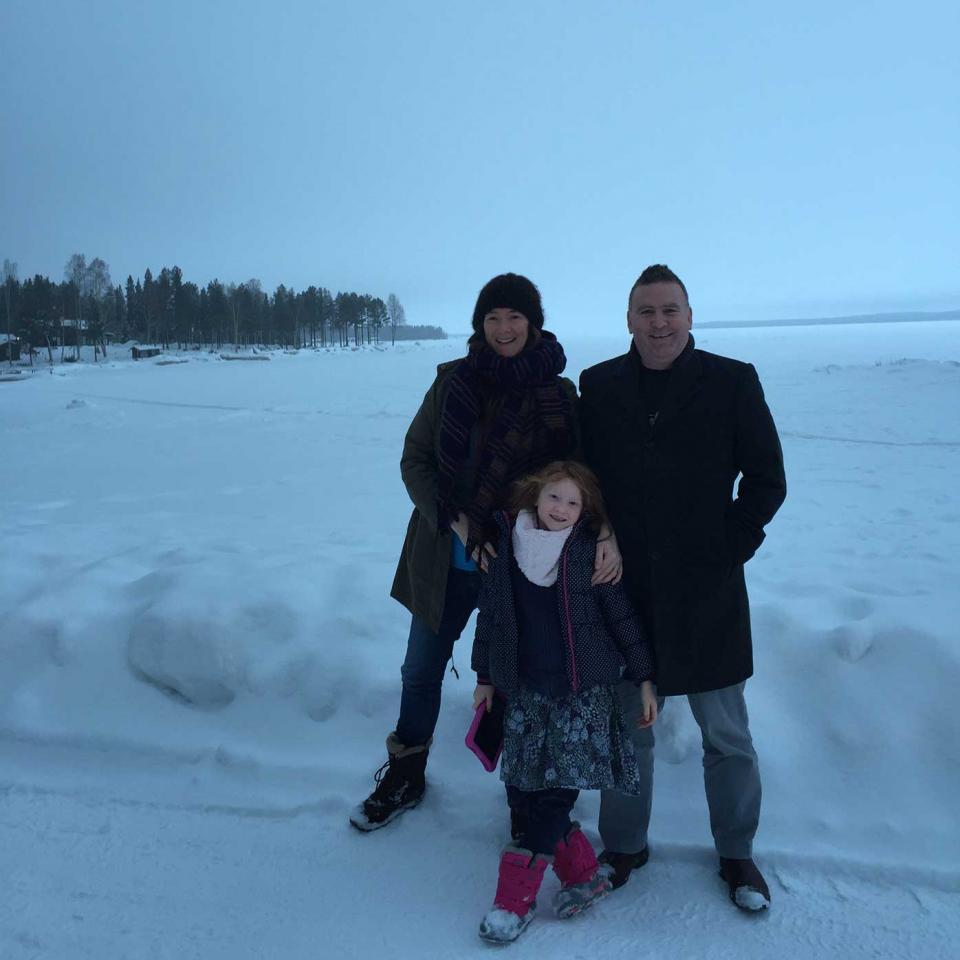 Francesca, Christy and Eva
We touched down in Luleå and piled on to a coach for the final half-hour drive to the lodge. The snow fell thick and fast, and Eva squealed with delight each time our driver pointed out another reindeer ambling along the side of the road. With just 15 cosy two-bedroom wooden chalets dotted along the edge of the forest, Brändön Lodge never feels crowded.
For eating, drinking, board games and other communal carousing, there's a large central cabin with a sitting room, complete with roaring fire and bar, where people shed snowsuits and pad around in thermal socks. Upstairs is an equally inviting candlelit restaurant, which serves three delicious meals a day. After a leisurely buffet breakfast (local meats and cheeses, freshly baked croissants, strong, strong coffee), we helped feed the five resident reindeer and tried our hand at snowshoeing, before stopping to dunk hunks of rustic homemade bread in delicious vegetable soup for lunch.
While we went for seconds, Eva headed out to sledge with some of the other children. We soon realised it would rarely get brighter than twilight and that it was never going to stop snowing. While this meant no Northern Lights – you need cloudless skies for that – it did mean the landscape was breathtaking. We fell into a rhythm of outdoor activity, sustenance, then nap. Good, locally- sourced food was a constant. There was always a wonderful, warming soup to kick off with, then red-wine-braised moose one day, light-baked Arctic char another, plus wild rocket salads laced with crayfish and smoked salmon.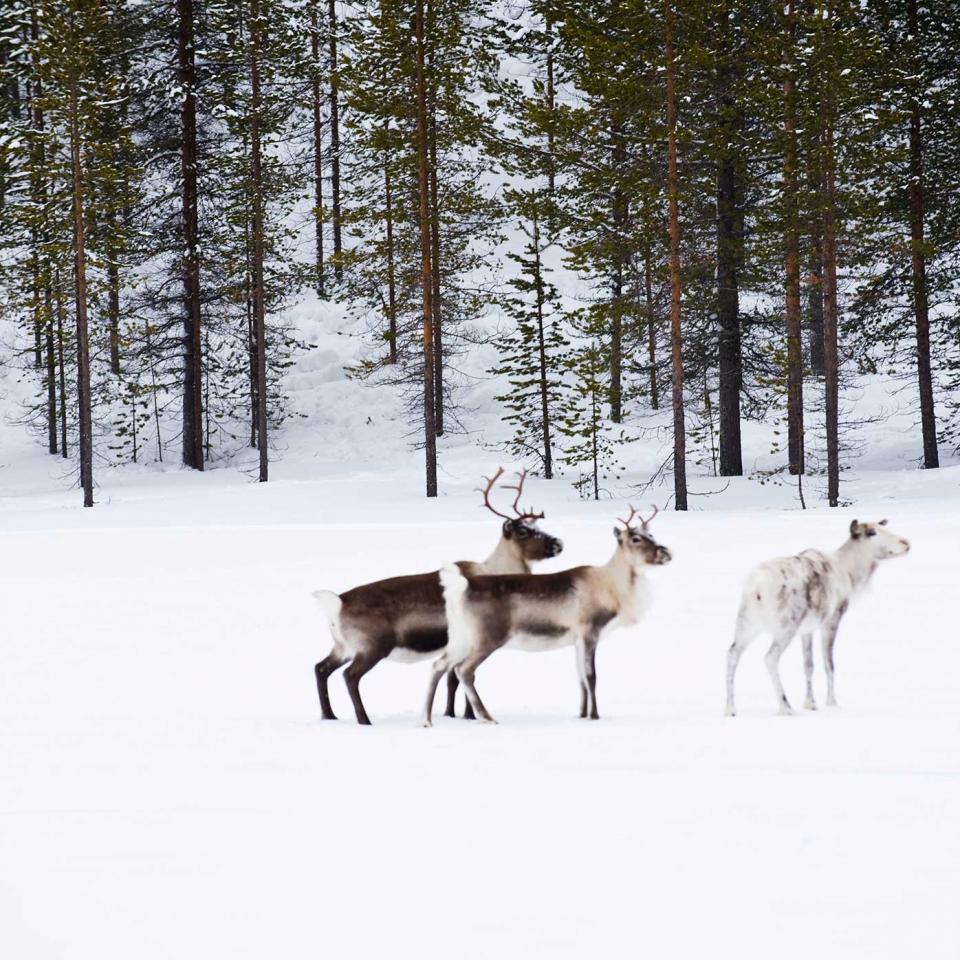 We spent a morning on an ice- breaking ship, which cracks a path through the frozen sea. We dropped anchor, donned bright orange drysuits and took turns plunging into the sea.It sounds bonkers, and is – you're attached to an extendable lead and when you're ready to come out you raise your hand and promptly get dragged out – but it's a hoot. The highlight of the trip came late afternoon on New Year's Eve. We were driven to a neighbouring husky farm.
Here, we were greeted by Keijo Nikumaa, a softly-spoken bear of a man who runs dog sledding trips with his partner Maria from their cosy, fire-lit home. Keijo set us up and led us off on an hour-long dog sled, mushing eight yapping huskies through the most extraordinary, Narnia-like forest. He kept ahead of us on the trail just enough to be out of sight, only stopping occasionally to talk us through a tricky bend ahead, so we really felt we were doing it by ourselves, and each of us – even Eva – got a turn to steer.
Cosy wooden chalet and Brändön Lodge
That night, we joined fellow guests at a New Year's Eve dinner at long, communal, candlelit tables. Just before midnight, we trooped outside to do the countdown around a bonfire. On New Year's Day, our last of the trip, we were whisked off by snowmobile-pulled sleigh to a tiny island across the frozen sea. Here, we found a bonfire blazing and flasks of hot chocolate (and whiskey).
While the kids made snow angels, the rest of us clinked mugs. Starting the year like this is pretty hard to beat.
Getting there
The four-night Brändön Lodge Frozen Archipelago Adventure costs from £1,655 per adult and £1,045 per child (aged 4-12), including flights, transfers, full-board winter cabin accommodation, cold weather clothing and most activities. To book, visit activitiesabroad.com.
About the author